Marc Jacobs. It's a name fashionistas register immediately.
However, for the South Park fans who aren't quite style-savvy, "Muscle Man Marc" wants to say hello.
The designer, who made an "appearance" in a November episode of the Comedy Central hit cartoon, is paying his respects to creators Trey Parker and Matt Stone by designing T-shirts featuring characters from the show.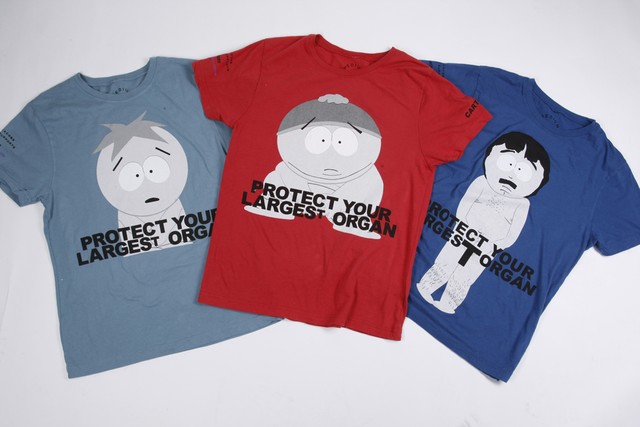 Image courtesy of WWD
The $35 shirts will benefit NYU's Interdisciplinary Melanoma Cooperative Group as part of an ongoing collaboration project helmed by company president Robert Duffy and Jacobs. The three hilarious designs feature Eric Cartman, Butters Stotch and Randy Marsh, each covering their parts with a stamped message that says, "Protect Your Largest Organ."
Where's Kenny, one might ask?
Duffy told WWD, "[Trey and Matt] are very, very cautious about collaborations."
"I really wanted to do Kenny, but they said there was absolutely no way they were going to let me use Kenny." Looks like the creators of South Park didn't want Kenny's statement parka to lose its luster.
In the past, Jacobs and Duffy have worked with Naomi Campbell, Victoria Beckham and others for the charity collaboration project. The difference between these beautiful ladies and the South Park characters is a matter of modesty: Campbell and Beckham tastefully posed nude, while Cartman and company shy away from their typically raucous adventures.
Interested in purchasing these tees? They're available at Marc by Marc Jacobs stores and online.