It was revealed through court papers filed by supermodel Linda Evangelista that her baby-daddy is indeed François-Henri Pinault. If that wasn't a mouthful of information to dissect, just wait for this storyline.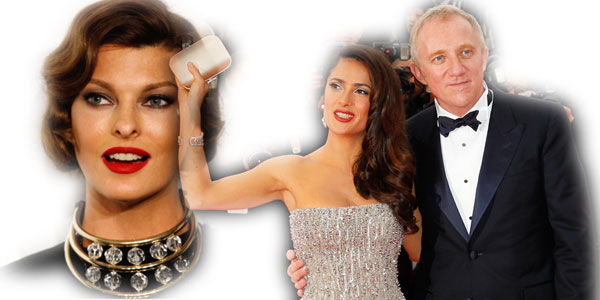 Linda Evangelista is requesting $46,000 a month in child support from baby daddy François-Henri Pinault, husband of Salma Hayek. (AP Photos)
Pinault is also actress Salma Hayek's billionaire husband, father of the star's three-year-old daughter Valentina, and CEO of PPR, a luxury firm that owns Alexander McQueen, Gucci, Bottega Veneta, and other high-fashion brands. In early 2006, Pinault and then-girlfriend Hayek separated, allowing Evangelista to fill the dating void in the French playboy's life. Although he and Hayek got back together later that year, Pinault meanwhile impregnated Evangelista, a fact that the parents of four-year-old Augustin James have fervently denied... until now.
According to the New York Post, Evangelista entered Manhattan Family Court on Monday to demand that Pinault pay a whopping $46,000 a month in child support. The request reportedly made the judge's mouth drop. Court Magistrate Matthew Troy noted, "That would probably be the largest support order in the history of the Family Court."
The amount would cover annual security and nannying costs (because when you're the supermodel mommy of a billionaire businessman's spawn, both expenditures are necessary). The 46-year-old former Vogue cover girl and 1990s top model hired New York attorney William S. Beslow, whose clientele list includes Robert De Niro, Demi Moore, and Sarah Furguson, to represent her.
$46,000 per month may be a bargain in comparison to the actual amount Pinault could potentially owe. In accordance with New York law, where the court papers were originally filed, a father is required to pay 17 percent of his earnings in child support. In 2010, Pinault's salary was reportedly €3.7 million or $5.4 million USD. That would mean that he should owe around $918,000 a year, which is approximately $76,500 a month. Therefore, Augustin Evangelista's biological billionaire daddy may be required to shell out $30,000 more than what Evangelista is actually demanding.
Magistrate Troy will determine the amount of child support Pinault is expected to pay when the two parties return to Family Court in September.
---