Talk about fashion frenzy!
In May, it was revealed that the latest designer collaboration for Minneapolis-based Target was with Italian luxury knitwear fashion house Missoni. In August, we reported on the release of the first ad campaign image for the collection.
Last Wednesday, the collection debuted in Times Square, wreaking havoc in the popup shop, with celebrities, publicists and editors scrambling to get their hands on zigzag prints for a fraction of Missoni's actual costs, the Wall Street Journal reported.
On Tuesday, Target Inc.'s entire website crashed and collapsed- briefly, after the company launched the sale of Missoni for Target online and in-stores. The e-commerce opportunity subsequently generated an influx of "unusually high traffic" causing the site to reach capacity. Furthermore, the collection has been so successful that several Target locations have called Missoni for Target's debut the equivalent of Black Friday.

Missoni for Target ad campaign image
On Wednesday morning, Target.com was once again back up and running. On the main site, a Missoni for Target-clad Margherita Missoni flaunts the various collection pieces by the Duomo. Interested? It may be too late. It seems like almost everything is "out of stock" online- at least in extra-smalls and smalls, because yours truly tried her best to attain various items, too.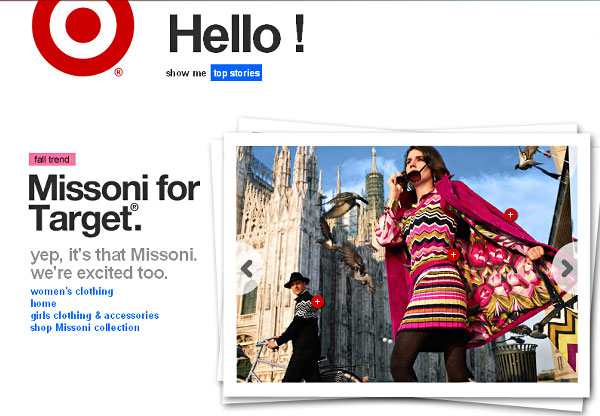 Screen shot the Target.com homepage. (Target.com)
If you're a fan of the zigzag print and colorful looks provided by Missoni, I'd scourge the site and stores immediately. Not only are available pieces rapidly dwindling, but they may already be gone.