As the days get shorter and the leaves begin to change, we are inevitably forced to retire our wedges, gladiators, and that one extra-comfortable pair of flip-flops for more seasonal footwear. While most choose to mourn the end of summer and its accompanying trends, I encourage a change of heart. The sheer beauty of fall 2011's boot trends rivals the comfort levels and functionality of the best summer sandals.
Booties continue to reign. Hold tight to your staple black suede pair while adding a pair of this season's violet peep-toe wedge booties for maximum style results. Faux furs and animal prints made a major showing at Fa/Winter Fashion Week so if you're feeling fierce enough and particularly keen to the trend, snag a pair of cheetah print closed-toe booties to complement fall's rich color palette.
However, we, here on Haute House Row, only have eyes for the very unique, very stunning, and totally out of our league Alexander McQueen Laser Cut Bootie. The classic ivory leather adorned with an astonishingly intricate laser cut overlay is enough to make many-a-McQueen junkie swoon. But the zipper detail leading from the peep-toe to the four-paneled collar…shoe perfection. And if upon first glance you find the lace-like overlay perhaps too dainty and lacking McQueen's dark influence, do not fret. The zipper is actually a silver skull. Now that sounds more like it.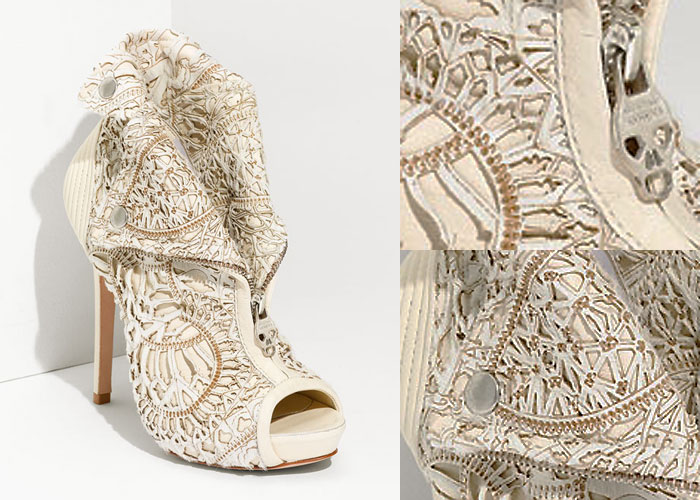 Alexander McQueen Fall 2011 Laser Cut Bootie