Robert Kardashian Sr. is primarily known for two reasons:
He represented his close friend O.J. Simpson in the infamous case involving the 1994 murders of Nicole Simpson and Ronald Goldman. Robert also married a beautiful flight attendant named Kris (short for Kristen), fathered three gorgeous daughters, Khloe, Kim and Kourtney, and a son, Robert Jr., all of whom are present-day, mega-watt reality TV stars. The Kardashian name has become the footwork of a multi-million dollar branding empire, and it was set in place by Robert Sr.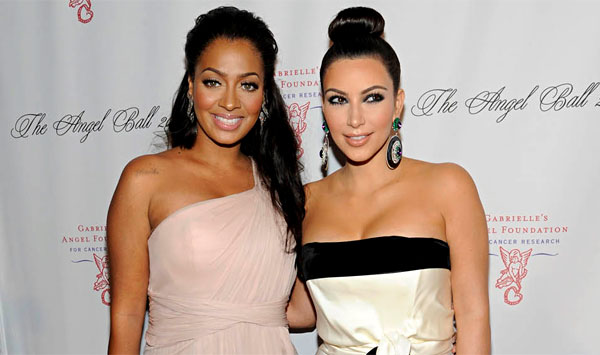 Basketball wives La La Anthony and Kim Kardashian at the Angel Ball. (AP Photo)
On Monday, an emotional Kim Kardashian spoke at the Angel Ball, recalling the memory of her late father. According to Page Six, the newlywed Kardashian daughter told guests, "Not a day goes by when I don't think about him."
"My dad didn't really want to tell anyone he was sick. He wouldn't even tell his parents he was sick. He didn't tell them until like a week before he passed away."
In September 2003, 59-year-old Robert Kardashian passed away from esophogeal cancer.
Monday evening's Angel Ball was held at Cipriani Wall Street in New York City. Guests included designer Tommy Hilfiger, former Governor David Paterson, jewelry designer Lorraine Schwartz, artist Natalie Cole, and supermodel Naomi Campbell, who was honored by the Gabrielle's Angel Foundation for Cancer Research.
Philanthropist and Grammy-nominated songwriter Denise Rich founded the foundation in 1996 after her 27-year-old daughter Gabrielle passed away from a heart-wrenching battle with leukemia. The event raised $3.3 million for the foundation.
View photos from the event, here / View photos of the Kardashians, here.