Newly-single Kim Kardashian has hired one of Hollywood's top divorce attorneys to handle her dissolution of marriage from Kris Humphries. And it's no coincidence that the initials of the woman brokering her split are L.A.W.
Laura Allison Wasser is one of Hollywood's most-formidable family lawyers, having represented A-list clients like Britney Spears, Ryan Reynolds, Angelina Jolie, Maria Shriver, and other celebrities involved in high-profile splits. The mother of two knows her time is valuable and her experience with divorce cases, indispensable. Wasser charges clients $750 an hour for her services, yet she also spends her free time volunteering for a non-profit family law center that helps poor, abused women.
The fierce, no-nonsense Wasser is the quintessential professional superwoman, whose passion for law far outweighs her impressive collection of designer shoes and clothes. And yes, she is a self-proclaimed fashionista.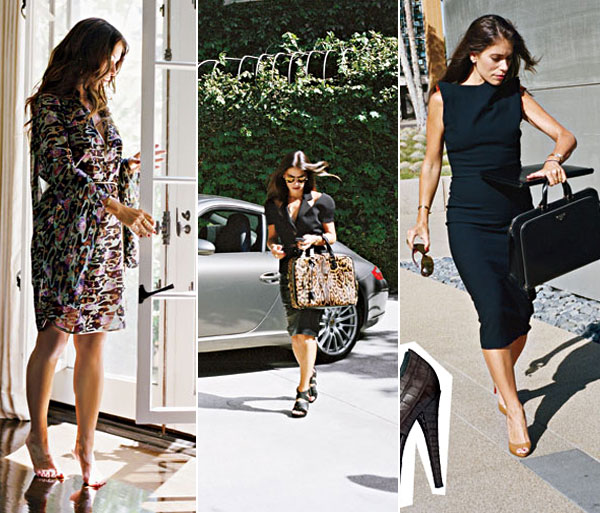 Photos courtesy of ELLE
Back in 2009, ELLE profiled Tinseltown's power attorney, and I recall admiring Wasser's sense of self-confidence. Her polished courtroom-to-Beverly Hills style demanded respect, yet her SoCal-raised, cool girl attitude softened her overall aura. It was one of the most memorable pieces I've ever seen in a fashion publication. View a few of my favorites shots, above.
Now, Wasser returns to the spotlight handling one of Tinseltown's biggest stars, and she's not one to bask in it. Although L.A.W. is a glamorous being, she acknowledges that divorces are anything but. After being raised in a household run by her power attorney father/boss Dennis Wasser, and handling countless cases like Kris and Kim's, Wasser has seen every facet of heartbreak and ugliness that accompanies high-profile splits.
In July, she told the LA Times, "My dad once said that in criminal law you see terrible people on their best behavior; in family law you see great people on their worst behavior. I also believe that [a lawyer can] help get them to the other side and people are so relieved and so appreciative."
As of Monday afternoon, Wasser has not released a statement regarding Kim's divorce. Yet, those following the moves of the "Disso Queen" (short for dissolution of marriage) should be sure of this: She only wants what's best for her clients, and will quietly put up one hell of fight, in timely fashion, to get it.