"I think I'm Marc Jacobs, I think I'm Lagerfeld." What was then rap-rhetoric for Kanye West has now turned into a reality. Yeezy is one step closer to having women worldwide covered in his luxury threads.
Rumors surrounding West's pending womenswear collection have been circulating all summer. Many fashion insiders believed the artist turned fashion designer would most likely present at New York Fashion Week. However, West, who is always chock-full of creativity and surprises, has confirmed that he will present his collection at Paris Fashion Week, as part of the official schedule. The line, which has been shrouded by secrecy, is a collaboration between Kanye and award-winning, British designer Louise Goldin, which is her first line in two seasons.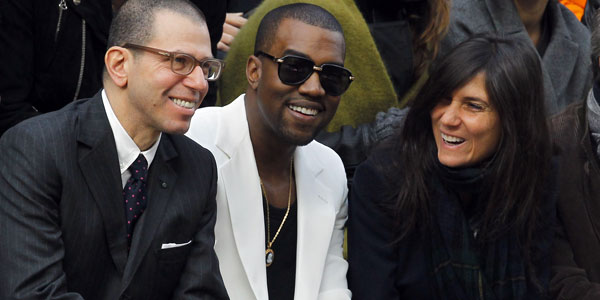 Kanye, all smiles, as he takes his front-row seat at Lagerfeld's RTW line show at Paris Fashion Week in March. (AP Photo / Francois Mori)
According to Harpers Bazaar Australia, the womenswear presentation is reserved for the eyes of "key editors" only. No surprises here, especially since the Hermes of Verses does have the tendency to play favorites. It should be interesting to discover who will get a sneak peak of his designs, and how they'll react to the presentation itself.
What is particularly intriguing about Kanye presenting at Paris Fashion Week this fall is this: In March, he was reportedly turned away from multiple PFW shows including Alexander McQueen and Balmain- albeit he did turn up uninvited and demanded front row spots.
In response to the uncomfortable Fashion Week stand-off, a PR rep told Page Six, "Mr. West requested to attend [Balmain] and we let him know we would not be able to accommodate him. He chose to come to the door anyway and we kindly let him know we could not accommodate him." According to bystanders, a disgruntled Mr. West was not very happy.
What a refreshing step-forward for Ye, especially since he will be giving PFW enormous amounts of publicity. One thing's for sure: Kanye is an entertainer, so this fashion performance is guaranteed to be spectacular. West's line will debut on the first day of Paris Fashion Week, which begins October 1.
More to come.