It was a true "moment" for Jennifer Hudson when she stepped onto the red carpet of the Academy Awards in February. The paparazzi and fans went wild over the transformation of the actress, who flaunted her gorgeous, newly-slim physique in a form-fitting Atelier Versace gown.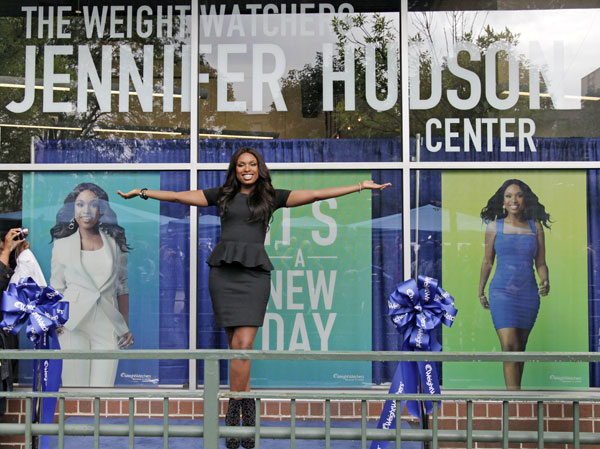 (AP Photo)
Hudson's journey with weight loss has indisputably become a model story for those Americans who struggle with the topic of dieting on a daily basis. On Tuesday, the size 0 actress/singer opened the Jennifer Hudson Weight Watchers Center in her home city of Chicago. At the ribbon-cutting ceremony, the star stated, "I never thought I would make it to have my own center."
In August, the September issue cover girl of SELF Magazine told the publication, "In the neighborhood I'm from in Chicago, a 16 is normal. But in Hollywood, everyone looks exactly the same, so I stood out." Understandably so, Jennifer. One can consume those Chicago dogs and deep dish pizzas in bulk.
Although Hudson has lost an astounding 80 pounds on the Weight Watchers program, she has approached it in a conscientious manner. Rather than reverting to unhealthy methods of dieting, the Weight Watchers spokeswoman mixed consistent exercise with portion control. She subsequently went down ten sizes.
Weight, however, is not the only aspect of Hudson's life she has lost in recent years. In 2008, Hudson's mother, brother and seven-year-old nephew were all found murdered. The estranged husband of Hudson's sister was later charged with the killings and currently awaits trial.
In light of these tragic events, Weight Watchers told the Associated Press that it plans to donate a percentage of its profits from the center to a foundation that will honor Hudson's late nephew, Julian. Hudson, who grew up on Chicago's South Side stated, "We hope to do the same thing and start here at home in Chicago with health, with education, with dreams." The Oscar-winning actress actively engages in programs to curb hunger and obesity amongst America's youth.
For someone who has dealt with so much tragedy, it's encouraging to see Hudson take the healthy road to recovery. Luckily, the people of Chicago can now visit her center for perhaps their very own remarkable slim-down success story.