Among the range of characters James Franco has portrayed within the scope of his acting career, he's played a medieval-age stoner, a hiker with a limb-losing penchant for survival, and a sympathetic doctor who breeds angry apes. However, for 33-year-old Franco, his most impressive roles are the ones he's fulfilled in life.
Franco's intellectual pursuits include a B.A. from UCLA, an M.F.A. from Columbia, and a pending Ph.D. from Yale. He admits that he enjoys putting himself in uncomfortable situations (i.e. reverting back to soap opera appearances after a successful film career, hosting the Academy Awards with Anne Hathaway--which was so awk, and the list continues). Simply put, the man loves learning, rejects complacency, and wants to conquer.
On Friday, WWD reported that Hollywood's quintessential Renaissance Man has signed on to pursue a new endeavor- as the director and photographer of Seven For All Mankind's (7FAM) spring 2012 ad campaign.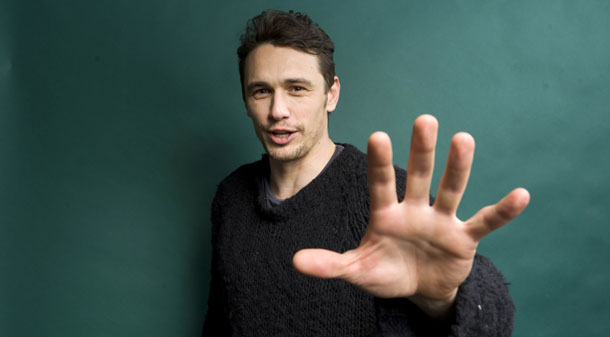 James Franco from the film "Three's Company: The Drama" poses for a portrait in the Fender Music Lodge during the 2011 Sundance Film Festival on Saturday, Jan. 22, 2011 in Park City, UT. (AP Photo/Victoria Will)
The premium denim brand and its ad agency, Lipman, sought Franco for several reasons.
Barry Miguel, president of 7FAM explains, "We want to tell our story about our California roots and James Franco so embodies the ideals of California." The multimedia campaign will take a narrative route, with a celebrity cast. Although names have not been released yet, the campaign is supposed to embody the "free spirited and glamorous California lifestyle." Therefore, we envision young Hollywood mingling in various pockets of L.A.
For Franco, the allure of the campaign was simple: "For me, it's an excuse to be creative. They're giving me a lot of freedom," he told WWD. Dave Lipman, the chair of Lipman added, "This is not the usual fashion campaign. There's a lot of storytelling involved and I think that was part of the attraction for James."
The campaign is Franco's first venture into advertising, but he is famliar with the glossy fashion realm.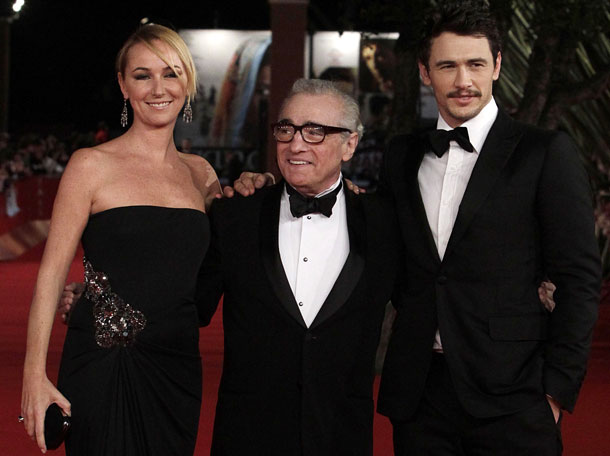 A creative trio: Director Martin Scorsese, center, Italian-born creative director of Gucci, Frida Giannini (left), and actor James Franco (right) arrive on the red carpet to attend the screening of the restored version of Italian director Federico Fellini's movie "La Dolce Vita "during the Rome Film Festival at Rome's Auditorium, Saturday, Oct. 30, 2010. (AP Photo/Gregorio Borgia)
Since 2008, Franco has served as the face of Gucci fragrances, and in October 2011, he was tapped as a brand ambassador for Gucci's menswear. He is also a friend of Frida Giannini, creative director of the luxury company.
James has also been on the other side of the lens- the most recent example being his work for Elle, where he shot photos of British model Agyness Deyn. Soon thereafter, Franco shot a spread for W Mag, which has not yet been released. However, despite all of his ties to the industry, Franco confesses that he does not want his 7FAM shoot to be a fashion-focused campaign. He explains that he would rather it capture the California cool-kid lifestyle by extrapolating the natural eau de perfum of the cast.
The 7FAM campaign will be shot December 11 in Los Angeles and again in January at an undisclosed location. It will then debut in March publications, and online. We're looking forward to seeing it, especially since it involves two of our favorites: James Franco and buttery-soft premium denim jeans.
Sounds like a delicious combination, if you ask us.