In one of the most astounding and creative drug smuggling cases to-date, a gang of drug traffickers have added a new type of "high" to heels.
Spanish authorities brought an end to a two-year international drug-trafficking case in the northern region of the country on Saturday. Six arrests were made in a series of raids, after cartel members were caught attempting to smuggle $630,000 worth of cocaine molded into the shape and style of Manolo Blahnik heels, through a Barcelona airport.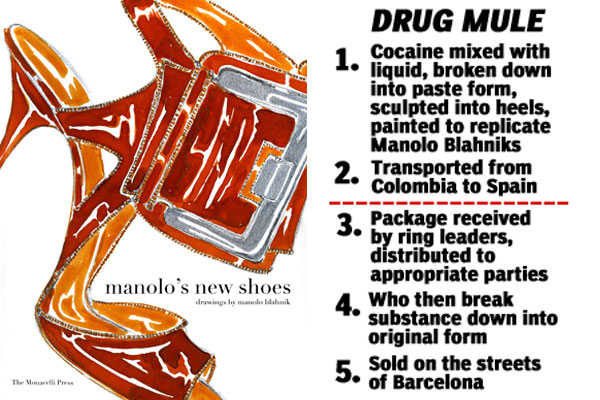 Left, a sketch by Manolo Blahnik. Right, an overview of the sequence of events in this bust. The red line indicates what would have happened if the traffickers were not caught.
The package, which was discovered by airport police, weighed close to 9 lbs. Each pair of replicated heels was valued at $70,000, making the price of actual Manolos ($495 and above) seem like a bargain in comparison.
The ring leaders, a Colombian couple residing in Spain, organized the transportation of the dope from Colombia to Spain. They were awaiting their final shipment and prepping to return to Colombia, when the timely arrests were made.