Hermès International raised its projected 2011 revenue forecast after Q2 sales rose 17.9 percent.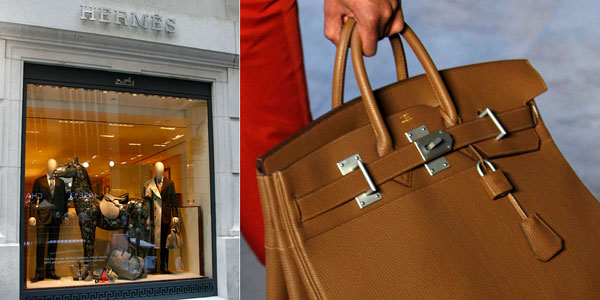 From left, the display window of Hermes on Broad St in New York; Hermes handbag. (AP Photos)
The jump was driven by demand in China and the United States for the luxury brand's leather bags and scarves. Hermès will post first-half results on Aug. 31, and believes that profits should jump significantly in comparison to what the company posted in the first half of 2010. The legendary family-owned French company has attempted to fend off luxury group giant LVMH and the company's controlling shareholder Bernard Arnault. In 2010 LVMH bought a 20 percent stake in Hermès. More from Reuters
What's next for Halston? According to various reports, parent company Hilco Consumer Capital LLC is recruiting BCBG president Ben Malka to head the failing contemporary Halston Heritage line. Who could be his creative director? According to WWD, Marie Mazelis, creative director of Max Azria and Herve Leger, could be aligned to join him. In a statement released yesterday to Fashionista by BCBG Max Azria Group, Mazelis "will no longer be with the company."
This could potentially be a great move for Halston, which recently severed ties with its creative director, investor and designer. The news of the departures of Sarah Jessica Parker Parker, Harvey Weinstein and Mario Schwab shocked the fashion industry, especially since the trifecta was originally wooed to revamp the 1970s glitzy American brand. Updates to come.
Andrew Marc has developed a new ad campaign, shot by world-renowned fashion photographer Patrick Demarchelier. The images, taken in upstate New York, features models Rianne Ten Haken and Cheyne Oglesby. The company is looking to maneuver its image into more of a lifestyle brand. More from WWD