Booming Burberry
It appears that Burberry's CEO Angela Ahrendts, CCO Christopher Bailey and executives are making all the right moves for the brand- in all the right places.
Burberry PLC's Q1 sales were up 34 percent. The luxury retailer says the growth is attributed to an increased number sales and new franchise locations, worldwide. Luxury retailers have seen boosts in sales due to a surge in demand from developing markets. The growth in Burberry alone is attributed to two factors- the recent opening of 100 new retail shops around the globe, and a 15 percent growth in same-store sales. One analyst even called the company's performance "faultless." More from WSJ
Building buzz with "Burberry bodies"
Speaking of Burberry, an upcoming ad campaign from the company is causing a monumental stir. Burberry model, "Transformers 3" star, and fashion-forward beauty Rosie Huntington-Whiteley is one of the faces of Burberry Body, the newest fragrance from the company.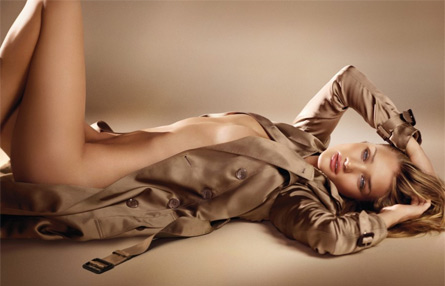 Rosie Huntington-Whiteley in the Burberry Body ad. (Mario Testino / Courtesy of Burberry)
The campaign titled "Burberry bodies" was shot by veteran fashion photographer Mario Testino. An image released yesterday reveals a nearly nude Huntington-Whiteley, with a satin trench coat tastefully draped over certain areas of her body. According to Bailey, "Burberry Body is the most exciting launch that we have ever created and captures the iconic spirit of the brand today in a striking and sensual way."
The scent debuts in September.
Meanwhile, I mentioned another controversial ad campaign from Zappos titled, "More than Shoes!" on Monday. I'd like to hear your thoughts on nude advertisements: Are they tasteful or tasteless?