Philadelphia participates in its first-ever Fashion's Night Out Thursday evening, and we plan on feting the global fashion initiative with loads of shopping bags and bubbly.
Although the mere idea of Fashion's Night Out (founded in 2009 by the CFDA and Vogue) may seem overwhelming and borderline-bougie to some, we assure you that it's fun and beneficial to local businesses and your wardrobes.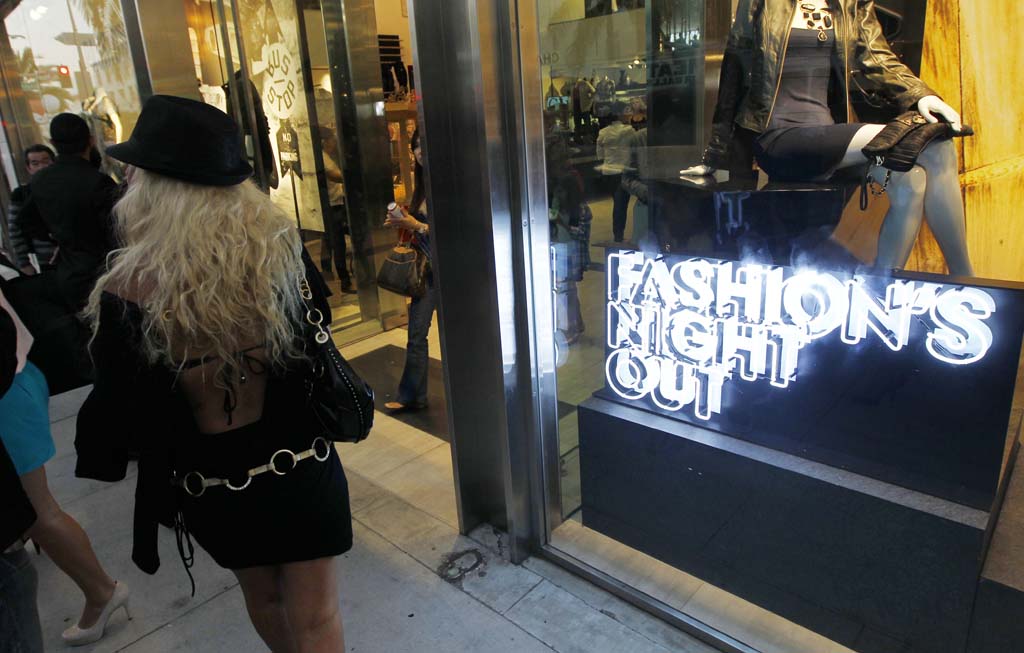 Below is a guide on how to take advantage of the various promotions and events offered by the city's finest shops and boutiques. So grab a cocktail, sift through fall/winter 2012 looks, and celebrate FNO 2012 like a Philly fashion editor- without the frivolous details.
We tell you what to wear, where to go, deals & steals, meet & greets, and more Fashion's Night Out info you may need.
Click through for the full guide.
What To Wear:
Some of our favorite fashion and event photographers will be scaling streets and boutiques for the city's best-dressed tonight. For the indecisive shopper, throw on an official Fashion's Night Out tee offered by the following local retailers. Otherwise, bring your A-line style.
BCBG (King of Prussia Mall, The Plaza)
Knit Wit (1729 Chestnut Street)
Macy's (1300 Market Street)
Nicole Miller (200 South Broad Street; 4249 Main Street)
Plage Tahiti (128 South 17th Street)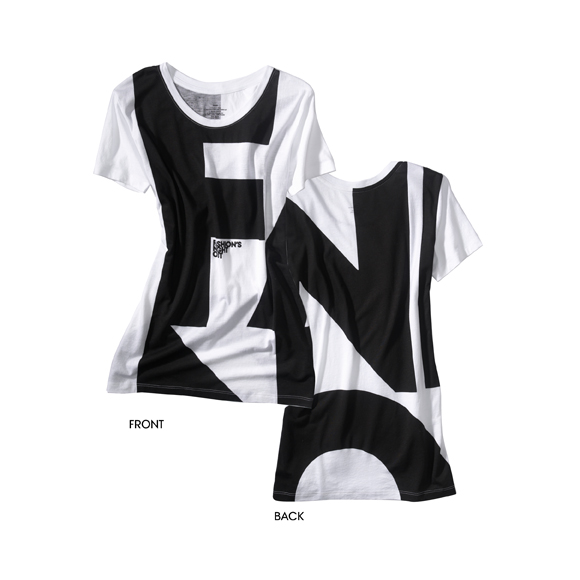 Also fabulous shoes- chic flats for walking, high heels for the brave- are mandatory. Why, one might ask?
Just because.
Where To Go:
Like Inquirer fashion writer Elizabeth Wellington, we plan on hitting the grid-patterned streets and circles of Philly to celebrate the global fashion initiative. In addition to her top picks (which are must-dos), here's a key list of Center City retailers with fun promos in store from 6-11 p.m. this evening. Stop in, enjoy, and if you see us, say hello!
Whiskey & Watches on Walnut
This one's for the boyfriends and husbands out there. Govberg Jewelers invites you to sample exclusive whiskies, delcious cuisine and scope out fine Swiss timepieces tonight. Join the fun at 1521 Walnut Street. You're welcome, all.
Macy's
This is the big one. Macy's at 1300 Walnut Street has scheduled multiple events for FNO shoppers tonight. The Impulse/Juniors section will be spinning with a live DJ, meet and greet with ABC Family's Pretty Little Liars cast member Janel Parrish, a graffiti wall photo op, and our favorite- a candy bar. Guests will also have the opportunity to peruse the Fall 2012 collections of the Philadelphia Fashion Incubator's Designers in Residence. Meanwhile, for the men- starting at 6:30 p.m., enjoy sips, snacks and a meet-and-greet with the Eagles cheerleaders in the Smirnoff lounge of the department store.
Other fun in-store events offered by...
Adresse
Anthropologie
Nicole Miller
Knit Wit
South Moon Under
Joan Shepp
Deals and steals:
Now in its fourth year, the one-night-only fashion celebration aims to drive attention and revenue to retail. The following are promotions offered tonight, so score some deals and freebies!
OWN IT tags from The Philadelphia Collection
While shopping at the city's top retailers during Fashion's Night Out, keep a lookout for The Philadelphia Collection's "OWN IT" tags on select merchandise. Post a picture for a chance to win and OWN the item! All you need to do is take a photo of the tagged item and post it to The Philadelphia Collection's Facebook page or tweet at @philacollection for your chance to win the item. OWN IT opportunities will continue through September 20. Learn more about OWN IT at www.thephiladelphiacollection.org.
Ride around in style
Need a cab to hop from Rittenhouse Square to Old City? UBER car service is offering $10 off transportation to any Fashion's Night Out event. Download the app and use the promo code FNOPHILLY. If you're unfamiliar with UBER, read our story here.
Nails did, hair did
Get your claws painted courtesy of the Nail Bar in the cosmetics section at Macy's (1300 Walnut Street). The department store is also offering a special gift with any $30 puchase in womenswear.
Check in, win stuff
Kenneth Cole (1422 Walnut Street) is giving out complimentary totes when you check in on Foursquare. You'll also be entered for your chance to win a $1000 gift card, so utilize the tool. BCBG (1601 Walnut Street) is offering a similar promo, only on Instagram. Post your styled-out look on Instagram and hashtag it #BCBGFNO for your chance to win a $1,000 BCBGMAXAZRIA wardrobe. Considering how lovely the Spring 2013 show was today, don't miss out on your chance to score big.
Meet and greet:
For fans of the show
Pretty Little Liars cast member Janel Parrish will pose in photos and greet fans from 6:30-8 p.m. in the Impulse section of Macy's. The Eagles cheerleaders will also be in the department store at the same time in the Smirnoff lounge.
Say hello to Bex and Mo, the founders of Adornia
Meet local jewelry company Adornia's founders Becca Aronson and Moran Amir. They will present key pieces from their debut line at Plage Tahiti (128 S. 17th Street).
Jewelry plus
Celebrated scissor artist Zachary Murray will be on hand to create his portraits for guests at Egan Day (260 S. 16th Street).
Still need more info on FNO 2012?
Follow the action via twitter @FNOPhiladelphia. Hashtag your favorite moments, looks and more at #FNOPhiladelphia or #FNO to join the global discussion.
Click through our gallery of 2011 Fashion's Night Out events from around the world. Celebrities, models, music, style and so much more!
Be a part of this global celebration in our city and suburbs, tonight.