The official start of the month of August arouses a confusing mash-up of emotions…Sadness at the imminent waning of sandal season? Melancholy due to the quickly approaching end to the acceptability of summer's brights? Yet, optimistic aspiring stylistas such as myself eagerly greet the eighth month with anticipation.
Fall ad campaigns trickle onto the pages of premium fashion magazines, forecasting the upcoming season's trends. But more than foresight and trend awareness, to more passionate and artistically vulnerable readers, these ads offer momentary escape. Dare I refer to the Dante-esque landscape of McQueen's fall 2011 editorial as "art"? Too much to wish that my wedding can take place on the set of Cavalli's campaign shoot? Call me an impressionable, American consumer, but this fall's campaigns have not only sold me on the featured high-end threads, but also on the lifestyles of the campaign's characters.
I want to stand in the middle of a desert at sunset before a fall thunderstorm looking as fierce and unfazed as Saskia de Brauw for Versace… Why can't I pose for a group portrait in front of my sprawling New England estate wearing head-to-toe Hilfiger and accompanied by my basset hound…?
As fashion legend and pioneer Ralph Lauren once said, "I don't design fashion, I design dreams." Well, hats off to the world of high fashion and the dreams created by its fall 2011 campaigns. You have successfully and beautifully designed the dreams of this wistful blogger.
I would like to observe a few moments of silence for these awe-inspiring fall 2011 campaigns and the brands responsible for their splendor…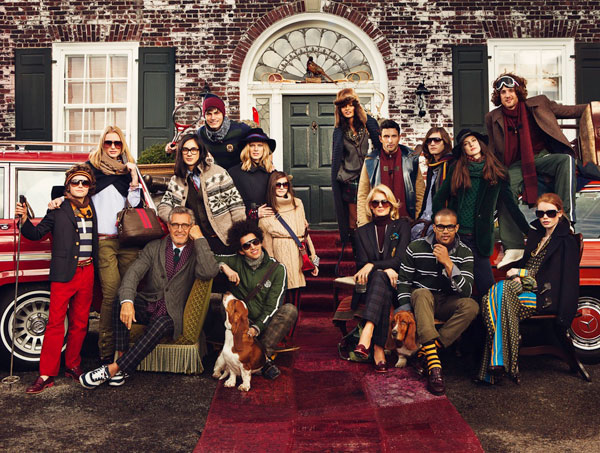 An eclectic group of friends? Or an extremely varied family? One can only wonder what brought this crew of plaid-clad characters together, but in Tommy Hilfiger's fall 2011 ad campaign, this clan definitely looks like a good time. What does a girl have to do to get an invite to this estate? And is the fellow in the top left willing to offer a few quick tennis lessons? Prim, preppy, and perfect.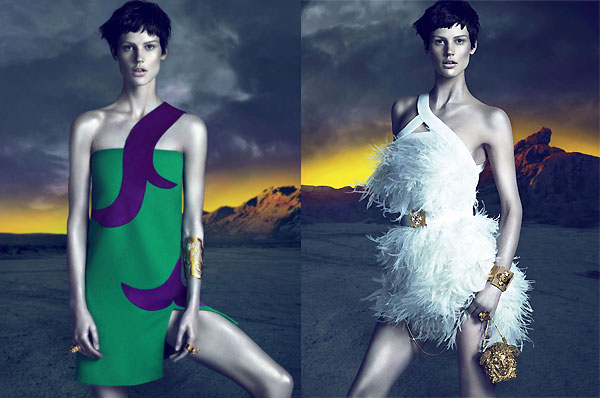 Above: Glistening skin contrasted with the cracked gray earth. As the sun sets on summer in this arrid climate, model Saskia de Brauw manages to keep things bright in this clean, shift (left) and this more wild, feathered cocktail dress. Her stylish presence defeats the stormy backdrop of this Versace fall 2011 ad campaign shot. Fashion proves more awe-inspiring than nature's imminent storm or the sprawling mountains of this gorgeous landscape.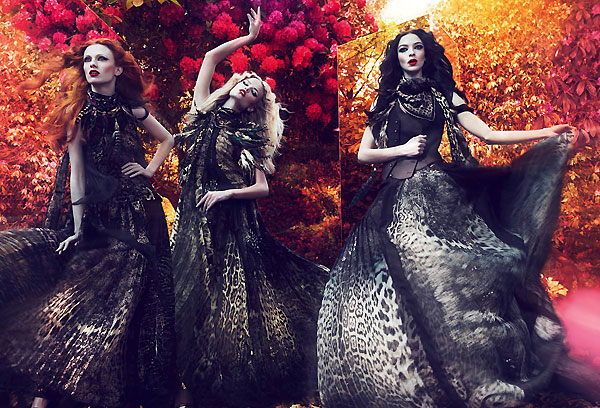 Fiery fall foliage. The wind in your hair. Classic Cavalli wildlife prints accented by feathers in the form of a stunning halter gown. If only the beautiful fantasy featured in Roberto Cavalli's fall 2011 campaign could become a reality...A girl can dream.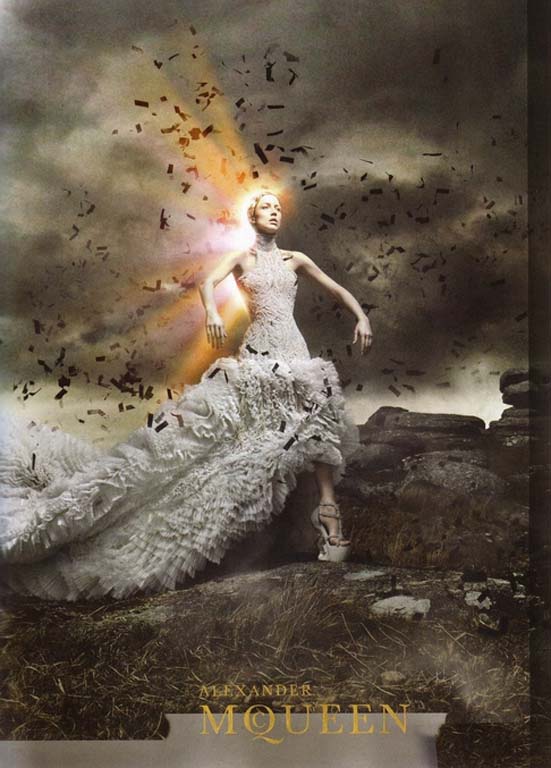 Alexander McQueen's dark yet undeniably powerful legacy assuredly lives on in this sample from the brand's fall 2011 ad campaign. The featured sorceress draws her power from the endless tulle of this gasp-worthy gown and towers over her bleak surroundings in these classic McQueen platform heels. No one will mess with her.