Ah, Venice. The Floating City. Also known for its film festivals, Carnevale, art history, and exquisite Murano glass. This Northern Italian archipelago is indisputably one of the most beautiful and romantic cities in the world.
Queue the Vivaldi, because it's sinking fast.
The man-made city is not the only UNESCO World Heritage site in Italy that's affected. In November 2010, the House of Gladiators in Pompeii collapsed. The Golden Palace of Nero caved in last year as well. And the facade of the grotesque Duomo in Florence is cracking. A little help, per favore?
Enter the man who owns one of the world's most famous jeans brands. Sources close to Diesel chief Renzo Rosso say that the entrepreneur plans to restore one of the Venice's most beloved and renowned landmarks: The Ponte di Rialto.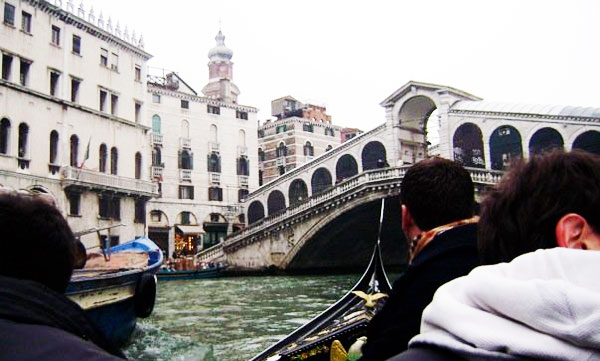 View of the Ponte di Rialto from a gondola ride I took with friends in 2008.
The Rialto, built five centuries ago, is the oldest of four bridges to span the Grand Canal. It also hordes an indisputable number of visitors per day, and the actual durability of the historic monument has become a safety concern for the city.
In a July interview with Newsweek, Lidia Persuoch, president of the Venetian Italia Nostra chapter stated, "We've got uncontrollable tourism … Yet no one invests in any restoration or maintenance [of the Grand Canal]. At this rate, there will soon be nothing left."
Currently, the restoration costs amass to approximately €4-5 mliion and federal funding from a Special Law, that would otherwise fix the issue, is massively constrained due to political corruption and debt. After all, the economic crisis that has descended upon Greece and Europe is on the brink of claiming Italy as well.
If Rosso agrees to help, it will be the latest pledge in the "Project Italia" movement, an initiative started by Tod's CEO Diego Della Valle earlier this year.
Della Valle donated $36.5 million to sponsor the restoration of the Colosseum in Rome, after the Culture Ministry of Italy announced that it could not maintain costs for the ancient theater where emperors once staged battles between gladiators and beasts.
Subsequently, Della Valle has beseeched his native entreprenueurs to revitalize various monuments around the country. Bulgari, Prada and a foundation funded by PPR founder Francois Pinault have all joined the movement, in an attempt to reinstate the luster and beauty of various churches and palazzi across the peninsula.
Giorgio Orsoni, mayor of Venice, said to the Corriere Della Sera, "It's good for the companies' images but it's also a civic commitment by people with wealth."
To that, we say, "Brava."
---
More from the Telegraph UK / More from Corriere Della Sera / More from Newsweek