No wedding dress has generated this level of interest since Sarah Burton and Vera Wang designed Kate Middleton and Kim Kardashian's bridal gowns (respectively).
All eyes will be on Kristen Stewart's character as she walks down the aisle in the first installment of "The Twilight Saga: Breaking Dawn." The film, which debuts this Friday, premiered Monday evening in Los Angeles.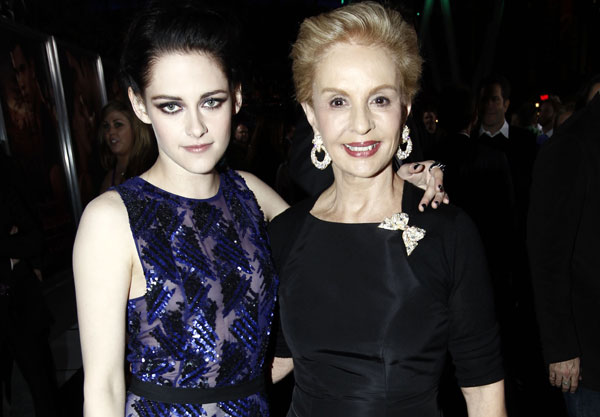 Kristen Stewart, left, and Carolina Herrera arrive to the world premiere of "The Twilight Saga: Breaking Dawn - Part 1" on Monday, Nov. 14, 2011, in Los Angeles. (AP Photo/Matt Sayles)
Carolina Herrera, the auspicious luxury designer who was tapped to imagine and craft the fictional heroine's wedding gown, attended the screening alongside Robert Pattinson and company. She told the Associated Press that the inspiration for the gown was initially based off the description in the book.
"She (Bella) is this very innocent girl that is believing in her first true love and there is romance and there is fantasy and mystery. Everything so, I took all that into consideration," said Herrera.
Aside from the name of the designer, other details related to the gown include buttons, lace, satin, as well as an element of romance. It sounds lovely. Are you going to watch the film?
View photos from the premiere here.