So many emails, so little patience.
America woke up this morning to a steep number of retail promotional blasts in their inboxes, and the probability that the vast majority of recipients deleted these typically cumbersome emails is high. Luckily for those who overlooked these money-saving deals, I sifted through my inbox this morning, and selected the best bargains online for fashionistas who want the most mileage for their money.
So enjoy these final few hours of Cyber Monday, and thank me after your brand new Gucci booties (marked at 70% off) arrive on your doorstep later this week.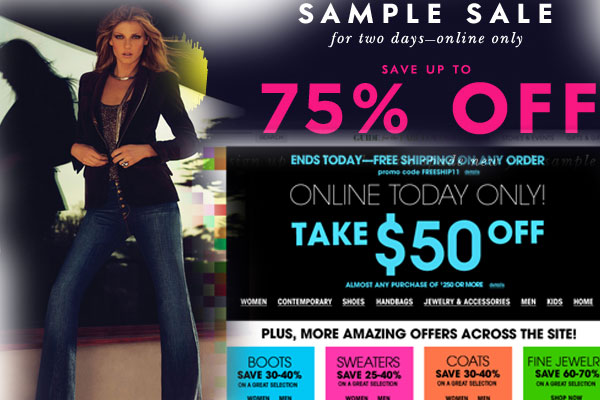 7 For All Mankind
Extra 40% off all sale items
Enter code CMONDAY4011
7forallmankind.com
Bloomingdales
$50 off $250 or more
Free shipping
Over 40 free gifts with select beauty product purchases
Enter code FREESHIP11
bloomingdales.com
BlueFly via LivingSocial
$25 for $50 to spend (50% off)
Free shipping on orders over $100
livingsocial.com
C&C California
42% off all items
Free shipping
Enter code CCCYBER42
candccalifornia.com
French Connection
Up to 40% Off
Free Shipping on orders of $125
Enter code FCBFFS
usa.frenchconnection.com
Gilt Groupe
Cyber Madness boutiques every 3 hours
gilt.com/sale/women?ect=CyberMonPreview
Lux Spa at the Omni Philadelphia Hotel
401 Chestnut Street
40% OFF gift certificates in any amount
Buy a $100 gift certificate and save $40 INSTANTLY!
Buy $200 gift certificate and save $80 INSTANTLY!
Enter code GC1128
secure-booker.com/luxspaandfitness/ShopOnline/GiftCertificate.aspx
Madewell
Extra 30% off sale items
Free shipping
Enter code ENJOY
madewell.com
MyHabit
Up to 80% off in CyberFix boutique (starts at 3 p.m. EST)
Up to 80% off in today's obsessions boutique (starts at noon EST)
Free shipping
myhabit.com
South Moon Under
25% off sale items (Enter code BLACK25)
20% off full priced items (Enter code CYBER20)
Free shipping, free returns with exchange
southmoonunder.com
The 611 Lifestyle
20% off all online merchandise
Enter code OCCUPYMYWALLET
611Lifestyle.com
Theory
30% off all orders
Free shipping
Enter code THANKFUL
theory.com
Meanwhile, here's some background information on Cyber Monday:
The marketing event was founded in 2005 after a retail trade group saw an increased number in online sales on the Monday following Thanksgiving. In 2010, it attracted 106.9 million Americans and drove more than $1 billion in sales. Today, the daylong event is expected to attract 122.9 million Americans, with over 80 percent of retailers participating according to the NRF.
More to come.