Quelle disaster!
It was Standing Room Only Thursday morning for the world's top editors, buyers and luxury moguls at Paris Fashion Week.
While the majority of the East Coast was deep asleep after last night's insane evening of baseball, the fashion world was busy tweeting away, regarding an unusual incident that involved benches- and guests- collapsing at the Balenciaga Spring 2012 show.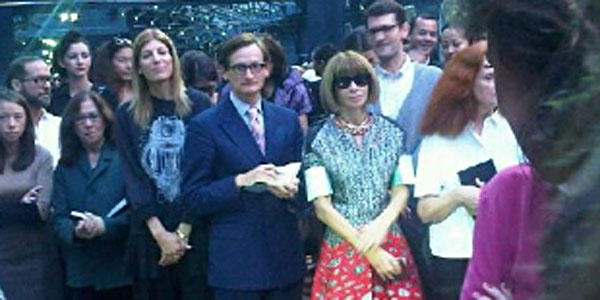 The Vogue crew (from right Grace Coddington, Anna Wintour, Hamish Bowles) standing in front. (Photo courtesy of Pop Magazine on Twitter)
One would think that a century-old fashion house like Balenciaga would at least provide stable seating for their guests. After all, in fashion, presentation is everything.
According to guests, the benches at the venue started cracking, and Vogue reports that at least four collapsed. Elle's resident cool girl Kate Lanphear and celebrity photographer Mario Testino were a few of the guests who were actually on the doomed benches when they fell.
And the show hadn't even started yet.
Subsequently, startled guests began to worry that they would be next. Eventually, everyone (from Salma Hayek to Cathy Horyn) was asked to stand for the presentation.
Thankfully, no one was hurt, and Nicolas Ghesquiere, who naturally received a standing ovation, supposedly put on one hell of a show.
Veiw our favorite tweets below: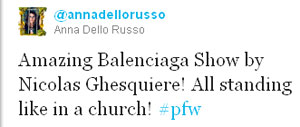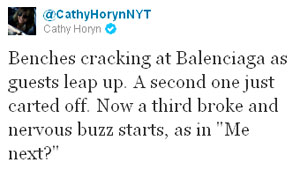 More from Vogue / More from Fashionista