Less sleep, more shopping, retailers say this upcoming Black Friday.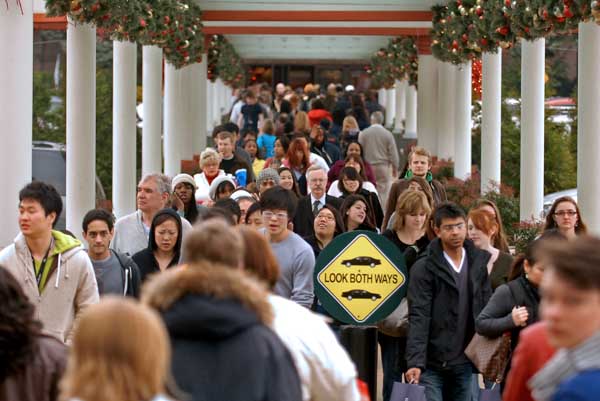 Black Friday shoppers cross the walk between the Plaza and Court of King of Prussia Mall in 2010. (Elizabeth Robertson / Staff Photographer)
Macy's is the latest retail company to announce extended Black Friday hours, providing shoppers with deep discounts, starting at midnight. The retailer announced on Monday that it will stay open until 11 p.m., which means 23 hours of shopping for 800+ store locations! Meanwhile, Macy's Inc.-owned Bloomingdale's stores will open at 8 a.m.
Local Macy's locations include Center City (12th & Chestnut), King of Prussia, Willow Grove, Cherry Hill, Suburban Square, Northeast, Plymouth Meeting, and more.
Hopefully the extended hours will filter-out crowds, because like many, I find myself adverse to the long fitting room/checkout lines and overwhelmed by the havoc that typically accompany shopping in department stores. However, I've found that occasionally, Black Friday deals are well-worth the sleep deprivation and hangovers, depending on items of interest.
The notice from Macy's follows Target's announcement (made last Thursday), stating that it will open its doors at midnight. Other retailers are expected to announce similar hours, because let's be real: The competition is stiff for the biggest shopping day of the year.