Was there anyone who illuminated the Staples Center, brighter than Adele on Sunday evening? Didn't think so.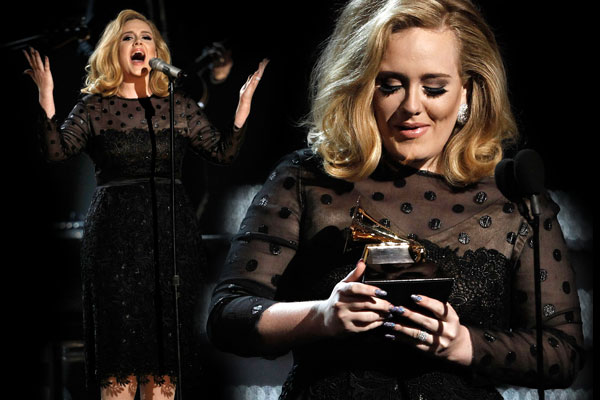 AP Photos, Staff Illustration
The singer, who swept the 54th Annual Grammy Awards with her performance and presence, looked radiant in a custom-designed, 3/4 sleeved gown by Giorgio Armani. The black number was stitched with mesh and embellished with sequins, cinching at her waist to accent her physique.
The Vogue cover girl paired her gorgeous dress with a 60s hair- coated in a blonde and honey hue, bright red matte lipstick, dramatic eye makeup and a 12.4-carat Harry Winston diamond ring set in platinum.
However, we always say it's the woman, not the dress, and how adorable was Adele when she gave that cute giggle of relief upon finishing her performance? With the entire music industry on their feet applauding the British singer, one thing's certain- she has many reasons to beam.
Performer Rihanna also opted for a black Giorgio Armani gown.
However, unlike Adele, the R&B crooner's piece was more sultry-than-sweet.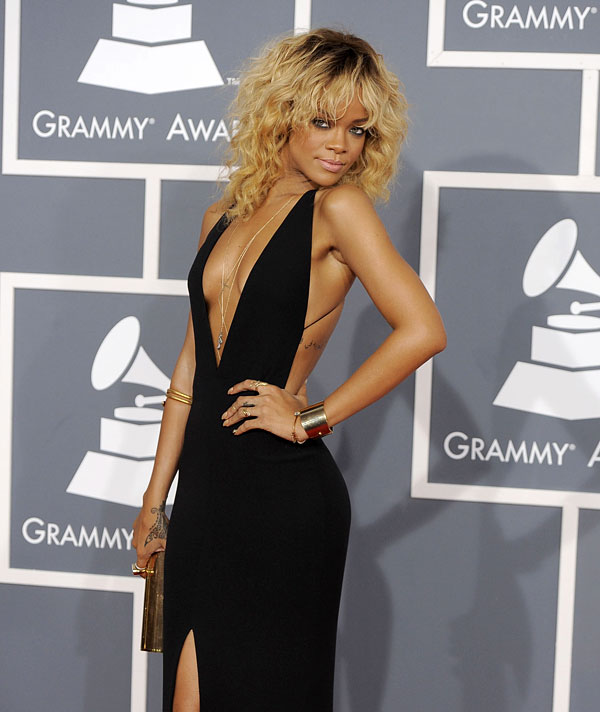 AP Photo
The 23-year-old showed some skin in a dramatic, open back, plunging neck, thigh-high slit gown. She topped the sizzling piece with jewels by Neil Lane, a sweet clutch by Jimmy Choo and Louboutins.
In typical Rihanna fashion, she paired it with dark eye makeup, pouty nude pink lips and a dose of 'tude.
Other risk-takers included Fergie, who revealed a black bra and high-waisted panties beneath her lace fire-orange red gown by Jean-Paul Gaultier.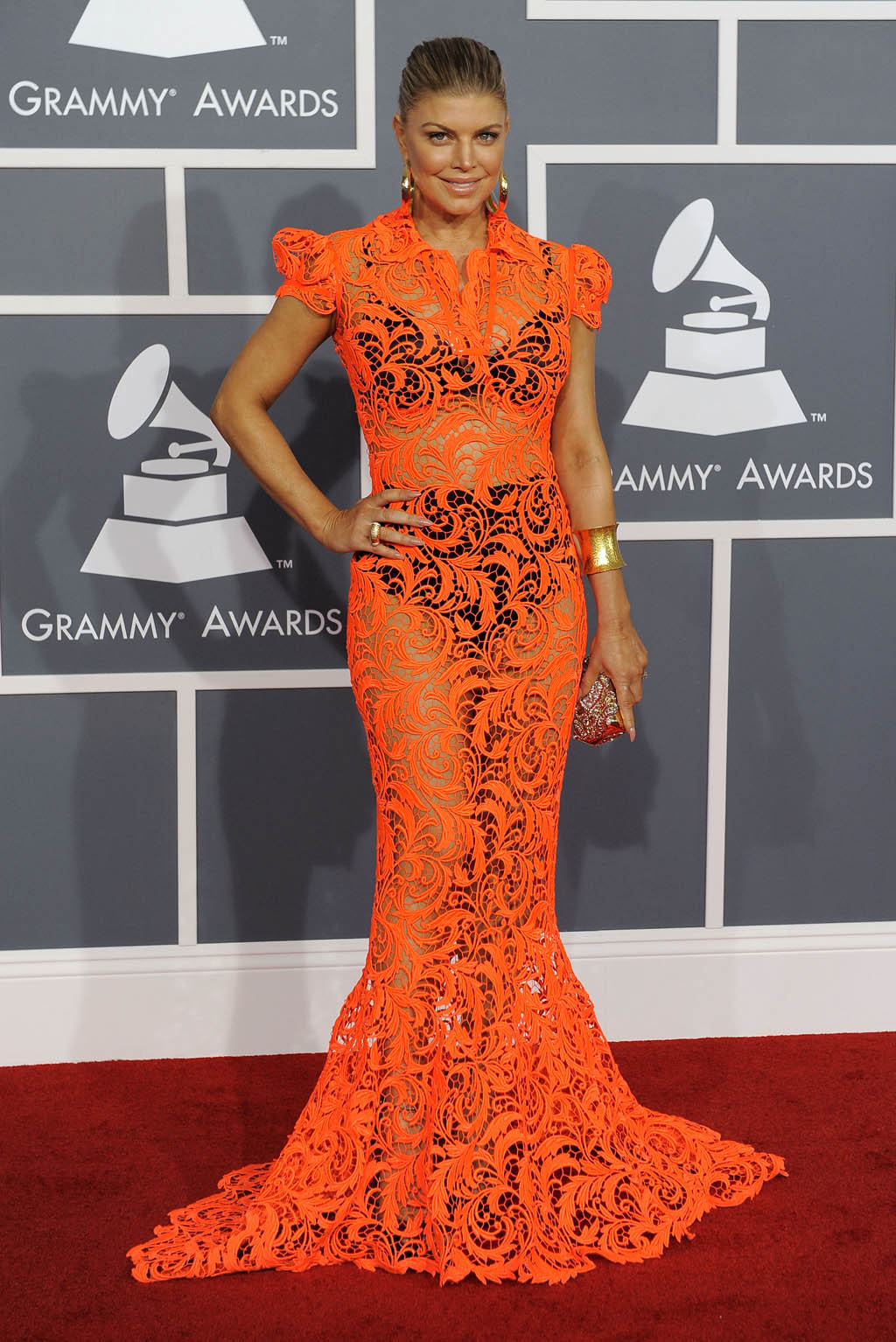 We loved the details of the cut-out lace and the color, and how Fergie paired the outrageous gown with gold hoops and a cuff.
What are your thoughts, did you think Fergie was too much or just right for the Grammys?
Country singers Carrie Underwood and Taylor Swift opted for fresh, frothy-looking gowns that took the glamour route, rather than the daring road that many of their peers navigated through.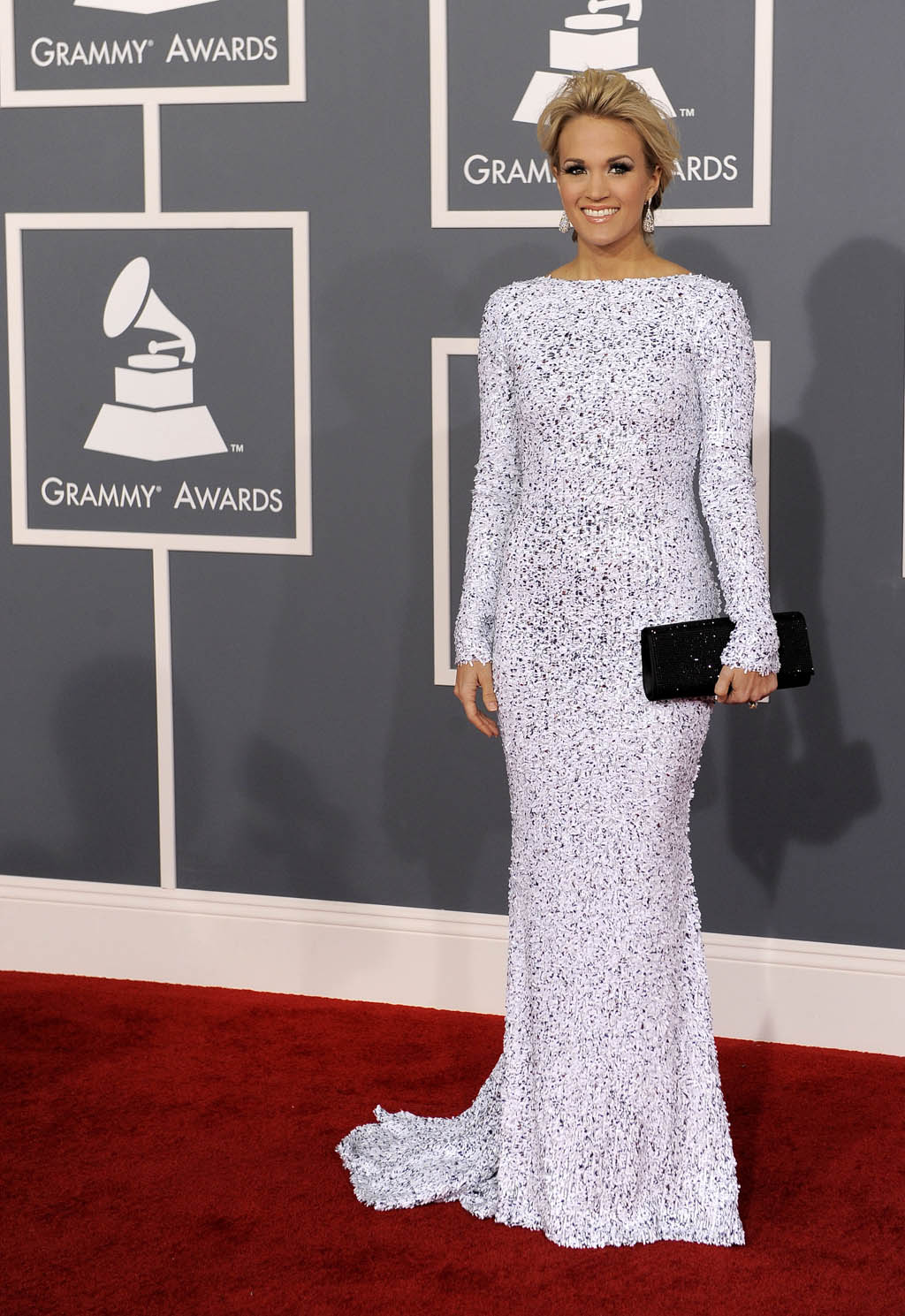 Underwood looked graceful and statuesque in a white Gomez Gracia gown.
We also thought Swift's Zuhair Murad gown was an excellent choice for a young artist looking to transition into adulthood.
Meanwhile, we wonder if Karl Lagerfeld is kicking himself for his remarks about Adele's weight last week. At least there was one superstar who wore a piece by Chanel. Lady Gaga's overall look was bizarre as usual, face net and all, but what would the awards show be without Katy Perry's bright blue hair and Nicki Minaj's red cape? When it comes to Grammys fashion, nothing is off limits.
More from the International Business Times