Archive: August, 2011
Esther Lee, Philly.com
It was revealed through court papers filed by supermodel Linda Evangelista that her baby-daddy is indeed François-Henri Pinault. If that wasn't a mouthful of information to dissect, just wait for this storyline.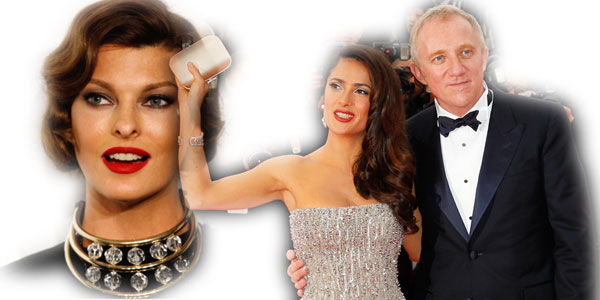 Linda Evangelista is requesting $46,000 a month in child support from baby daddy François-Henri Pinault, husband of Salma Hayek. (AP Photos)
Pinault is also actress Salma Hayek's billionaire husband, father of the star's three-year-old daughter Valentina, and CEO of PPR, a luxury firm that owns Alexander McQueen, Gucci, Bottega Veneta, and other high-fashion brands. In early 2006, Pinault and then-girlfriend Hayek separated, allowing Evangelista to fill the dating void in the French playboy's life. Although he and Hayek got back together later that year, Pinault meanwhile impregnated Evangelista, a fact that the parents of four-year-old Augustin James have fervently denied... until now.
Esther Lee, Philly.com
Speaking of hot bodies, Jennifer Lopez looks stunning on the cover of Vanity Fair's September issue.
In J.Lo's first interview after her high-profile split from singer Marc Anthony in July, she opens up to contributing editor Lisa Robinson and poses for photographer Mario Testino. "Sometimes it doesn't work- and that's sad," she says. However, Lopez insists that despite the recent turn of events, "I remain an eternal optimist about love...It's still my biggest dream."
She reveals what eventually lead her to end the relationship. "To understand that a person is not good for you, or that that person is not treating you in the right way, or that he is not doing the right thing for himself—if I stay, then I am not doing the right thing for me," she confesses.
Marc Anthony, Lopez's husband of seven years and father of her twins, has supposedly taken the divorce with great difficulty, even breaking down in the middle of live performances. "He will always hold a special place in my heart as the father of my children," says Jennifer of Marc. Nevertheless, she states, "I love myself enough to walk away from that now."

In this magazine cover image released by Vanity Fair, actress and singer Jennifer Lopez graces the cover of the September issue. (AP Photo / Mario Testino for Vanity Fair)
Esther Lee, Philly.com
"Up at the gym just working on my fitness."
Well move on over Fergie, because Helen Mirren has been named the "Body of the Year," in a 2,000 person poll conducted by L.A. Fitness.