Archive: May, 2012
House and Senate GOP leaders say they are nearing agreement on a state budget proposal to present to Gov. Corbett in closed door negotiations as early as next week.
House Majority Leader Mike Turzai (R., Allegheny) told reporters at an impromptu news conference in the Capitol Wednesday, that the budget remains "a work in progress" and that the Senate's proposed $27.65 billion spending plan is a "good parameter" for ongoing discussions.
Corbett has said the Senate budget is unsustainable and that he is seeking a a so-called "spend number" closer to the $27.15 billion budget he presented in February.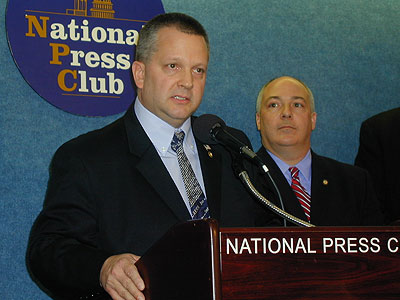 First it was the "Women's Right to Know Act," a so-far failed bill that would force women undergoing an abortion to watch an ultra-sound of her unborn baby before undergoing the procedure.
Remember how well that went over? After Gov. Corbett offered that patients could "just close [their] eyes" when facing the ultrasound machine and when it was revealed that the procedure could involve transvaginal or internal probes, bill co-sponsors started dropping like flies.
Today Rep. Daryl Metcalfe (R., Butler) unveils his own anti-abortion bill, one simmilar to those being considered in other states, that would eliminate public funding for Planned Parenthood.
Freedom was fleeting for former Rep. Bill DeWeese who reported back to a Harrisburg-area prison today after being released on a technicality almost four days ago.
Just before 1 p.m. DeWeese told the Inquirer he was heading back to the state prison at Camp Hill to turn himself in after a judge denied a request for release on bail during the appeal process.
The Superior Court ordered DeWeese freed late Friday because the trial judge had not ruled on his motion for bail pending appeal.
And that would be June 13.
At least, that's what two high-level Republican legislators seem to think.
Earlier today, Sen. Jake Corman (R., Centre), who chairs the Senate Appropriations Committee, said he believes the budget will be put to bed by then, breaking a multi-year tradition of pushing it right up to -- and well beyond -- the July 1 start of a new fiscal year.
An Allegheny County grand jury is set to determine whether to recommend charging state Supreme Court Justice Joan Orie Melvin, according to the Tribune-Review of Pittsburgh.
Testimony continues today as the two-year term of the grand jury investigating Melvin for political corruption draws to a close. When it concludes its probe at the end of the month it will issue recommendations to Allegheny County District Attorney Stephen A. Zappala's office.
Guns took center stage in Harrisburg on Tuesday with gun rights activists gathering for their annual rally in the Capitol Rotunda and gun control activists applauding a vote on a bill they say will help crack down on so-called "straw" purchasing of handguns.
The House Judiciary Committee overwhelmingly approved a bill (HB 2331) to set mandatory minimum sentences for felons possessing guns and at the same time curb straw purchases that put guns in the hands of those who are barred from having them.
Sponsored by Rep. Todd Stephens, (R., Montgomery), the bill would target chronic offenders who exploit the justice system's "revolving door" by ensuring they get jailed for at least five years.
The wife of the Pennsylvania budget secretary was sentenced to five years probation in connection with two 2010 retail theft incidents, including stealing almost $1,000 worth of groceries from Wegman's.
A Cumberland County court judge sentenced Georgina Zogby to 24 months probation and 24 hours of community service for stealing merchandise from T.J. Maxx in January 2010. She also received 36 months probation and 36 hours community service for stealing $955 in groceries from Wegmans in May 2010, according to the Patriot News of Harrisburg.
Common Cause of Pennsylvania this week asked the state attorney general to investigate the tax status of the American Legislative Exhange Council (ALEC), the Washington-based group that has advocates for a variety of conservative measures in state legislatures.
In the complaint filed with Attorney General Linda Kelly, Common Cause alleges that ALEC is "primarily a lobbying group and may therefore be in violation of its tax exempt status."
"ALEC is a corporate lobby front group masquerading as a public charity on the taxpayers' dime. Pennsylvanians shouldn't have to subsidize ALEC's agenda to limit voting rights, undermine our public schools, spread Stand Your Ground gun laws, and weaken laws protecting our environment. Tax fraud is illegal, which is why Common Cause/PA is calling on the Attorney General to review ALEC's registration as a charity and whether its lobbying activities in Pennsylvania are being properly disclosed," said Common Cause/PA Executive Director, Barry Kauffman.