Archive: October, 2012
Fear of an "Elliot Spitzer-esque" crusade by Democrat Kathleen Kane has helped convince the states' biggest business organizations to back her Republican challenger in the race to be Pennsylvania's next attorney general.
Pennsylvania Business Council CEO David Patti told Capitolwire.com that he is concerned that Kane will use the power of the office to pursue businesses, gas drillers in particular.
"We said, 'oh good God, here's another Eliot Spitzer,'" Patti said about Kane. If she's elected, he said the business community fears a "crusade based on politics and preconceived notions, not experience."
Gov. Tom Corbett has signed a bill that would allow companies that create 250 new jobs to keep virtually all of the personal income tax paid by their employees.
The bill, known as the Promoting Employment Across Pennsylvania Act, was designed to encourage economic development and new job creation in the state, the Corbett administration said.
"As Governor, I am committed to ushering in an economic environment where the private sector can grow and create jobs," Corbett said. "I commend the General Assembly for their work on this initiative to grow new jobs in Pennsylvania."
There was a mad scramble around the Inquirer on Wednesday night as no fewer than three reporters awaited news about whether Gov. Corbett had signed pieces of legislation that were sitting on his desk.
The clock was ticking in two directions. The governor has ten days to decide whether he will sign a bill or not. We were minutes away from deadline.
I wanted to get the news out to readers of my Philly Dawg blog that the governor had signed the bill ending the use of carbon monoxide gas chambers in animal shelters. Delaware County reporter Rita Giordano had been told she would get a call back to let her know whether the governor had signed a bill allowing county police officers to be reinstated after a cheating scandal and business reporter Joe DiStefano was awaiting word on a bill allowing entrepenaurs to invest in a socially responsible manner.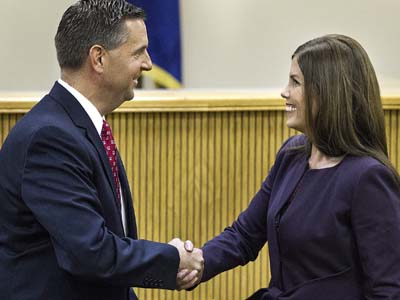 Candidates in the attorney general's race are fighting, well, like cats and dogs, over cats and dogs.
At their one and only debate Monday night, Democrat Kathleen Kane in response to a question from this reporter about enforcement of the state's Puppy Lemon Law, said she was proud to have the endorsement of the Humane Society of the United States.
Only trouble is the Humane Society of the United States, the national non profit animal adocacy group - not to be confused with your local shelter - can't endorse candiates.
Gov. Corbett today said he welcomed any future review of his handling of the Jerry Sandusky child sex abuse case, saying politics played no role in the investigation and challenged his critics to produce evidence to the contrary.
"There was no politics involved in that investigation none, zero. I challenge anybody out there to bring forward one piece of evidence, one sentence of evidence, one thread of evidence," said Corbett told reporters after a ceremonial bill signing event at Harrisburg Area Community College.
Red-faced but speaking with a measured tone, Corbett assailed his critics and defended the length of investigation in what may be his most expansive comments yet on a hot subject that continues to dog him.
Inquirer staff writer Angela Couloumbis will live tweet tonight's debate between Kathleen Kane and David Freed. Mobile user? Click here.
Inquirer staff writer Amy Worden will moderate the debate, which will begin at 7 p.m. at Widener University's School of Law in Harrisburg.
Click here for Philly.com's politics page.
The signs of trouble have been there from the start. But it became near official today when Hispanic and Latino groups gathered outside the Capitol to urge the state Senate to move on Gov. Corbett's nomination of Philly lawyer Ken Trujillo to the state Liquor Control Board.
You don't do that if the path to confirmation is clear.
Turkey Hill Dairy is voluntarily recalling 1200 packages of mint chocolate chip ice cream distributed throughout the southeast because it contains coconut.
The 48 ounce containers of Mint Chocolate Chip All Natural Ice Cream were distributed in Philadelphia, Lancaster, Lebanon, York and Wilkes-Barre-Scranton and sold at Turkey Hill Mini Markets and Cold Cut Hut in Philadelphia as well as Shady Maple Farm Market in Blue Ball and John Herr's Village Market in Millersville.
The UPC code is : 0-20735-11203-8.