Archive: January, 2013
Pennsylvania voters support stricter gun-control laws, including a national ban on sales of assault weapons and high capacity magazines, as well as universal background checks, a new poll found.
Voters said they approved (60-37 percent) of a national ban on the sale of assault weapons and supported (59-39 percent) a ban on high capacity magazines, according to a Quinnipiac University poll taken one month after the massacre of 20 children and six adults at a school in Newtown, Conn.
By an overwhelming (95-5 percent) margin, voters supported requiring background checks for all gun buyers.
Activists on both sides of the gun debate converge in Harrisburg today to deliver their messages to lawmakers.
The most outspoken pro-gun lawmaker rolled out his latest bill at a gun rights rally, sponsored by the greass roots group Pennsylvania Responsible Citizens this morning in the bitter cold on the Capitol steps.
Rep. Daryl Metcalfe (R., Butler) told the crowd that his bill would make it a crime for Pennsylvania's attorney general or any other law enforcement in Pennsylvania to enforce any new federal gun control laws by "liberal gun grabbers."
It could be three strikes for Gov. Corbett on the Grover Norquist tax pledge.
That's according to Norquist's group, Americans for Tax Reform, which said in no uncertain terms that Corbett's plan to lift the cap on the oil company franchise tax is in fact a tax increase.
ATR's spokesman Patrick Gleasontold Capitolwire.com that Corbett's proposal is "a clear tax increase whose burden will be borne by consumers not company."
When he was asked on a radio program earlier this month about restricting gun shows at public facilities, like the Pennsylvania Farm Show, Gov. Corbett pondered the possibility -- for the political equivalent of about two seconds - well, ok, more like six hours, before issuing a statement that everyone is welcome at these public spaces.
Well, now the London-based exhibition company that runs the Eastern Sports and Outdoor Show at the Farm Show - which bills itself as the largest outdoor show in North America - is doing just that.
It has pulled the plug on assault weapons at the show just two-and-a-half weeks before it is to open.
A 15-year-battle over the fate of a modern structure at the heart of the historic Gettysburg battlefield is over.
The National Park Service today issued its decision to demolish the 50-year-old Cyclorama building, following the conclusion of an environmental assessment and a lengthy court fight.
Demolition could take place as early as next month following asbestos removal and the site will be then be restored to its 1863 appearance, said park service spokeswoman Katie Lawhon.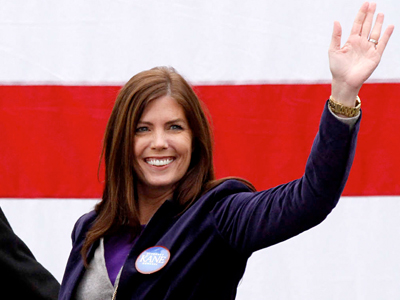 Incoming Attorney General Kathleen Kane has named ex-Rendell aide Adrian King as her top deputy.
King, a partner with the Philadelphia law firm Ballard Spahr, who served as the director of the Pennsylvania Emergency Management Agency in the Rendell administation, will be Kane's new first deputy, according to a source close to Kane.
Kane. a Democrat who is to be sworn in on Jan. 15, is expected to announce the top members of her legal team later today.
It's been almost seven years since Pennsylvania's minimum wage was boosted above the federal minimum - and those of us who were around then remember what a long battle that was.
Now, at $7.15 per hour, the state minimum wage is lower than the federal minimum.
Sen. Christine M. Tartaglione, recently re-appointed as Democratic chair of the Senate Labor and Industry Committee, says she planning to use her position to push for a new hike to help struggling families.
It took Gov. Corbett six months to announce he had changed his position on the NCAA's penalties against Penn State. It took him a little more than six hours to shift gears on limiting gun shows.
Speaking in response to a listener's question on public radio Friday morning, Corbett said he would consider limiting gun shows at publicly-supported properties such as the Pennsylvania Farm Show in Harrisburg.
Corbett said that no one had ever suggested the idea to him before.