With the deadline at midnight tonight to sign up for health coverage under the Affordable Care Act, a small band of the uninsured returned to Harrisburg today to remind lawmakers that there are still as many as half a million Pennsylvanians - many of whom hold jobs - who will see no benefits on April 1.
These are the working poor, locked the so-called "Medigap" because they make too much to qualify for traditional Medicaid. but who do not make enough to qualify for the health insurance plans under the exchange system.
Andre Butler, a banquet server from Philadelphia, and others camped out in the Capitol last spring to call on Gov. Corbett to expand Medicaid as neighboring states did,
A Philadelphia lawmaker wants to relax the penalties for possessing small amounts of marijuana.
Sen. Mike Stack, a Democrat, said Wednesday he is introducing two bills: one to lower the penalty for someone found with an ounce of pot of less and another to expunge the record of a first-time marijuana offender after five years.
"Beyond the financial cost, our antiquated marijuana laws clog our criminal justice system and consume time that can be better spent arresting and prosecuting violent criminals," Stack said. "Over the past 20 years, the number of marijuana arrests has exploded but the price of marijuana has dropped and the availability and potency has increased."
State Treasurer and gubernatorial hopeful Rob McCord in a speech today unveiled his $1.3 billion education spending plan while dishing out a few barbs at Gov. Corbett.
McCord said he wants to use a new gas extraction tax to make sweeping new investments in public education, including full day kindergarten, science and math programs and teacher development.

"Pennsylvania public education rescued me and there is no reason why every single Pennsylvania child should not have the same educational opportunities that I had," said McCord.
A Bucks County lawmaker thinks he has the answer to the standoff over what to do about liquor sales in the state.
Rep. Gene DiGirolamo (R., Bucks) today is sending out a co-sponsorship memo seeking support for what he is calling a liquor sales "alternative" proposal.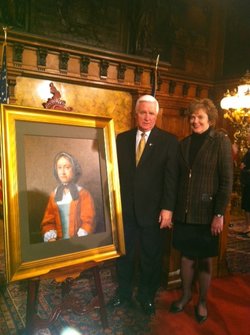 Pennsylvania's "first woman governor" will soon get her rightful place in the Capitol.
Until now, Hannah Callowhill Penn was barely even recognized for her role in Pennsylvania history, Now the second wife of William Penn, who played a critical role in establishing the Pennsylvania colony after her husband was incapacitated by a stroke, is getting her due.
A House committee approved legislation aimed at curbing the increasing number of heroin deaths in Pennsylvania.
The bill, which now goes to the full House, would help prevent overdose deaths by ensuring that first responders have access to a drug to stop the overdose in progress and that "Good Samaritans" who try to help the addict do not face criminal charges.
By a unanimouis vote the House Humane Services Committee approved a bill sponsored by committee chairman Rep. Gene DiGirolamo (R., Bucks) and Rep. Dan Frankel (D., Allegheny) that would give first responders access to the drug Narcan.
The Pennsylvania Ethics Commission has found that three former top Liquor Control Board officials improperly accepted gifts from vendors.
In an order released today the commission found former chairman Patrick "P.J." Stapleton, former CEO Joseph Conti and former marketing director James Short violated the state ethics act for taking gifts, meals and other hospitality provided by various vendors who had contracts with the board and not reporting it on their annual statements of financial interest.
The board found Stapleton. who resigned in 2012, took meals and received gifts of alcohol from vendors with LCB contracts without reporting them in 2010 and 2011. Stapleton was directed to repay the Commonwealth $7,258.
A northeast Pennsylvania man pleaded guilty to threatening to kill President Obama.
Nicholas Savino, 42, of Clarks Summit, admitted in federal court Monday that he sent a threat in August 2013 that read, ""President Obama the Anti-Christ. As a result of breaking the constitution you will stand down or be shot dead."
Savino was indicted by a federal grand jury in September 2013, following an investigation by the U.S. Service and Clarks Summit Police.