The shooting death of Philadelphia police Officer John Pawlowski last week has prompted new calls for legislation to bring parity to the police officer pension system in Pennsylvania.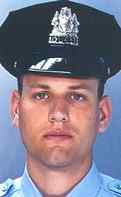 Les Neri, president of the Pennsylvania Fraternal Order of Police, called on the General Assembly to "right a horrible wrong" and pass legislation that would extend a 100 percent killed-in-service benefit to all police officers.
Currently, state law mandates only the families of officers in townships and boroughs receive the 100 percent benefit, including salary and health benefits.
Neri said because of the roughly one thousand different police pension plans in Pennsylvania municipalities, police officers in Philadelphia and every other city across the state - including Altoona, Erie, Harrisburg, Johnstown, Scranton, Pittsburgh and the Pennsylvania State Police - who often encounter some of the most dangerous law enforcement situations, receive only partial benefits.
In Philadelphia, families receive 60 percent of an officer's benefits, but it is as low as 50 percent in other cities, he said.
Legislation was introduced last session passed the Senate but failed to make it to the House floor. Similar legislation will be introduced this session by state Sen. Sean Logan (D., Allegheny) and state Rep. Kate Harper (R., Montgomery), said Neri.
"No less than five Philadelphia police officers have been killed in the line of duty since last October," said Neri, who recently retired from the Tredyffrin Police Department. "How many more officers will die before this legislation is passed to help suffering families through such a difficult time? Officer Pawlowski's wife and unborn child have lost a husband and father. For some reason, state law believes the families of some police officers deserve better treatment, and that is a terrible injustice."
Click here for Philly.com's politics page.