Archive: September, 2011
Gov. Corbett is the most popular he's ever been, getting a 50-32 percent approval rating from voters, according to a Quinnipiac poll released Thursday.
Both female and male voters gave the first-term Republican better marks this time around, with women giving his popularity a significant surge. The majority of voters said they like the governor as a person - 53-12 percent - and Democrats were among them, saying they like him 39-19 percent, with 41 percent undecided.
Hundreds of abortion rights supporters crowded the Capitol Rotunda on Tuesday to rally against legislation they say is an attack on women's health care.
The protestors - led by veteran women's rights activists Eleanor Smeal and Kate Michelman - waved signs that read "No Clinics No Choice," and chanted "We've Had Enough," the slogan of a new group aimed at halting what it calls a flood of anti-abortion legislation sweeping statehouses across the country.
"This is a war on women," said Smeal, former president of the National Organization for Women (NOW) and now president of the Feminist Majority Foundation. "We are intent on stopping that war here in Pennsylvania."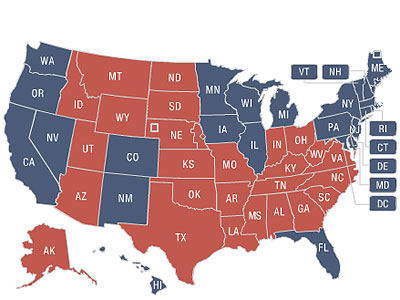 A new poll shows voters overall reject a proposal to change the way Pennsylvania casts its electoral college votes.
By a margin of 52-40 Pennsylvania voters said they want to see the state continue the state's current winner-take-all system rather than switch to a structure that would award votes based on congressional district.
But Republicans, by a slim (48-44) margin, favor the district proposal being advanced by Senate Majority leader Dominic Pileggi (R., Delaware) and Gov. Corbett. Democrats oppose the plan 63-30, while independents are 53-43 against it.
Murder charges against a doctor who ran a Philadelphia abortion clinic described as a "house of horrors," touched off a legislative battle in Harrisburg that appears to be coming to a head this fall.
Today abortion rights supporters hold a rally at the Capitol (11:30 a.m.) to protest what they call "a full scale attack on women's health."
The rally , co-sponsored by Pennsylvanians for Choice and Raising Women's Voices of Southeastern Pennsylvania, is part of the national "We've had Enough" campaign against what it describes as a growing trend to strip women of their reproductive rights.
Senate president Joe Scarnati laid out his fall agenda today, saying he his priorities are "rocks and roads" - otherwise known as legislation to impose a Marcellus Shale drilling fee and boost transportation funding.
But the Jefferson County Republican, who addressed a Pennsylvania Press Club luncheon, drew peals of laughter at his answer to the question of whether he was now supporting privatization of liquor stores or whether he was using it as leverage fo get the House Republicans and Gov. Corbett to go along with his plan to impose an impact fee on Marcellus Shale gas drillers.
"Both," said Scarnati.
The day before the much-celebrated federal repeal of "don't ask don't tell" took effect, Ted Martin was sitting before a state House Democratic policy committee tilting at windmills.
The executive director of Equality PA, the statewide gay, lesbian and transgender advocacy group, testified in support of a proposal to add sexual orientation to the state's human relations act which currently forbids discrimination in employment and housing on the basis of gender, race and religion.
The bill, sponsored by Rep. Dan Frankel (D., Allegheny) has 64 co-sponsors, but will not see the light of day as long as Rep. Daryl Metcalfe (R., Butler) is chairing the state government committee, the portals through which the bill must be flow.
A defiant Cherelle Parker appeared in criminal court in Philadelphia yesterday to tell a judge she had not been drinking and driving when she was pulled over in her legislative district on Apr. 30.
The Daily News reports the House lawmaker said she was not drunk nor driving the wrong way down a one-way street in her state-owned Jeep Cherokee when she was arrested in her district just after midnight April 30.
The Northwest Philadelphia Democrat also roundly rebutted the testimony of one of the two arresting officers, who testified that she'd told him that she drank two beers and two chocolate martinis before getting behind the wheel of her state-owned Jeep Cherokee.
The flood-related deaths of two bison at the Hersheypark zoo earlier this month stunned animal lovers and prompted a national animal rights group to call for a federal probe into the incident.
The drowning deaths of thousands of pheasants on two Pennsylvania game farms during the same floods caused by Tropical Storm Lee got virtually no attention.
As many as 40,000 thousand pheasants were trapped in their pens on two Pennsylvania Game Commission farms during the flooding in Lycoming County, killing many, if not most of them.