Archive: September, 2008
Columnist Karen Heller points out there a couple of major issues waiting for action in Harrisburg, while the legislature is out of session more often than not:
"Do you have a good job? No? Consider running for the Pennsylvania Senate. The pay is good ($76,163), the perks are great. Most days, you won't even have to show up in Harrisburg....
Groups representing state and local governments are holding a rare joint press conference in Philadelphia today to ask the presidential candidates to restore their place at the negotiating table.
Gov. Rendell and other leaders of the so-called "Big 7" organizations representing states, governors, mayors, cities and counties, want the next president to renew the state-local-federal partnership on national policy issues that has all-but disappeared in recent years.
"Back in the day we used to have a seat at the table," said Jim Philipps, media relations manager for The National Association of Counties, which represents 2,400 counties across the country. "Now our lobbyists spend all their time fighting bad legislation."
State Secretary of Public Welfare Estelle B. Richman is pushing to establish an independent ombudsman's office to handle issues related to children in Pennsylvania's child welfare system.
Richman said today that she will be forming a workgroup - which will include everyone from child advocates to legislative staff - to discuss the pros and cons of creating the independent office.
Gov. Rendell today nominated a top advisor to become the state's new Health Secretary.

Everette James, 46, of West Chester, will succeed Dr. Calvin Johnson, who recently resigned to return to private sector.

Sen. John McCain has pulled ahead of Sen. Barack Obama, 45-43 percent, with 10 percent still undecided in the latest national presidential poll released today by Franklin and Marshall College poll.

The results buck many other recent national polls that have Obama ahead.

A group of House Republican lawmakers is proposing a package of bills squarely aimed at obliterating what they term the "pay-to-play" culture that pervades the awarding of state contracts.
Only problem is, there's barely any time left in this year's legislative session to get these bills debated, approved and sent to Gov. Rendell.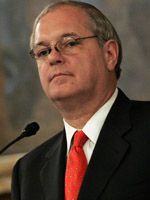 A Republican who lost his bid for the state House in the spring primary has filed a lawsuit against Rep. John M. Perzel (R., Phila.) alleging the onetime Speaker was behind a slanderous dirty tricks campaign.

Lowell Gates, a lawyer from Mechanicsburg, alleged in the suit filed yesterday in Cumberland County Court that Perzel orchestrated a series of anonymous robo-calls to voters in the 88th House District.
With just six weeks left until the election, Attorney General Tom Corbett holds a sizable lead over his Democratic opponent when it comes to raising campaign cash.
Corbett raised just over $1 million over the last four months, compared to John Morganelli's $408,000. With campaign expenditures taken into account, the Attorney General has just under $1.8 million left to spend in the last six weeks, while Morganelli has $1 million in the bank.