Archive: August, 2008
A coalition of 21 voter rights groups is pushing the Department of State to issue paper ballots to ensure fair access for all voters on Election Day. Our intern David Spett reports:
Some precincts in Philadelphia and Montgomery counties told voters in the April primary to leave the polling place and return later because of technical difficulties, said Kathy Boockvar, a senior attorney for the Advancement Project, one of the coalition members.
Turning away voters because of technical difficulties is illegal, she said. In such instances, poll workers are supposed to fix the machines as quickly as possible. Some counties require distribution of emergency paper ballots, but others do not.
A conservative Harrisburg think tank today unveiled a short yet blistering online attack video www.turnpikefacts.com against the Pennsylvania Turnpike Commission, an agency it describes as a "web of power, patronage and politics."
Wanted: One of the men on Gov. Rendell's security detail.
You know who you are. You are tall with dark hair. And you were standing by Judge Marjorie O. Rendell earlier today at the Moore College of Art and Science, wearing a sharp suit and aviator glasses and, apparently, looking all handsome.
Gov. Rendell's office won't give out your name -- you know, prickly security reasons -- but you have a not-so-secret admirer.
He's in your newspaper, on your television screen, on your Internet news alerts, and on your favorite radio news talk show.
That would be Pennsylvania's own Gov. Rendell, who is ubiquitous on the media circuit this week as the Democratic National Convention unfolds in Denver.
There he is on NPR's Morning Edition urging Clinton loyalists to move on (here's where you can view the story and listen to the interview: http://www.npr.org/templates/story/story.php?storyId=93962036).
Northampton District Attorney John Morganelli has his own Top 10 list, and although it may not be quite as humorous as Letterman's, it contains quite a few zingers against state Attorney General Tom Corbett.
In fact, Morganelli's top 10 list is all about Corbett, whom Morganelli - a Democrat - is attempting to unseat this fall.
Speaking at the Capitol press club's monthly luncheon today, Morganelli ticked off the ten things he thinks Corbett can do to help reform state government in Pennsylvania -- which is kind of funny in and of itself, given that Corbett, for all those who haven't been paying attention, is the guy behind the Bonusgate investigation that has resulted in charges against a dozen former and current Democratic politicians and aides in the House. The indictment charges that the group orchestrated a massive scheme to use taxpayer dollars for political campaigns.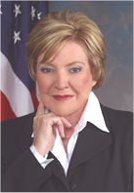 Lt. Gov. Catherine Baker Knoll officially announced on her website late last night that she has a rare form of cancer. Aides said this morning that she was feeling sluggish and tired in June and decided to visit her doctor. There, she underwent X-rays and was diagnosed with neuroendocrine cancer.
Her chief of staff, Salvatore M. Sirabella, said he did not know how advanced the cancer was, or whether it had spread to other parts of her body. He said more tests will be performed in the next few weeks to determine that.
However, Sirabella said she has undergone radiation and is on her second round of chemotherapy. He said she is feeling good, and wants to return to work soon. A return date has not yet been set.
Gov. Rendell still thinks Obama/Clinton is the presidential dream ticket, but with Obama set to name a VP any day now, Rendell is making a last minute pitch for Sen. Biden.
"Having said that, assuming she's not going to be the nominee, I'd steadfastly recommend Joe Biden," said Rendell at a Capitol news conference yesterday.
Rendell said the Delaware Democrat, who is chairman of the Senate Foreign Relations Committee, is the "most experienced in foreign affairs, most experienced in terrorism and national security."
Attention Philly to Harrisburg commuters: You can now skip the congested Amtrak Web site and go directly to the new Keystone Line site for train information.
The new site www.catchthekeystone.com was launched this week by PennDot, which is hoping to encourage people to avoid the Schuylkill Expressway and Turnpike "traffic monsters" and hop on the train for the 90 minute ride.
The interactive site has train schedules, ticket information, station hours and information about "amenities."*