Republican Senate President Joe Scarnati got his wish: he and other legislative leaders finally met with Gov. Corbett Monday to talk budget.
Last week, the top Senate Republican complained that there were only nine weeks left to hammer out an agreement on Corbett's proposed $28.4 billion budget, yet there still hadn't been a meeting between the governor and legislative leaders.
Note to readers: use promo code R555Q to access Inquirer story on Corbett's defense of drug testing remarks.
As Gov. Corbett, made his first public comments since his controversial radio interview on drug testing in the workplace Monday, we caught up with Labor Secretary Julia Hearthway who backs up her boss.
Hearthway said in her experience traveling the state talking to business leaders, she has found drug use among job applicants to be a perennial issue.
The union representing the state's wine and spirits store clerks is spending hundreds of thousands of dollars to take on Gov. Corbett and his quest to privatize liquor sales in Pennsylvania.
The United Food and Commercial Workers (UFCW) Local 1776, headed by Wendell W. Young IV, will start airing a tough ad statewide that calls Corbett's privatization push a "reckless scheme" that will raise taxes, cost thousands of jobs and "destroy small businesses."
Not only that, the ad alleges, but the administration's "reckless scheme will put alcohol on every street corner and increase crime."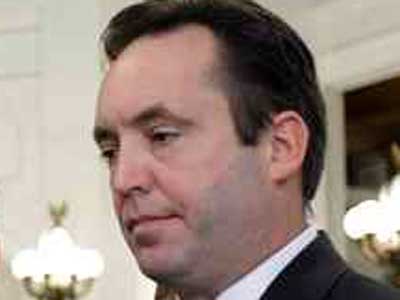 On paper, at least, many Pennsylvania elected officials shied away in 2012 from accepting travel, accommodations or other gifts on someone else's dime.
Wednesday is the due date for state legislators and other public officials in the state to file their statements of financial interest for 2012, where, among other things, they must list sources of income as well as any gifts, lodging or transportation paid for by others (friends are the exception to the rule).
Gov. Corbett, who has taken heat in the past for gifts he has accepted, declared about $18,500 in travel, lodging and hospitality, mostly for conferences he attended, as well as his trade mission to France and Germany last spring. Disclosure statements for a number of people in his inner circle and cabinet were still not available by day's end.
Privatizing liquor sales in Pennsylvania will increase access to alcohol and lead to more social problems.
That was the unequivocal - and, some would say, unapologetic - message Tuesday at the first of three hearings in the Senate on Gov. Corbett's push to get government out of the business of running wine and hard liquor stores.
Animal lovers: Want to talk about puppy mills, the state's stray animal crisis, dog chaining, pigeon shoots, feral hogs, "ag-gag" bills or any other hot animal issues on the agenda in Harrisburg and throughout the state?
Republican Senate President Pro Tempore Joe Scarnati said that while everyone in the Capitol remains obsessed with getting a liquor privatization bill passed before the legislature's summer break, the clock is also ticking (and loudly) to get a state budget signed into law.
Speaking at the monthly press club luncheon in Harrisburg Monday, Scarnati said legislative leaders have yet to meet with Gov. Corbett about his proposed $28.4 billion spending proposal for the fiscal year that begins July 1.
A new ad has hit the airwaves in Bucks County against Republican Sen. Chuck McIlhinney, who has become the new target for those pushing to privatize the sale of wine and hard liquor in Pennsylvania.
The Citizens Alliance of Pennsylvania (CAP), a non-profit group that advocates for limited government, is spending roughly $5,000 to air an ad on Fox in McIlhinney's Bucks County district for the next week, accusing him of "siding with union bosses who want to keep taxpayers footing the bill for Pennsylvania's broken government-run liquor store system."
The ranking Democrat on the Senate Judiciary Committee did something no other lawmaker has done publicly: he offered the governor his list of "confirmable" nominees for the Pennsylvania Supreme Court.
Some might call it Senate Democrats flexing their newfound leglative muscle, given that their votes are now needed in the judicial confirmation process.
We now have a date.
The first of what will likely be three Senate hearings on a controversial bill to privatize Pennsylvania's government-run wine and liquor stores has been scheduled for Tuesday of next week (April 30) in the Capitol - and it is bound to be telling.