Archive: April, 2011
Dafney Tales
Lawmakers are pushing to reestablish the Philadelphia School District's Safe Schools Advocate and to force schools to report violent incidents to an independent state agency.
Legislation sponsored by state Reps. John Taylor and Bill Keller would fund the office — cut for budget reasons in 2009 — and place it under the Pennsylvania Commission on Crime and Delinquency instead of the state Department of Education.
The lawmakers say that the independent monitoring system is needed to ensure that violent incidents aren't underreported.
Dafney Tales
The district's harsh cuts to full-day Kindergarten and early childhood education has got local lawmakers up in arms. But their ire isn't directed at the school district, but Gov. Corbett who proposed cutting $292 million to Philadelphia schools which led to the district's decisions.
My colleague Jan Ransom reports:
Council members Jannie Blackwell, Bill Green and Curtis Jones Jr. adopted a resolution Thursday calling on Gov. Corbett, the State House of Representatives and the State Senate to continue to fund full day Kindergarten.
Dafney Tales
The Philadelphia School District unveiled the details of the cuts needed to overcome a historic $629 million deficit yesterday — and they weren't pretty.
The worst of the cuts will hit the district's teachers, more than 1,200 of whom will be out of work this summer unless the district gets more money from the city, state or federal government.
"We have an unprecedented level of revenue decline," said Michael Masch, the district's chief financial officer. "There has never been a year to our knowledge in which school district revenue has declined at all, not in decades."
Dafney Tales
Students and staff at Benjamin Franklin Elementary School will be relocated to the main building of the school at 5735 Rising Sun Avenue Monday. The move, from the school's temporary location at Pilgrim Baptist Church, is due to environmental reasons, according to a statement released by the district tonight.

District spokeswoman Shana Kemp did not provide detail as to what the issue was, but said that the Department of Public Health will conduct a "thorough check of the building."

"More information will be provided as the District, the Philadelphia Department of Public Health and the PFT fully assess the situation," she said.
Dafney Tales
Massachusetts' education commissioner proposed a set of regulations that would radically overhaul the way teachers and administrators are evaluated, making student MCAS results central to judging their performance, according to a Boston Globe article.
The proposed regulations would reward teachers and administrators whose students show more than a year's worth of growth in proficiency under the Massachusetts Comprehensive Assessment System and on other exams, while educators whose students underperform would be placed on one-year "improvement plans.'' Under the proposal, teachers could face termination if they do not demonstrate progress.
The goal is to fix a long-broken evaluation system that too often fails to provide constructive feedback to educators on how they need to improve and on what they are doing right, Mitchell Chester, the state's commissioner of elementary and secondary education, said in an interview.
Dafney Tales
After a months-long investigation, two district employees suspended for blowing the whistle on a procurement contract switch from a white-owned to a black-owned enterprise last winter have been fired, according to a district source.
Procurement director John Byers and Francis Dougherty, who worked in Deputy Superintendent Leroy Nunery's office, were fired March 30. A district spokeswoman said she wasn't aware of the matter and couldn't comment on personnel matters.
Superintendent Arlene Ackerman placed Byers and Dougherty, along with four others, on a two-week, paid administrative leave in December pending an inquiry conducted by Pepper Hamilton LP, into "apparent inconsistencies in the distribution of prime contracts to vendors."
Dafney Tales

Superintendent Arlene Ackerman is going national when her interview with CNN's education correspondent Steve Perry airs on Anderson Cooper 360 tonight. Her interview, and the show's focus on the district's Parent University, is scheduled to air several times on CNN and Headline News over the next several days, according to the district.
The district has boasted that the program has assisted over 22,000 parents across the city with classes and workshops on family and financial literacy, professional certifications and college degree attainment, and other matters, since it began nearly three years ago.

But with the district facing a massive budget shortfall, "the viability of the program is in jeopardy," officials said. They hope the national exposure will shed light on how important the program is to helping turn the city's public schools around.
Dafney Tales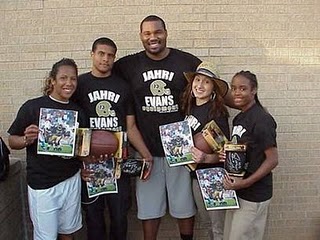 From Philadelphia School District's blog, A Broad View:
NFL Guard and New Orleans Saints player, Jahri Evans, hasn't forgotten where he came from. Evans, who starred as a Pioneer at the School District of Philadelphia's very own Frankford High School, is committed to supporting the youth of his hometown.
To support the youth of Philadelphia, The Jahri Evans Foundation is providing three, $1,500 scholarships for high school seniors in the Philadelphia School District who will attend a 4-year college next fall.