Dafney Tales
Students and staff at Benjamin Franklin Elementary School will be relocated to the main building of the school at 5735 Rising Sun Avenue Monday. The move, from the school's temporary location at Pilgrim Baptist Church, is due to environmental reasons, according to a statement released by the district tonight.

District spokeswoman Shana Kemp did not provide detail as to what the issue was, but said that the Department of Public Health will conduct a "thorough check of the building."

"More information will be provided as the District, the Philadelphia Department of Public Health and the PFT fully assess the situation," she said.
Dafney Tales
Massachusetts' education commissioner proposed a set of regulations that would radically overhaul the way teachers and administrators are evaluated, making student MCAS results central to judging their performance, according to a Boston Globe article.
The proposed regulations would reward teachers and administrators whose students show more than a year's worth of growth in proficiency under the Massachusetts Comprehensive Assessment System and on other exams, while educators whose students underperform would be placed on one-year "improvement plans.'' Under the proposal, teachers could face termination if they do not demonstrate progress.
The goal is to fix a long-broken evaluation system that too often fails to provide constructive feedback to educators on how they need to improve and on what they are doing right, Mitchell Chester, the state's commissioner of elementary and secondary education, said in an interview.
Dafney Tales
After a months-long investigation, two district employees suspended for blowing the whistle on a procurement contract switch from a white-owned to a black-owned enterprise last winter have been fired, according to a district source.
Procurement director John Byers and Francis Dougherty, who worked in Deputy Superintendent Leroy Nunery's office, were fired March 30. A district spokeswoman said she wasn't aware of the matter and couldn't comment on personnel matters.
Superintendent Arlene Ackerman placed Byers and Dougherty, along with four others, on a two-week, paid administrative leave in December pending an inquiry conducted by Pepper Hamilton LP, into "apparent inconsistencies in the distribution of prime contracts to vendors."
The other four staffers returned to work in January.
Dafney Tales

Superintendent Arlene Ackerman is going national when her interview with CNN's education correspondent Steve Perry airs on Anderson Cooper 360 tonight. Her interview, and the show's focus on the district's Parent University, is scheduled to air several times on CNN and Headline News over the next several days, according to the district.
The district has boasted that the program has assisted over 22,000 parents across the city with classes and workshops on family and financial literacy, professional certifications and college degree attainment, and other matters, since it began nearly three years ago.

But with the district facing a massive budget shortfall, "the viability of the program is in jeopardy," officials said. They hope the national exposure will shed light on how important the program is to helping turn the city's public schools around.
Dafney Tales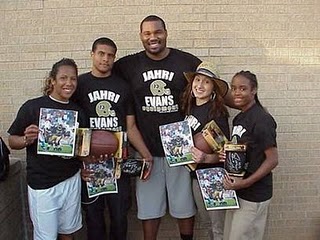 From Philadelphia School District's blog, A Broad View:
NFL Guard and New Orleans Saints player, Jahri Evans, hasn't forgotten where he came from. Evans, who starred as a Pioneer at the School District of Philadelphia's very own Frankford High School, is committed to supporting the youth of his hometown.
To support the youth of Philadelphia, The Jahri Evans Foundation is providing three, $1,500 scholarships for high school seniors in the Philadelphia School District who will attend a 4-year college next fall.
Dafney Tales
Bounty contest seeks to clean up schools
Bounty has launched a new extension of their Make a Clean Difference campaign with Kimora Lee Simmons, in an effort to continue raising awareness for the need to keep city schools clean. This time, Bounty is teaming up with Kimora Lee Simmons, star of reality TV show "Life in the Fab Lane." One school will have a second chance to win a fabulous $50,000 makeover – putting Kimora's catwalk-couture spin on the classroom clean-up. The makeover sweepstakes, available to grades K-12, is the second one being offered as part of Bounty's "We Love Our School" initiative launched in February.
Check out their page here: www.Facebook.com/Bounty
Mission to end child abuse and sexual violence in schools
Dafney Tales
Seven principals have been rewarded the first-ever Distinguished Principal Leadership Award created by the Christian R. and Mary F. Lindback Foundation.
Award recipients are:

- Yolanda Armstrong, Pepper Middle School

Dafney Tales
District officials have sprung into action after an emailed bomb threat addressed to Superintendent Arlene Ackerman was sent to the district's call center and webmaster Saturday night.

"We're not sure who it's from, but it contained several complaints against the district, and it was directed toward Dr. Ackerman and staff," said district spokeswoman Shana Kemp. "They said they would be in the building at midday."
Philadelphia police, including a bomb-sniffing dog, conducted a perimeter and internal search of 440 early this morning and found no evidence of an explosive device, Kemp said. Officers will resume the search prior to the start of the work day tomorrow.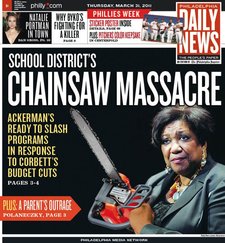 We promised school district officials that we'd provide a link to this video, which three PSTV workers spent part of their day (and your taxpayer dollars) working on.
It's video of Dr. Will Jordan, an associate professor of urban education at Temple University, adding onto the district's onslaught against the Daily News for our cover today highlighting the massacre of school services coming as the district deals with hundreds of millions of cuts from Gov. Corbett.
If you missed it, someone from the district spent a few hours today going at the DN on Twitter from the district's Twitter account. Feeling our honor being attacked, we couldn't help but fight back.
Dafney Tales
From the office of Congressman Chaka Fattah:
Congressman Chaka Fattah (D-PA) the Congress' champion for equity in education, today introduced significant legislation to close gaps in resources and opportunity between rich and poor in the nation's public schools.
Fattah introduced the Fiscal Fairness Act and the Student Bill of Rights, both of which upgrade and close loopholes in the Elementary and Secondary Education Act of 1965, which is up for reauthorization in the current Congress.