Dafney Tales
With only two days left before the school district's summer school ends, the district's shortened program was cut even shorter, raising the question of whether the district got a bang for their buck.
Of the 18 days of instruction, officials cancelled one academic day and cut short two. The loss of those days will not be made up, according to district spokeswoman Shana Kemp.
Those days cost the district $858,700, which includes the cost of staff, transportation, food services and vendors.
Dafney Tales
All school district summer enrichment programs will dismiss early today because of the extreme heat and humidity, district officials announced this morning.
Classes will let out at 1 p.m. today and will be closed for the entire session tomorrow. Afternoon program staffers shouldn't report to their regular sites. Routine transportation will be provided for students.
The National Weather Service reported that the combination of temperatures in the high 90's and high humidity could create a situation in which heat illness is possible, officials said. The heat advisory is in effect until 8 p.m.
Dafney Tales
Host families needed for summer exchange students
The Center for Cultural Interchange, www.cci-exchange.com, is in need of host families to house exchange students from Spain. The program, Group Homestay Program, is for Spanish teens who will attend English classes and experience American culture, in Delaware County, from Aug. 4 to 25.
Host families are responsible for providing room and board to their students (and what I imagine a homegrown all-American experience). And don't worry, these Spaniards come with their own medical insurance and spending money.
Dafney Tales
Gov. Corbett has expressed his intent to apply for the $500 million federal grant program, "Race to the Top - Early Learning Challenge."
Though it's unclear how much Pennsylvania stands to get if they make the cut, any reward to the state could mean a significant boost to Philadelphia, the state's largest school district.
A contribution would help close the remaining $35 million gap the school district faces. District officials have proposed more layoffs to help cushion the shortfall.
Dafney Tales
UPDATE: The School District said tonight that the proposed amendment to Superintendent Arlene Ackerman's contract is no longer being considered.
---
Hey folks, I've been away the last couple of weeks, but a lot has happened in my absence.
Dafney Tales
Philadelphia typically doesn't fall on the list of cities with healthy students, but two schools in the city are trying to change that reality.
Overbrook Educational Center, in Overbrook, and Anne Frank Elementary School, in the Northeast, were honored today at the Alliance for a Healthier Generation's Healthy Schools Forum by former president Bill Cinton.

The recipients were recognized from among 275 schools nationwide for their efforts to improve the health and well-being of their students.
Dafney Tales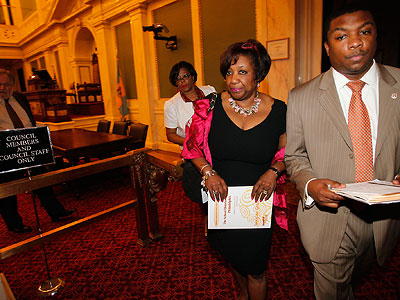 UPDATED: Just as we suspected, the "education" announcement by Nutter, Ackerman and company, was to show the public that the city, state and school district have officially established a formal partnership.

In the spirit of "solidarity," Mayor Nutter, School Reform Commission Chair Bob Archie and Education Secretary Ron Tomalis, signed an agreement at City Hall today, cementing what's to become a free flow of information and coordination between the school district, city and the state.

"This represents a new beginning, a new way of working together," Ackerman said.
NBC's "Education Nation On-The-Road" makes its third and final stop in Philadelphia Sunday and will begin a nearly weeklong series of town hall discussions on issues that students, parents, teachers and others face concerning education in the region.