Dafney Tales
Update: PFT officials aren't mum with just the press apparently. A PFT member tweeted me minutes ago that members have no idea what they're being asked to vote on at their meeting tomorrow night.
PFT spokeswoman Barbara Goodman said: "They will be informed at the meeting. Jerry will do a presentation about what the proposal is," she said.
Goodman said officials have kept details of the proposal under wraps that even she is without many details.
Dafney Tales
Wendell Pritchett, the newest member to join the School Reform Commission, has risen up the ranks - at least temporarily.
Gov. Corbett appointed Pritchett, placed on the board by his former boss Mayor Nutter, interim chairman. Pritchett, a former aide to Mayor Nutter, will preside over the meetings until Corbett nominee Pedro Ramos is confirmed by the state Senate.
Ramos, who was chosen by Corbett on June 16 to fill the vancancy of David Girard Di-Carlo, will then become chairman of the board.
Dafney Tales
Tomorrow's School Reform Commission meeting has been postponed due to the recent departures of two of its members, according to a statement by Commissioners Denise McGregor Armbrister and Joe Dworetzky.
A new date has not been announced. This latest move pushes the SRC two weeks behind schedule. Last week's meeting was delayed until tomorrow due to a lack of quorum.
Nonetheless, the board members said the work will be done.
Dafney Tales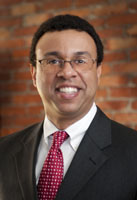 As promised, Mayor Nutter today made the first of his two appointments to the School Reform Commission by giving the job to his former staffer, Dr. Wendell Pritchett, the Chancellor of Rutgers University-Camden.
In a statement, Nutter described Pritchett as "a respected scholar in urban history and an experienced government policy-maker."
His appointment comes a day after the resignations of SRC Chairman Robert Archie and Commissioner Johnny Irizarry.
Dafney Tales
George Richezza, president of 32BJ SEIU District 1201, issued a statement today in response to the district's plan to layoff 848 facilities and transportation workers.
The union, which is comprised of more than 3,000 public school aides, bus drivers, attendants, mechanics, building engineers, cleaners and maintenance workers, rejected to making concessions. The union is seeking to save $75 million in givebacks from its unions.
"By putting more than 1,100 men and women out of work, the Philadelphia School District will not just make life more difficult for these workers and their families, but will inflict harm on our schools and our struggling economy. Eliminating nearly half of the workforce that supports our school system – including all school bus drivers -- would decimate our schools' ability to function and ensure our kids safety. Philadelphia students are already paying the price after the Ackerman administration turned our schools' finances upside down, and they deserve better than this."
Dafney Tales
Updated 6:12p.m.: About two weeks after rejecting a proposal by the district, principal union members voted in favor of the same concessions just minutes ago.
Accepting the deal by a landslide - 173 to 64 - principals have avoided losing 27 assistant principals who were issued notices last week. But layoffs could still come down the pike.
No word yet from union president Robert McGrogan.
Dafney Tales
I know many of you were looking forward to attending tomorrow's School Reform Commission meeting. But you will have to wait until next week.
A lack of quorum has forced officials to reschedule tomorrow's planning meeting.
But no worries, those fresh-faced Commissioners should be present at the next scheduled meeting, on Sept. 21, 2011, at 2:00 p.m., inside district HQ.
Dafney Tales
Although district officials say they hope to save up to $75 million in concessions from its unions to close a multi-million gap, it doesn't look too promising after yet another one of its union voted to turn down proposed amendments.
The union representing district maintenance workers is the latest union to strike down a tentative deal brokered by the district, a union official with Local 1201 confirmed today. In a vote of 849 to 594, members shot down the deal that included foregoing a 3 percent raise in January.
Union president George Richezza declined to comment. District spokesman Fernando Gallard said the district will not stop communicating with all of the district's unions.