Archive: March, 2013
As if Pennsylvania's Supreme Court doesn't have enough to deal with it now has agreed to take on a case involving the future of its -- and every other courts' -- judges.
The Associated Press reports that a one-page court order released Thursday says the Supremes will hear arguments in May on a lawsuit challenging the state constitution's requirement that judges retire at age 70.
This comes at a time the court is juggling or getting ready to juggle critical cases related to fracking, legislative redistricting, voter ID and more.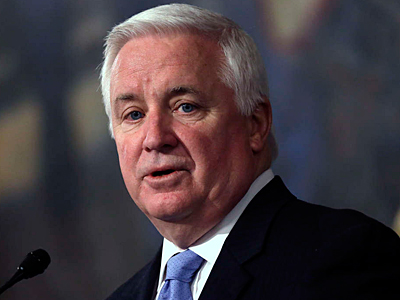 Cental Pennsylvania media outlets are reporting on student, faculty and alumni protests over Millersville University's choice of Gov Corbett as this year's commencement speaker.
An online petition opposing the choice has drawn more than 1,000 signatures, according to a local TV station and a Lancaster newspaper.
The Harrisburg Patriot-News Thursday ran an image from an online protest portraying Corbett as an eye-patched pirate (the school's nickname is Marauders) with the words "Pillaging Public Education Doesn't Make You a Marauder!"
(A brief discussion twixt Baer & Baer's editor, a.k.a. BE)
JB: Yo, boss, ya know that big pretty State Store down on Girard Avenue near Second?
BE: Gorgeous. Huge. Well-lit. Giant selection. Just like a real liquor store.
As if American taxpayers needed further proof that their government lives in a bubble and that their elected leaders are so removed from the daily struggles of so many who pay the costs of such living, now come reports of Vice President Joe Biden's two-night, million-dollar stay in Paris and London.
First reported by the Weekly Standard, the trip last month included one-night each for Biden at luxury hotels in both cities and, of course, stays for huge advance security and communications teams (136 rooms in London) for which taxpayers spent $585,000 in Paris and $459,338 in London.
The New York Daily News published some shots of the digs. U.S. News & World Report has the full story.
As someone who, after a quarter-century of covering politics and government, has very little faith in real policy change for the better, I must say I'm impressed with Sen. Bob Casey's change on guns.
"After Newtown, I made a substantial shift in my positions," Casey says.
This was during the 7 a.m. hour on Monday's edition of "Morning Joe" on the MSNBC cable news network. You can watch it here.
Oh, the things Harrisburg can find to fight over.
The latest is a possible push to take down portraits in the Capitol of former, now-jailed political leaders.
A shame. It could deprive taxpayers of their very own tax-funded rouges gallery.
(A brief discussion twixt Baer & Baer's editor, a.k.a. BE)
JB: Yo, boss, see that thing about Bobby Casey and the GOP plan to change how Pennsylvania allots electoral votes?
BE: You mean a Democrat is in disagreement with Republicans? That's news?
Ohio Republican Sen. Rob Portman's "change of heart" on same-sex marriage got me thinking.
The respected and leading Republican -- who was seriously vetted as a VP pick by Mitt Romney's campaign last year -- now says he supports gay marriage, two years after his own son told him he's gay.
Portman is the most prominent Republican to express such support since former VP Dick Cheney, whose daughter is gay and legally married.