Archive: February, 2012
(A brief discussion twixt Baer & Baer's editor, a.k.a. BE)
BE: I've been telling you from the start that my man Rick has heart and YOU said he'd never last past Iowa. And yet, here's what he did in Mitt's home state with far less money and organization.
Results for Michigan Republican Primary (U.S. Presidential Primary)
Feb 28, 2012 (>99% of precincts reporting)
| | | | |
| --- | --- | --- | --- |
| Mitt Romney | 410,517 | 41.1% | |
| Rick Santorum | 378,124 | 37.9% | |
| Ron Paul | 115,956 | 11.6% | |
| Newt Gingrich | 65,093 | 6.5% | |
| Other | 29,152 | 2.9% | |
JB: What can I say, boss, except how do you do it?
We all know that once in a while life imitates art or art imitates life, but last night and early this morning we might have caught a peek of an auto race imitating a presidential race.
I'm talking, of course, about the Daytona 500, NASCAR's season-starting race, in which GOP contender Rick Santorum sponsored an entry, the number 26 car, driven by veteran Tony Raines.
The auto race was as bizarre and unpredictable as the presidential race.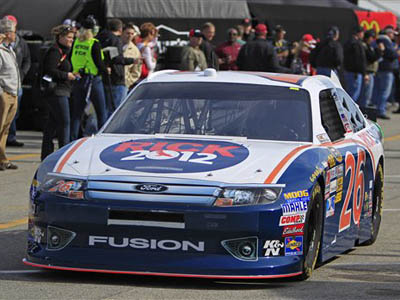 No matter what you might think of Rick Santorum and his race for president, his decision to sponsor a car in tonight's NASCAR Daytona 500 is a stroke of political genius.
(The race -- for the first time in its 54-year history -- was delayed yesterday by rain and is set to start at 7 p.m. tonight, weather permitting.)
Think about this. On the day before a critical primary in Michigan, home of the American auto industry, Santorum has a Ford race car with his name on it running in what's called the "Great American Race."
(A brief discussion twixt Baer & Baer's editor, a.k.a. BE)
BE: I've been wondering, who's our Republican Guv backing in the Republican presidential sweepstakes?
JB: Funny you should ask. Just yesterday, at a rare press availability in the Capitol, I asked the Guv if he has a preference that he's willing to share.
First of all, there was nothing on Satan, nothing on "phony theology" and almost nothing on contraception -- all of which was probably good for Rick Santorum.
But in the 20th and maybe final GOP debate, in Mesa, Ariz., last night, there were some memorable moments, not all of them favorable to the former PA Senator.
He was, for example, roundly booed for his Washington-insider explanation of how he voted against his principles on issues such as spending more for public education and earmarks and supporting Planned Parenthood despite his staunch opposition to birth-control and abortion.
(A brief discussion twixt Baer & Baer;s editor, a.k.a. BE)
BE: Hey, JB, I assume you'll be watching tonight's Republican debate in Arizona on CNN at 8?
JB: Wouldn't miss it.
Interesting article atop page one of today's Harrisburg Patriot-News suggests that alleged child-abuser Jerry Sandusky might be playing dumb as part of a criminal defense strategy.
The piece quotes past and present friends and acquaintances, some of whom say the Sandusky they're seeing and reading about these days doesn't square with the Jerry they've known.
Among the theories examined: he's medicated to deal with the stress of charges against him and his pending trial; he might be suffering from delayed effects of head trauma sustained in his playing days; he might be working toward a defense that he's just too dim to know right from wrong.
(A brief discussion twixt Baer & Baer's editor, a.k.a. BE)
JB: And in the category of "whatever it takes," we now have a top Democratic leader in Harrisburg offering an attention-getting bill on the transportation-funding mess.
BE: You mean the mess surrounding more dangerously crumbling bridges than any state in the nation, highways as pocked as the surface of the moon and transit systems starving to death?