Archive: September, 2011
(A brief discussion twixt Baer & Baer's editor, a.k.a. BE)
JB: Yo, chief, see that fun little study just out on politics, dating and mating?
BE: Politicians have ALWAYS dated and mated. Even after they're married.
The Republican proposal to change the way Pennsylvania awards its 20 electoral votes in next year's presidential election continues to take on water.
A Quinnipiac University poll released today says a majority of state voters, 52%-40%, want to keep the state's current winner-take-all system.
The strongest support for the status quo comes from the southeast and Philly. The only support for changing the system comes from the northwest, 49-48, and central Pennsylvania, 47-44.
(A brief discussion twixt Baer & Baer's editor, a.k.a. BE)
BE: I've got questions about that "Computergate" trial starting in our capital city.
JB: Fire away.
(A brief discussion twixt Baer & Baer's editor, a.k.a. BE)
JB: Interesting front-page question in today's Harrisburg Patriot-News about art.
BE: Art who?
The rich-folks group that calls itself "Patriotic Millionaires" has released a video of Pennsylvania members of Congress who also are millionaires AND "no" votes on President Obama's call for raising taxes on the wealthy under the "Buffet Rule."
It's sort of a no-duh release, but still fun.
Those that group names, along with their net worth, are Republican Sen. Pat Toomey ($3.3 million) and GOP House members Lou Barletta ($1.2 million), Mike Kelly ($8 million) and Bill Shuster ($1.2 million).
Are you ready for some pol-ball?
There's yet another Republican debate tonight. This one's in Orlando, sponsored by the state's GOP, Google and Fox News. It's live at 9 p.m. on Fox stations.
It includes a new, first-time player, former New Mexico Gov. Gary Johnson who, believe it or not, announced his candidacy for president back in April.
(A brief discussion twixt Baer & Baer's editor, a.k.a. BE)
JB: Well, boss, you're gonna have to wait in line at the checkout counter of your local State Store to get your daily bottle of beaujolais.
BE: What! No more just walking into a Giant Foods or a Wegmans and up to that friendly 10-foot machine, showing my ID and blowing into that breath thing?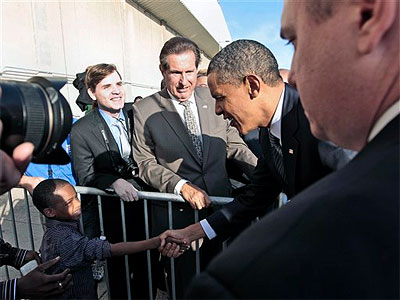 In case you missed it, somewhere during President Obama's White House Rose Garden speech on Monday he threw in the towel.
Without exacty saying so, he gave up on governing and went into full-campaign mode.
Gone was any attempt to change the way Washington works. Gone was any effort to compromise with Republican leaders. Gone was the goal of reaching what only recently he sought as a "grand bargain" of shared concessions between the counter ideologies.