Archive: July, 2009
Sandy Bauers, Inquirer GreenSpace Columnist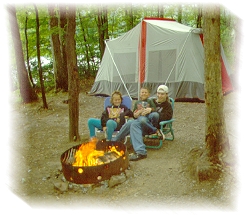 Although I haven't done it for a few years, I love camping. (As in tent camping. Not bringing along a whole trailer-full of energy-sucking amenities.) And seeing as how it's so green, I just might get back to it. Just think: No hotel room to cool or heat. Evenings by lantern-light. Low-impact activities like hiking, watching the stars and telling outrageous stories. And, for many, NO TV!!! I love the feel of the air, the sound of the wind in the trees, the glow of the moon.
But some camps can be greener than others, and the Pennsylvania Department of Conservation and Natural Resources has some thoughts. It is setting up demonstration "green" campsites at state parks this summer. How green do they go? Each has a tent and sleeping bag made from recycled materials, a fuel efficient cooking stove, an LED flashlight, solar charger and reusable batteries, reusable cook set, solar camp shower, non-toxic bug repellent, bear-proof food container, a clothes line and reusable marshmallow sticks.
I can attest to those solar showers. I've used them on boats, and they can sure absorb a lot of heat over the course of a sunny day.
Sandy Bauers, Inquirer GreenSpace Columnist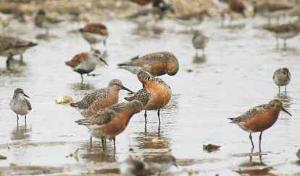 There's more news on the red knot front.
When we last left the subspecies, a good number of those leaving the Delaware Bay in late May had reached optimum body weights, priming them for reproductive success when they reached the Arctic.
I wrote about that development here.