Sandy Bauers, Inquirer GreenSpace Columnist
After returning home sick from a vacation -- my cough is now in its third week, antibiotics notwithstanding -- I wrote a column about how people who fly on airplanes are at an elevated risk for infection of all sorts.
One public health official said proximity to other sick people is a main culprit. But another expert cautioned that airplanes are given thorough cleanings regularly, and that surfaces might be contaminated.
Recent research from the University at Buffalo in New York state lends new credence to that view.
Sandy Bauers, Inquirer GreenSpace Columnist
For several years, Temple University marine biologist Erik Cordes has been traveling to the Gulf of Mexico to research deep sea corals. Some of his work has delved into whether the Deepwater Horizon oil spill harmed these strange and vital communities of corals thousands of feet below the ocean's surface.
Now, Cordes is returning. But this time, he'll be investigating the effects of ocean acidification on the corals. And he's bringing along a film crew. Their working title for the subsequent documentary is "Acid Horizon."
"The carbon dioxide in the atmosphere is working its way into the ocean," Cordes told a Temple science writer. "There has been a lot of attention focused on acidification in shallow waters, but the fact is, the first effects of acidification are being felt in the deep sea."
Sandy Bauers, Inquirer GreenSpace Columnist
Some of the furniture had Disney princesses on it.
Others depicted Dora the Explorer and Spiderman.
And many contained flame retardants, chemicals that have been linked to cancer, hormone disruption, infertility and other ills, according to a study by a nonprofit group that advocates for less use of toxic chemicals.
Sandy Bauers, Inquirer GreenSpace Columnist
Mercury levels in women of childbearing age dropped by a third in the past decade, a survey by the U.S. Environmental Protection Agency has found.
Mercury is a neurotoxin. Research has shown that it can be harmful for a baby's growing brain and nervous system. Children who have been exposed in the womb to methylmercury -- a version of mercury that is even more toxic than the original -- have shown impacts on cognitive thinking, memory, attention, language, and fine motor and visual spatial skills.
High mercury levels have been associated with eating certain kinds of fish, or fish from waters that are known to have mercury contamination.
Sandy Bauers, Inquirer GreenSpace Columnist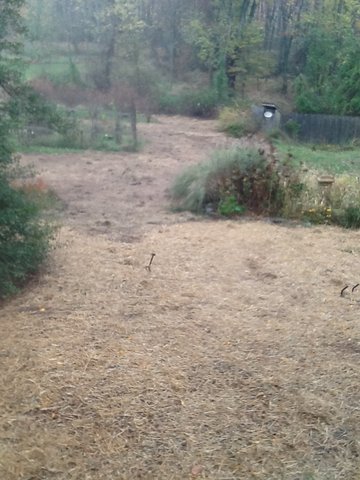 It's raining now, and I'm delighted.
Yesterday, guys with the drilling company raked out the dirt over nearly 900 feet of trenching, spread grass seed and covered it with straw and hay.
With this rain, perhaps we'll get some good lawn growth before winter arrives and halts the process. I'd like for the grass to have a chance to get ahead of the weeds!
Sandy Bauers, Inquirer GreenSpace Columnist
James Balog was chasing ice.
And Jeff Orlowski was chasing Balog.
What resulted was a film — part an environmental treatise, part an adventure tale — that has been racking up awards at film festivals around the world.
Sandy Bauers, Inquirer GreenSpace Columnist
Our system is up and working!
The plumbers came yesterday and hooked up the last of the connections.
The lawn is still a mess — the drilling company hasn't finished the clean-up work. They were going to come yesterday, but they had to order a part for the Bobcat, now sitting in our yard.
Sandy Bauers, Inquirer GreenSpace Columnist
(Sorry. No picture today.)
Okay. So it's not a disaster. Just a setback.
They're not finishing our system by this weekend after all. So we'll be supplementing our heat with the energy-guzzling supplemental heat coil. Aaargh.