Sandy Bauers, Inquirer GreenSpace Columnist
Philadelphia will join nine other major American cities in a coordinated effort to boost energy efficiency in large commercial buildings, Mayor Nutter announced today.
Details on how the efficiency gains would be achieved were slim -- first, a plan has to be developed -- but officials said that the potential exists for savings of $77 million in energy costs a year. If that were to happen, it would be the equivalent of reducing the amount of climate change pollution generated by 23,000 households, they said.
"Improving energy performance in Philadelphia's buildings is not just good for the environment, it puts money back in the pockets of building owners, operators, and tenants – and ultimately back into the local economy," Nutter said in a press release about the announcement.
Sandy Bauers, Inquirer GreenSpace Columnist
"But we have to act with more urgency because a changing climate is already harming western communities struggling with drought and coastal cities dealing with floods," President Obama said in his State of the Union address last night. ""That's why I directed my administration to work with states, utilities and others to set new standards on the amount of carbon pollution our power plants are allowed to dump into the air.
Environmental groups praised the speech, but pushed for more. Many singled out his "all-of-the-above" energy strategy as problematic, saying a more definitive shift to clean energy needs to happen.
"The shift to a cleaner energy economy won't happen overnight, and it will require some tough choices along the way," Obama said. "But the debate is settled. Climate change is a fact. And when our children's children look us in the eye and ask if we did all we could to leave them a safer, more stable world, with new sources of energy, I want us to be able to say yes, we did."
Sandy Bauers, Inquirer GreenSpace Columnist
The geothermal wells for heating and cooling, the daylighting, the rain water used to flush the public toilets, the vegetated roofs to reduce water runoff into storm drains and more have added up to a LEED gold certification for the Philadelphia Zoo's newest exhibit, KidZooU.
The $33.3 million children's exhibit, which opened last April, was designed in part to teach kids -- and their parents -- that saving energy can help save wildlife.
In one exhibit, with a fake polar bear looking through the window, kids can turn off household electrical devices, showing that saving energy can help stall climate change.
Sandy Bauers, Inquirer GreenSpace Columnist
I didn't exactly delight in yesterday's tales of woe by travelers stuck on cold, snow-blown station platforms as commuter trains whizzed by, full. It was just too awful.
But part of me enjoyed contemplating what a ringing endorsement the day's ridership was for public transportation.
What it said to me was that all these passengers evidently lived near enough to a train station to warrant taking one yesterday, and that they probably could on many other days.
Sandy Bauers, Inquirer GreenSpace Columnist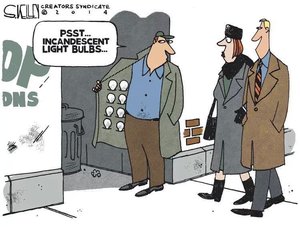 One of the most clear slgns of the inefficiency of the traditional incandescent bulb is in the heat it puts off.
Researchers say that only about five percent of the energy that the bulbs consume goes into producing light; the other 95 percent produces heat.
Put a bulb in with a baby bird, and it will stay warm.
Sandy Bauers, Inquirer GreenSpace Columnist
The New Jersey Sierra Club, which rarely misses a chance to jump into a fray, has added an environmental element to the Christie administration crisis over the lane closures on the George Washington Bridge last fall.
The traffic jams, which lasted for four days, "had direct impacts on air pollution," notes the organization in a press release.
So even if you weren't one of the school children, ambulance patients or others stuck in the road congestion, if you were nearby, you likely were breathing dirtier air.
Sandy Bauers, Inquirer GreenSpace Columnist
Yes, I'm home by the fire today. And isn't it nice and toasty?
In my defense, I have a fireplace insert with a catalytic cumbustion chamber that significantly reduces the air pollution associated with burning wood.
I wrote a column about this in Sunday's Health Section. The section is printed ahead of time -- on Thursday -- and wouldn't you know that Friday is the day the U.S. Environmental Protection Agency chose to propose new emissions standards for wood-burning stoves, inserts and other "residential wood heaters."
Sandy Bauers, Inquirer GreenSpace Columnist
I'm sure you've all heard it umpteen times today and in the previous cold snap.
So let's all say in unison: "Whatever happened to global warming?"
Climate change deniers are having a lot of fun with this one, no to mention the research ship that recently became stuck in Antarctic ice. But aren't they some of the ones who caution during a summer heat spell that weather is weather, and it's different from climate?