Archive: August, 2012
Sandy Bauers, Inquirer GreenSpace Columnist
Has your power gone green yet?
If not, the city and the Clean Air Council hope you switch soon.
In June, Philadelphia became the largest city in the nation to joined a U.S. Environmental Protection Agency program aimed at getting more people and businesses and institutions to buy green power -- electricity generated by solar panels, wind turbines and the like.
Sandy Bauers, Inquirer GreenSpace Columnist
Every year about this time, thousands ...
No, tens of thousands ...
No, upwards of a HUNDRED thousand purple martins swarm above the marshes that border the Maurice River in Cumberland County.
Sandy Bauers, Inquirer GreenSpace Columnist
The "before" photos show rooms strewn with trash and other refuse -- old records, a basketball, unidentifiable garbage.
Portions of the ceiling -- what's left of it -- are falling. The windows are gone.
Into this mess walked students from the YouthBuild Philadelphia Charter School.
Sandy Bauers, Inquirer GreenSpace Columnist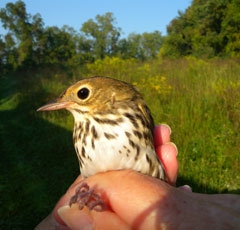 To many people, "scrub" is just a junky landscape trying to become something else -- a forest. And the sooner the better.
But to birds and other wildlife, it's valuable habitat.
This month, the Valley Forge Audubon Society and several partners got a grant of $20,519 to raise awareness of the importance of this habitat, which includes woody shrubs, small trees, grasses and wildflowers.
Sandy Bauers, Inquirer GreenSpace Columnist
Recently, I spoke with author Phillip Hoose about his new book, "Moonbird: A Year on the Wind with the Great Survivor B95," which is reviewed in today's Inquirer.
Here's a recap of our conversation:
Hoose' relationship with birds goes back to graduate school in the mid-70s. He wasn't a birder at the time, but "everyone around me was a birder," so he "received two years of full immersion. Birding became a huge part of my life."
Sandy Bauers, Inquirer GreenSpace Columnist
If you want proof for how the emerald ash borer can leap across the landscape, check out the latest map from the Pennsylvania Department of Conservation and Natural Resources.
The small insect, an Asian invasive that was first detected in Michigan in 2002, kills ash trees. As it moved through Detroit, the streets became lined with dead or dying trees, and municipalities were strapped for funds as they realized they had to cut the trees down to avoid a public safety problem.
The insect spread quickly, and in 2002 it was first detected in Pennsylvania's Butler County -- not far from the turnpike. Because the insect seems to follow highways, often being found at or near rest stops, officials theorize the transport of firewood is a major route of expansion.
Sandy Bauers, Inquirer GreenSpace Columnist
If you're in the vicinity of Phoenixville tomorrow, might be fun to check out the goings-on at the Great Earth Festival, being held from 9 a.m. to 2 p.m. along the Schuylkill River Trail -- from Taylor Avenue to the Foundry.
Nic Pine, a local solar advocate and designer, will show his DIY solar hot water collector for summer use.
Phoenixville has a new community garden, and you can check out the info, or even sign up for next year.
Sandy Bauers, Inquirer GreenSpace Columnist
Food waste of this magnitude is inexplicable, incomprehensible: Every year, the farmers of a South Jersey cooperative throw out about a million peaches.
Not inedible peaches. Just blemished peaches.
And in "throw out," I don't mean compost or feed to pigs. I mean "take to the landfill," which costs the farmers about $85,000 a year.