Archive: June, 2012
Sandy Bauers, Inquirer GreenSpace Columnist
This afternoon, the state sent out an air alert. Tomorrow, the forecast is for unhealthy levels of ozone in the region, and moderate levels of particulates.
I know plenty of people with asthma and other respiratory ailments, and there something very sad about having to think that they might be having difficulties breathing because of air pollution. Or that they might have to stay inside.
Tonight, Philadelphia councilwoman Blondell Reynolds Brown is having a citizen hearing to learn more about air pollution, the way it affects people, and the potential benefit of proposed national standards, including one for carbon dioxide, which exacerbates global warming.
Sandy Bauers, Inquirer GreenSpace Columnist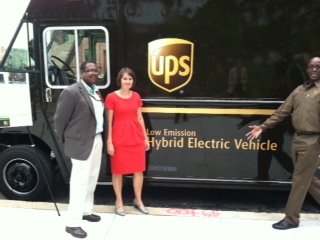 It had to be the feel-green event of the year.
At the mid-point of the city's Greenworks plan -- three years after Mayor Nutter announced it, and three years before the 2015 goal of most of the initiatives -- officials gathered earlier today to retweak the plan laud their progress.
Yes, I grant you, why would they gather to do anything but applaud themselves? And if you were giving yourself a grade, wouldn't you give yourself a good one?
Sandy Bauers, Inquirer GreenSpace Columnist
Last week, when city council approved Philadelphia's new $256 million solid waste contracts, environmental groups complained that they had not been consulted -- nor had the city's solid waste advisory committee, which apparently is more of an informal group than anything.
Here's the story previewing the vote.
And here's a blog post with more details after the vote.
Sandy Bauers, Inquirer GreenSpace Columnist
Today and tomorrow will be good air days, according to the region's Air Quality Partnership, which predicts levels of ozone and small particles.
But that's within federally-specified levels, and that may soon change.
The Obama administration is likely to announce later this week new standards for PM2 -- the smallest of particles, ones that lodge deepest in the lungs and are thought to cause the most damage.
Sandy Bauers, Inquirer GreenSpace Columnist
Look out, Lubbock, you've been busted.
A Texas Tech researcher has used sewage water to track cocaine use in the city, concluding that it's used up to a third more on weekends than on weekdays.
Researchers find a lot of amazing things in sewage. And apparently levels indicating use of illegal drugs is a way to get some indication of prevalence. (Yes, you could just ask people, but most of them would lie.)
Sandy Bauers, Inquirer GreenSpace Columnist
Yesterday, I saw one of the most engaging -- and yes, entertaining -- presentations on climate change yet. It showed how understanding the science can be as easy as walking your dog.
The speaker was Richard B. Alley, a geoscientist at Penn State, and he was the lead speaker at a climate change hearing held by state Rep. Greg Vitali (D., Delaware County) and the Pennsylvania House Democratic Policy Committee.
A lot of naysayers claim as proof that climate change isn't happening little snippets of data they cherry pick from the larger picture. They show it to Alley and say, "See? This shows temperatures are going down. What do you say to that?"
Sandy Bauers, Inquirer GreenSpace Columnist
I love trash.
Every time I think I'm starting to understand it pretty well, along comes something else to intrigue.
This morning, Philadelphia City Council gave its approval for new waste contracts that determine how the refuse will be handled for potentially seven years down the road.
Sandy Bauers, Inquirer GreenSpace Columnist
In this morning's newspaper, I wrote about a shorebird called the red knot and efforts to save it. Here's more:
--------------
This year, as they have so many times before, the bird researchers converged on Delaware Bay.