Archive: February, 2012
Sandy Bauers, Inquirer GreenSpace Columnist
New Jersey's Stockton College is holding an energy symposium Wednesday, and the keynote speaker will be U.S. Environmental Protection Agency Administrator Lisa P. Jackson.
The all-day event is intended to look back briefly at where we were 40 years ago, and then look forward to 40 years ahead.
It's open to the public _ $40 per person, $10 for seniors.
Sandy Bauers, Inquirer GreenSpace Columnist
Earlier today at the Union League, wind proponents unveiled a new website, www.ChoosePAWind.com, which is intended to convince anyone who hasn't already to sign up for a power plan that supports Pennsylvania wind farms.
Many of the wealth of options open to consumers in PECO territory include wind, but there's considerable debate about just how much good it will do to support a wind farm from, say, Texas.
The groups behind the website contend that "more support means more wind farms in PA, bringing more jobs, investment dollars and economic stimulus to local communities, while producing zero emissions," according to a press release.
Sandy Bauers, Inquirer GreenSpace Columnist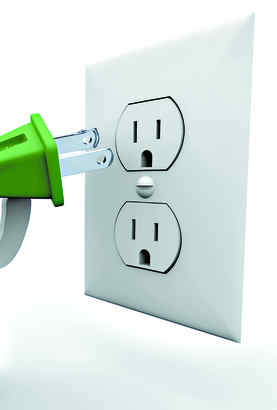 I'm one of those annoying people who thinks we should actually be paying more for household electricity.
That way, we might use less of it.
So poor people wouldn't be penalized, the system could be weighted. The first X number of kWh would come cheap. It would be a family baseline. The next X would be more expensive. The X after that would be really expensive. So people could still have their eight-bedroom mansions and their hot tubs. They'd just pay more to power it all.
Sandy Bauers, Inquirer GreenSpace Columnist
Are you a river rat? Do you boat or fish or scan for water birds?
After a successful inaugural year, the Pennsylvania Environmental Council is looking for a second group of people to serve as Delaware River ambassadors.
The idea is that the ambassadors will will organize activities and tours along the river's tidal portion -- that's the part from Trenton/Morrisville to Marcus Hook -- and along the Schuylkill River south of the Art Museum. The goal is to educate people about the importance of the river and to encourage people to get out there and enjoy it.
Sandy Bauers, Inquirer GreenSpace Columnist
The count only began this morning, and already 2,282 reports have come in, detailing 338 species and 153,792 total birds already seen.
The Great Backyard Bird Count is an annual, four-day event that has birders of every stripe and feather outside, checking to see what kinds of birds and how many are in the vicinity.
The idea is that you go outside for a minimum of 15 minutes, log what you see and report back to a central database. It continues through Monday.
Sandy Bauers, Inquirer GreenSpace Columnist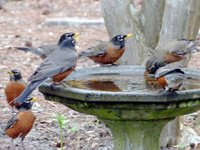 I'm longing for spring. I look for it with every birdsong I hear, with every blossom of the snowdrops outside my front door, with every slight warming of the breeze I feel on my check.
But no, spring is not here yet.
However, you can watch it coming via Journey North, an innovative online science program that has been racking up visits and input from thousands of participants in classrooms, schools and homes nationwide.
Sandy Bauers, Inquirer GreenSpace Columnist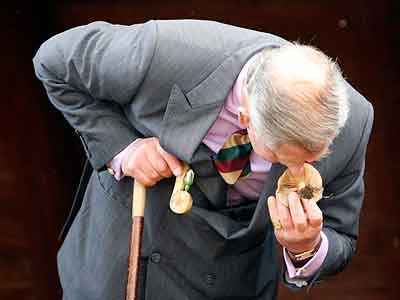 The setting was a conference about the future of food at Georgetown University in Washington, D.C.
As the keynote speaker began to talk, people in the room took special note, and not just because they were listening to His Royal Highness the Prince of Wales.
"Honestly, as I was listening to him speak my jaw dropped, along with everyone else's, because the speech was such a clear and comprehensive explanation of what has gone so wrong with how we produce food in this country and what we need to do to get back on track," recalls Laurie David, an award-winning producer.
Sandy Bauers, Inquirer GreenSpace Columnist
Want a new tree for your property?
This afternoon, Mayor Nutter is expected to announce a new tree-planting initiative in Philadelphia, through which 2,000 trees will be given to residents who agree to water them, protect them and otherwise pamper them so that they can grow up strong and better clean the air, beautify the city, contribute to property values and more.
The program, the TreePhilly Initiative, can be important in meeting the city's Greenworks goal to plant 300,000 trees by 2015, officials have said.