Archive: May, 2011
Sandy Bauers, Inquirer GreenSpace Columnist
In this morning's Greenspace column, I wrote about a recent Duke University study that analyzed flame retardants in children's products that contain foam. Researcher Heather Stapleton checked foam samples from 101 products and found flame retardants in 80 of them.
The problem is that many have ill effects. They may be carcinogenic or disrupt endocrine systems.
But the idea is to keep children safer. In the event of a fire, would flame retardants save lives or lessen the extent of injury? Not even that is certain, one of the researchers said.
Sandy Bauers, Inquirer GreenSpace Columnist
This spring's rain has created a bumper crop of mosquitoes around my house.
If you live in New Jersey, you might not be seeing as many. Officials there have an aggressive program that includes the use of fish that eat mosquito larvae.
This year, they added a new weapon to the arsenal: Macrocyclops albidus.
Sandy Bauers, Inquirer GreenSpace Columnist
Oh, how I wish I was going to be at the beach this weekend, worrying about sunburn.
Instead, I'll be working in the garden, mostly. But that's kind of good, too. I love to mux around in the dirt.
And I guess I should be careful about the sun in the garden, too.
Sandy Bauers, Inquirer GreenSpace Columnist
To tell you the truth, I have never given one iota of thought to whether my kitchen utensils are green. I have a few spoons, some of those plastic-ey scraper things to get the last bit of peanut butter out of the jar, a whisk, and that's about it.
But if I were starting out as a cook, and I wanted to be green, I might choose some kind of wood or bamboo, as long as it was sustainably grown.
That's what my friend Sylvie Verdant uses, although lately she's been into raw foods and hardly uses any utensils at all.
Sandy Bauers, Inquirer GreenSpace Columnist
As someone who drives Route 422 and the Schuylkill Expressway every day, I can attest that highways are dangerous. There's always someone speeding, tailgating, zipping across several lanes at once, you name it.
And I always knew the pollutants I was breathing -- the various exhausts -- were not good.But I didn't grasp how bad they were until I looked at a new study by researchers at Harvard University that quantified the health effects of congestion.
Yes, congestion costs all of us time, sometimes resulting in reduced worker productivity. It wastes fuel.
Sandy Bauers, Inquirer GreenSpace Columnist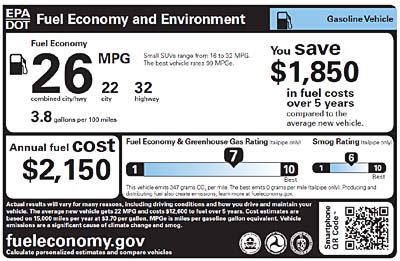 We've had great efficiency labels for washing machines, for refrigerators, for dishwashers and more.
Today, federal officials unveiled new efficiency labels for cars. They'll show not only the miles per gallon the ar is expected to get, but how much a year's worth of fuel will cost (based on certain averages) and, if it's an efficient car, how much you might expect to save in fuel costs over five years.
So if you're looking at a car that costs $5,000 more than a less-efficient counterpart, will you save more than $5,000 in fuel?
Sandy Bauers, Inquirer GreenSpace Columnist
Coal-fired power plants are dirty. No question about that.
But in Sunday's paper, I wrote a story about the PSEG plant south of Trenton, which has installed $600 million in air pollution controls and reduced emissions by more than 90 percent.
(An interesting tidbit that didn't make it into the story: In 1960, when the plant was built, it cost $110 million.)
Sandy Bauers, Inquirer GreenSpace Columnist
If it's spring, it's chick time.
All the Agways and similar stores have them. These year, according to one I went to, there's been a big run on chicks.
Maybe it's part of the back-to-the-land ethic. Or the locavore movement: Eat more from your yard.