Archive: December, 2009
Sandy Bauers, Inquirer GreenSpace Columnist
Lots of studies flood my email inbox, and it's difficult to sort them all out. But I thought this one was interesting.
Losing weight aside, one of the big items for improvement in 2010 is getting greener, according to a study by Tiller, LLC, which touts itself as one of the nation's leading consultancies on the design and implementation of advocacy marketing programs. (Ok, so maybe they're trolling for business with this survey, but anyway......)
A poll of 1,000 adults conducted on the Internet between Nov. 27 and Dec. 2 found that more than half expected to make a green New Year's resolution this year. Given a list of environmentally responsible lifestyle changes -- so, okay, they were prompted -- 85 percent said it was at least somewhat likely they would reduce household energy consumption in 2010. (If any of those are in the PECO territory, they'd better get on the stick. Rate caps are coming off at the beginning of 2011, and prices are expected to balloon.)
Sandy Bauers, Inquirer GreenSpace Columnist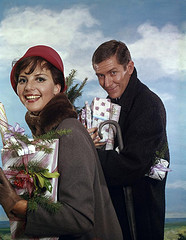 Along the eco-gift-wrapping spectrum, there are all sorts of stops. Some people use plain paper and draw on it. Some people use newspaper.
If you choose to use store-bought, keep recycling in mind. The folks at Republic Services, which operates a King of Prussia recycling facility that takes much of the region's suburban recyclables, has come up with a "naughty and nice" list of holiday wraps and decorations.
The one thing that surprised me was that wrapping paper was on the list of things that can't be recycled. How come? Turns out it's often laminated or impregnated with glitter or coloring that's gold or silver. The key is that if it's shiny or glittery, try to reuse it. If it's just plain old paper, it's okay to recycle.
Sandy Bauers, Inquirer GreenSpace Columnist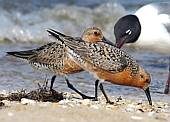 For those who have been following the plight of the rufa subspecies of red knots, there's good news.
The birds have one of the planet's longest migrations, flying from their winter territory at the southern tip of South America to their breeding grounds in the Arctic. Along the way north, they arrive at Delaware Bay every May, exhausted and depleted of reserves. There, they depend on the lipid-rich eggs of the horseshoe crab to refuel. They have to do it quickly so they can get north, breed and get out before the snows begin again.
In recent years, the numbers of red knots have declined sharply -- from nearly 100,000 in the 1990s to less than 30,000 today. Biologists blame the harvest of horseshoe crabs, which are used as bait for conch, which is sent to Asia as a dietary delicacy.
Sandy Bauers, Inquirer GreenSpace Columnist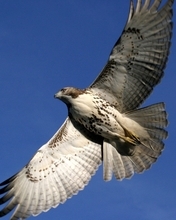 Hawk Mountain's fall results are in. The Berks County mountaintop sanctuary, which just happens to be a natural funnel for migrating raptors, completes a count of the birds spotted there every year between Aug. 15 and Dec. 15. This year, the 75th year the sanctuary has been in existence, watchers tallied 15,561 birds of prey, including a season record 68 peregrine falcons and an above-average 212 bald eagles.
According to the sanctuary, the count has scientific value of its own, but Hawk Mountain educators also use it to introduce visitors to the phenomena of migration and the importance of raptor conservation. The sanctuary is operated year round and open to the public as a nature-tourism site.
Meanwhile, New Jersey has issued its 2009 reports for bald eagles, peregrine falcons and osprey. Bald eagles reached a record 84 pairs this year, with 69 active nests producing 99 eagle fledglings. The number of osprey nesting pairs recorded was 485; a 14% increase since the 2006 survey. Peregrine falcons also increased to 24 nesting pairs.
Sandy Bauers, Inquirer GreenSpace Columnist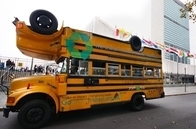 Two area residents, Jeremy Stadlin, 31, of Penn Valley and Rachel Playe, 23, of Philadelphia's Fairmount section, are on a veggie-oil-powered school bus as part of a public awareness initiative, the Jewish Climate Change Campaign.
The bus looks like a regular yellow school bus...except for the upside down bus on top of it -- the idea being to turn people's assumptions upside-down, "to flip how people live their lives," Stadlin says. They call it the "Hazon/Teva Topsy-Turvy School Bus," because it belongs to the Teva Center, an institute of Jewish environmental education.
Not long ago, they were deep in the heart of Texas, where they reported: "If Texas were a country, it would rank #7 amongst all nations in CO2 emissions! We are spending a week here, talking to Texans about their Oil consumption habits and setting up green teams along the way. We look at Texas as a leverage point, a place where a little bit of energy and education can grow a long way. The stars at night used to be big and bright in Texas, but tonight I can hardly see any. Haze and smog veil their luminous mystique.
Sandy Bauers, Inquirer GreenSpace Columnist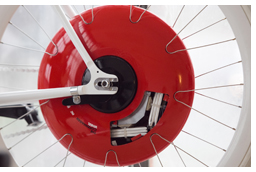 Electric bicycles have become more and more popular. I rode one not long ago, and the rush of the power assist was spectacular. The gist is that you plug the bike in to charge a battery, and when you opt for a little help -- say, when going up a hill -- you flip a switch on the handlebar and the power kicks in. Not bad if you're commuting to work, and you don't want to arrive all sweaty.
Now, researchers at the Massachusetts Institute of Technology are designing a wheel that takes the kinetic energy from braking -- much like a Prius or other hybrid car does -- and uses that for a boost when the rider needs it. Supposedly, this battery will weigh less than the ones on more traditional electric bicycles.
Better still, it's a smart wheel. According to the lab: "Controlled through your smart phone, the Copenhagen Wheel becomes a natural extension of your everyday life. You can use your phone to unlock and lock your bike, change gears and select how much the motor assists you. As you cycle, the wheel's sensing unit is also capturing your effort level and information about your surroundings, including road conditions, carbon monoxide, NOx, noise, ambient temperature and relative humidity. Access this data through your phone or the web and use it to plan healthier bike routes, to achieve your exercise goals or to meet up with friends on the go. You can also share your data with friends, or with your city - anonymously if you wish – thereby contributing to a fine-grained database of environmental information from which we can all benefit."
Sandy Bauers, Inquirer GreenSpace Columnist

Apparently, you can bet on just about anything at Paddy Power, said to be Ireland's largest bookmaker. Even climate change.
In addition to the usual sports bets, the bookmaker also has betting categories for politics, TV specials and the weather. In the "current affairs" category, you can bet on who is going to take over Cadbury's, who will be the next CEO of Easyjet and who will be the next pope. (There are several in the pope category, including "when will the pope visit Ireland?")
Then there are the "novelty" categories, which include bets on Christmas speeches (What will the Queen say first?) and literary awards. You can bet on how many polar bears the World Wildlife Institute is going to conclude are still alive on Dec. 31, 2011.
Sandy Bauers, Inquirer GreenSpace Columnist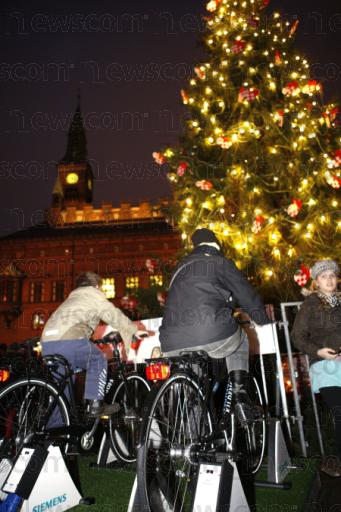 Santa, Santa, lest we fall,
What's the greenest tree of all?
Mother Jones magazine recently took up the question as one of its "Econundrums" features. "Real cut evergreens are awfully Christmasy, but isn't it wasteful to grow and then harvest a tree for the express purpose of adding holiday cheer to your hearth?" writes the Econundrist.
"I've thought about going plastic: Fake trees can last for a long time. My friend and her mom have been using the same one since the '80s. And it's very lifelike! On the other hand, it doesn't fill their living room with a piney scent like a cut tree would. Then again, was there ever a better excuse to buy a scented candle?"