Sandy Bauers, Inquirer GreenSpace Columnist
Not a lot to report today. Just a LOT more digging and positioning of the Slinky contraptions in the trenches.
The guys doing the work inside -- on the heatpump unit -- have packed up and gone home, waiting for the outside work to be completed before they finish the inside.
Supposely, we're still on target for being up and running by the end of the week, but the digging company also said they'd probably be finished digging today, and now that they're into it, the diggers tell us they probably won't.
Sandy Bauers, Inquirer GreenSpace Columnist
The project continues to progress!
This is the "Slinky" pattern of tubing that will be going into the six-foot trenches. We'll have three of these. Anti-freeze will run through them.
The duct work and heat pump installation seem to be going well. Lots of drilling and whatnot. Sheet metal makes some impressive sounds.
Sandy Bauers, Inquirer GreenSpace Columnist
"I had no idea how deep six feet really was."
That's the quote of the day from my husband, when we saw the trench. It's three feet wide by six feet deep.
Up by the house, the guy doing the digging, Ben, ran into a lot of stones. Oof. It looked like slow going.
Sandy Bauers, Inquirer GreenSpace Columnist
I came home last night to find the new heating/cooling unit in place!
For now (the ground loop will be a few days coming), it will generate heat via an electric coil if we want, but so far the wood-burning fireplace insert is keeping us warm enough.
The guys were going to haul away the old heater and air conditioner, but they saved it for us. My husband, who has welding and cutting equipment, separated the copper from everything else (you get a better price that way) and took it to a local metal recycler. He got $134. Our first payback from the new system!
Sandy Bauers, Inquirer GreenSpace Columnist
The noises coming out of my basement this morning were horrendous.
Bang! Slam! This was the sound of metal parts being disassembled.
I was elated. (Except for the part when one of the workers said, "Uh-oh, that's not good.")
Sandy Bauers, Inquirer GreenSpace Columnist
The whole time the government was shut down, I kept thinking about turtles.
Sea turtles.
Most species of them are endangered, and humans have begun to take a keen interest in how to help them. Some of that involves protecting the beach areas where these marine creatures come ashore in spring and summer to lay their eggs.
Sandy Bauers, Inquirer GreenSpace Columnist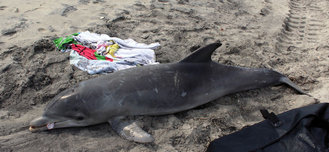 Bottlenose dolphins, which have stranded themselves along the Mid-Atlantic shoreline in record numbers since July, are starting to migrate south.
And so are the strandings.
"The strandings have increased in North Carolina since August, and the event is spreading south," said a spokeswoman for NOAA Fisheries.
Sandy Bauers, Inquirer GreenSpace Columnist
Philly's recent Greenfest turned out to be a gorgeous day, attracting more than 15,000 people to Headhouse Square, where more than 100 businesses, organizations and other greenies had set up booths.
One of the highlights is always the "Green Innovators" program, and this year eight businesses and organizations were nominated for the $750 award.
And the winner was....TerraCycle, the Trenton company that recycles and upcycles just about everything you could think of. They pay schools and charitable institutions to send them stuff, then they make something cool out of it and resell it ... and manage to make a profit along the way.