Sandy Bauers, Inquirer GreenSpace Columnist
Saturday is supposed to be cloudy.
Bummer, right?
Not for the folks who will be out on a deck overlooking a wide open space at Fort Washington State Park. They'll be happy for the white clouds that provide a better contrast for spotting and identifying raptors flying by on their spring migration north.
Sandy Bauers, Inquirer GreenSpace Columnist
Emissions of greenhouse gases in the U.S. fell nearly 10 percent between 2005 and 2012, according to the latest tally from the U.S. Environmental Protection Agency.
That puts the nation more than halfway toward its pledge of reaching a 17 percent reduction by 2020.
The EPA, which published its report on Tuesday, said emissions fell 3.4 percent from 2011 to 2012. The agency credited "the decrease in energy consumption across all sectors in the U.S. economy, and the decrease in carbon intensity for electricity generation due to fuel switching from coal to natural gas."
Sandy Bauers, Inquirer GreenSpace Columnist
As business leaders and members of a Congressional bicameral task force on climate change met this morning to discuss the issue -- the gist was that it helps them make money -- the IKEA Group, in particular, had a big announcement.
The U.S. division, based in Conshohocken, is making its first wind farm investment in the U.S., which will also be the largest single IKEA Group renewable energy investment so far, anywhere in the world.
The 49-turbine project, called Hoopeston Wind in Hoopeston, Ill., is a 98 MW farm, which is expected to generate the energy equivalent of powering 34,000 average American households.
Sandy Bauers, Inquirer GreenSpace Columnist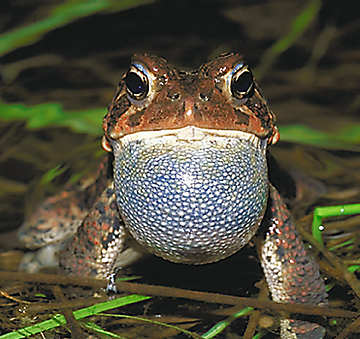 The sign is already up in the small Chester County village of Birchrunville near a lovely big wetland area. It warns drivers to watch out. Toads are crossing!
Likewise, the cadre of volunteers that usher toads across the road for a reservoir in Roxboro are back on the alert. On rainy nights, especially, when the toads are most apt to be out and about, the humans walk the road with flashlights, cautioning drivers to be careful, or even outright ferrying the toads to the other side. After all the toads were there first, and only later did the road come between their wintering grounds in some woodsy muck and their breeding pool nearby.
Here's a story I wrote a few years ago about the region-wide efforts to save our slimy friends:
Sandy Bauers, Inquirer GreenSpace Columnist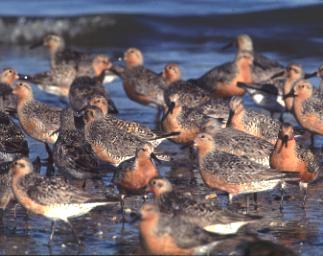 Well, it's certainly a busy news day for the red knot.
First, the shorebird, along with the horseshoe crab, was identified as the impetus for habitat restoration along the Delaware bayshore in South Jersey. That story ran this morning.
Now, the U.S. Fish and Wildlife is announcing that the public comment period on a proposal to list the red knot as threatened has been re-opened.
Sandy Bauers, Inquirer GreenSpace Columnist
This is the kind of thing I love: three environmental problems, and one innovative solution!
The problems are on the Delaware Bayshore in South Jersey, and I learned about them yesterday when I was talking with biologist Larry Niles about the beach restoration project there. That story ran this morning, and I've loaded it onto my blog site.
The beach restoration — the current part of which is being funded by $1.65 million in federal money being administered by the U.S. Fish and Wildlife Foundation — is being done for habitat reasons. Horseshoe crabs need a place to lay their eggs, and the reason we care about that is so there will be a plentiful supply for migrating shorebirds.
Sandy Bauers, Inquirer GreenSpace Columnist
Below is a story that ran this morning, copied here for wider access. There's also an update:
This morning, I got a call back from Constant Mahon, a Middle Township official. I had asked if residents were angry that habitat restoration was getting the funds, when their own appeals for money beach restoration and other rebuilding had failed.
Not so she said. As Meghan Wren said below, they're just glad to get any sand, any way they can. She said of biologist Larry Niles, who is coordinating a lot of the effort, "He's giving me a huge gift."

Sandy Bauers, Inquirer GreenSpace Columnist
All of you who have been counting frogs, logging the first blooms of daffodils and noting whether the house finches at your bird feeders have eye problems, give yourself a big pat on the back.
Citizen science has new respect.
Professional scientists naturally have their expertise. But what citizen scientists bring is passion, curiosity, and perception, says Rick Bonney, director of program development and evaluation at the Cornell Lab of Ornithology, in an article in the journal Science.