Sandy Bauers, Inquirer GreenSpace Columnist
Here's a link to a story that ran in this morning's print edition of the Inquirer about B95, the Moonbird, and how researchers are heartened by not just one, but TWO sightings of this iconic little red knot.
No word of any more sightings since then.
But I talked with Larry Niles, a biologist who has been studying this bird for more than a decade -- and following it to the ends of the earth to do so.
Sandy Bauers, Inquirer GreenSpace Columnist
A rare bird that has defied all the odds has been spotted yet again on Delaware Bay.
The bird is B95, after the number on his leg band. But his nickname is, perhaps, more to the point. He's the Moonbird, because in his lifetime, researchers figure he had flown the equivalent of the distance to the moon. And at least halfway back.
This, for a bird that weighs about as much as a stick of butter.
Sandy Bauers, Inquirer GreenSpace Columnist
Got your bike oiled up, tires pumped? Helmet at the ready?
Tomorrow is Bike to Work Day, which is one of the premium events of Bike to Work Week, which is one of the premium events of National Bike Month.
Is there an echo in here?
Sandy Bauers, Inquirer GreenSpace Columnist
Environmental advocates are declaring a victory today, after an announcement that NRG Energy Inc. will stop using coal at its Portland Generating Station, a power plant that is along the Delaware River in northeastern Pennsylvania, six months earlier than planned.
In addition, the company's Titus plant, another coal-fired facility just beyond the Philadelphia suburbs, will close Sept. 1 of this year, instead of April 15, 2015, as previously planned.
New Jersey officials had long sought action at the Portland plant, which they claimed was the major air polluter in the northern part of the state.
Sandy Bauers, Inquirer GreenSpace Columnist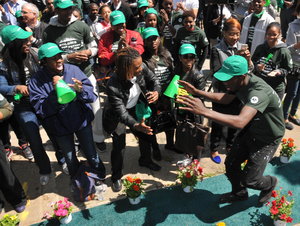 Yesterday, two students from the YouthBuild Philadelphia Charter School walked up to the door of a home in the Nicetown section and, as people around them cheered, whaled away at it until they knocked it in.
Goodbye, dilapidated eyesores.
Hello, affordable and sustainable living.
Sandy Bauers, Inquirer GreenSpace Columnist
Probably the best bird-viewing drive in the region is back in operation.
Earlier today, officials at the E. B. Forsythe National Wildlife Refuge in Galloway, N.J., announced that they're celebrating the re-opening of the eight-mile drive around several impoundments this Saturday.
The drive, which is atop dikes, giving folks a great view of the birds, was heavily damaged in Superstorm Sandy. The dikes were breached. Refuse washed in.
Sandy Bauers, Inquirer GreenSpace Columnist
"Near the moonscape summit of the Mauna Loa volcano in Hawaii, an infrared analyser will soon make history," reports Richard Monastersky in the international science journal, Nature.
"Sometime in the next month, it is expected to record a daily concentration of carbon dioxide in the atmosphere of more than 400 parts per million (p.p.m.), a value not reached at this key surveillance point for a few million years."
It's not as if anything earthshaking will happen. But it's nevertheless considered a point at which climate change will more or less have its own momentum.
Sandy Bauers, Inquirer GreenSpace Columnist
Our yard was strangely, and sadly, quiet this morning.
Yesterday, our lusty, loud and bossy rooster — a white knight to his hens — was killed by a fox.
By all appearances, it was an epic battle, its story told in a trail of white feathers.
Sandy Bauers, Inquirer GreenSpace Columnist
When I filled up my car yesterday morning, the weather was cloudy and cool.
Normally, when the pump automatically clicks off, I put a bit more in the tank. But instead, I stopped fueling when the pump did so there wouldn't be any spillage.
I figured ozone season was close. And, indeed, it starts today.
Sandy Bauers, Inquirer GreenSpace Columnist
Given a new approach, federal environmental officials have made progress in managing toxic chemicals under existing laws, but whether that means they will ultimately ensure the safety of chemicals is "unclear," a government report has found.
The report, by the U.S. Government Accountability Office, noted that without improvements in the process, the Environmental Protection Agency "could be investing valuable resources, time and effort without being certain that its efforts will bring the agency closer to achieving its goal of ensuring the safety of chemicals."
Earlier today, U.S. Senators Frank R. Lautenberg (D-NJ) and Kirsten Gillibrand (D-NY) applauded the release of the report and said it demonstrated a need for new legislation that would better arm the EPA to evaluate and regulate the chemicals.