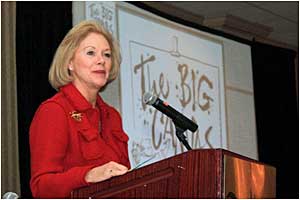 Christine Cavalier rejoins Great Expectations as a citizen blogger for The Big Canvas Confab. You can check out her personal blog at www.purplecar...
Read more
Great Expectations is a civic-engagement project brought to you by The Inquirer and the University of Pennsylvania. Check out the Great Expectations
Web site
.
Chris Satullo is the former editor of The Inquirer's Editorial Page. Chris along with contributor Harris Sokoloff of The University of Pennsylvania founded the Great Expectations project, which focuses on civic engagement and Philadelphia politics.
Also joining the conversation are Jodie Chester Lowe, a member of the Great Expectations project team, and a host of citizen bloggers, who weigh in on Great Expectations events.
Former Inquirer columnist Tom Ferrick Jr. worked on the Great Expectations project throughout 2007 and into 2008. His observations can be located in the blog archives.
Blog postings created prior to mid-June 2008 are can be found at
http://blogs.phillynews.com/philly/greatexpectations/