Christine Cavalier rejoins Great Expectations as a citizen blogger for The Big Canvas Confab. You can check out her personal blog at www.purplecar.net.



She writes:


Most of my ballroom exposure has been at weddings. I've been to countless numbers of weddings. The weddings have been for first timers and first timers usually go big, so naturally I've wrestled many a hotel ballroom to their tiny dance-floor knees.

As a wedding guest, one is often left alone while the rest of your tablemates are dancing, getting drinks or stumbling to the bathroom. I remember many times staring at the ceiling, alone like a buoy floating in a silent sea of white tables and empty champagne glasses. With faded notes of "Only You" playing in the background, I've contemplated many a chandelier in my day.

The Big Canvas Confab was held Saturday, Dec. 6, at the Valley Forge Radisson Hotel. The ballroom was huge. It had no less than eight recessed chandeliers. Why anyone would push one chandelier, let alone eight, up into the ceiling is beyond me. Maybe they thought that if masses of baubles were dangling like diamond-encrusted icicles one may mistake the humble Radisson for Versailles; Traffic on the Schuylkill is already très horrible.
Blogger Above Average Jane joined Great Expections at both the summer and fall Big Canvas forums. She returns to give us her take on the concluding event, The Big Canvas Confab. She writes:

The big finale of the Big Canvas was held on Saturday, December 6th at the Valley Forge Radisson. Close to 200 people attended.
Citizen blogger Alletta Emeno, who has written previously about Big Canvas events, returns for The Big Canvas Confab. She writes:

With more than 500 participants at 13 meetings held over six months in five counties resulting in hundreds of pages of notes that led to four possible strategic approaches outlined in a Citizen Issue Guide to Arts and Culture, the Big Canvas has accomplished so much. And, yet, so much seemed left undone at the conclusion of the initiative's three-hour "Confab" in Valley Forge on December 6th.
Corey Abramson makes his second appearance as a Great Expectations citizen blogger. He is a longtime Philadelphian and a student at Temple University, where he hosts a radio show. He writes:
Well Hello there Philadelphia,
Its been a while, what with school, a national election, a world series and Thanksgiving but I'm glad to say that I'm back for your blogging pleasure.
Amber Tardiff-Watson returns as a citizen blogger for Great Expectations. She was one of five bloggers who, along with roughly 200 citizens from throughout the region, attended The Big Canvas Confab. She writes:
A handful of politicians - ranging from state senators to local representatives - gathered at the Big Canvas Confab on Dec. 6, 2008, to hear the ideas and concerns of taxpayers regarding the future of arts and culture in the Philadelphia area.
After listening to the main event presentation, as well as individual concerns expressed in small focus groups, the politicians seemed very receptive to the general idea that arts and culture play a vital role in the health of the region by brining in new jobs, reducing dropout rates in schools, and strengthening local ties by way of community centers and civic programs.
The politicians were open with their concerns as well, expressing the reality that budgets are tight, and in this time of economic trouble, the local community would really need to come together with some force if they expected increased funding for the arts.
Consider this an open thread about the Dec. 6 Big Canvas Confab and the

Summary of Findings

presented there. The Confab and the summary resulted from the dialogue among citizens at our summer and fall community forums.

You can also check out:

In times of tight budgets – from family budgets up to the federal budget – it's often smartest to look for other kinds of support than fiscal.

Yes, our arts and culture institutions are looking for more fiscal support. From small to large – the Point Breeze Arts Center to the Kimmel Center – our arts and culture institutions operate on the edge. And that edge gets very thin in times like these.

Still, if what we've learned at through the Big Canvas forums to develop a regional strategy to support arts and culture in the Delaware Valley is any indication, citizens and organizational leaders alike think there are additional things that can be done in the short term. Things like "communicate, coordinate and collaborate" to take better advantage of existing resources. Or like being explicit on the qualitative benefits the arts and culture bring to neighborhoods and communities. None of this would take addition dollars, but would require using existing dollars differently. But it's a difference that could make a difference.
Citizen blogger Amber Watson-Tardiff fills us in on the final Big Canvas fall community forum, which was held in Plymouth Meeting. This is Amber's first time as a Great Expectations blogger. Her personal blog is
http://www.jerseymomma.com
. She writes: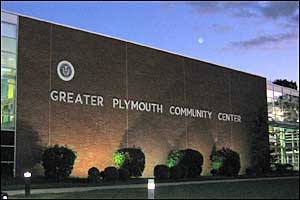 A diverse group of Montgomery County citizens met on Tuesday, Oct. 21, to participate in the final Great Expectations forum at the Greater Plymouth Community Center.
The purpose of the event was to narrow down various approaches to expanding the arts that would appeal to taxpayers and art lovers alike - especially in a time of economic strain on local and state government.