Two years ago, Lucinda Duncalfe founded her sixth start-up, Real Food Works, a Philadelphia-based company designed to help people adopt a whole foods plant-based diet.
As a self-titled serial entrepreneur with five venture capital-backed technology companies under her belt, Duncalfe made the switch to the world of wellness after watching a documentary that prompted her to change her lifestyle.
"My mom suggested that I watch the documentary Forks Over Knives, which examines the claim that diseases can be controlled or reversed by following a plant-based diet," said Duncalfe. "After that I started to do my own research [on plant-based diets], talked to a lot of people who had adopted it, and person after person had extraordinary health results."
That's when Duncalfe decided to adopt a plant-based diet herself — and saw tremendous results in the process.
"Motivationally, I was shocked how easy it was to stick with the diet," said Duncalfe. "But logistically, it's hard to do."
In trying to figure out the easiest way to incorporate a whole foods diet into an already busy lifestyle, Real Food Works was born.
The company offers subscription-based programs of home delivered meals, for both weight loss and healthy living. When you sign up for a subscription, you get healthy meals prepared by 30 different local restaurants, tailored to fit within Real Food Works' stringent nutritional specifications.
Their meals follow a fairly standard set of calories (1,500 per day for those on the weight loss plan) but their main focus on is the ingredients themselves.
"Our meals are made up of tons of leafy greens (we hide them in everything possible), whole grains, legumes, fruits, nuts and seeds, with a bit of meat," said Duncalfe. "And nothing is processed or artificial — it's all pastured, organic, free-range, grass-fed, etc."
When it comes to healthy eating, Duncalfe's personal philosophy is that the food you eat should be appealing. (That's probably why a quick look at the meals the company provides will have you salivating for a taste!)
"In our business, we talk a lot about nutritional density, which is basically finding foods that offer the most amount of nutrients per calorie," said Duncalfe. "But I believe there's also a satisfaction density that needs to be taken into account, too."
With a schedule that has her traveling often for meetings, how does Duncalfe find the time to stick with her diet?
"I would love to tell you that I cook all of my own meals but I live a very busy lifestyle, so realistically, I cook about half of the time," said Duncalfe.
Subsequently, learning how to eat plant-based at a restaurant is key.
"You have to be that obnoxious person," jokes Duncalfe. "I look at a menu as a list of ingredients; so instead of ordering a predefined meal, I'll ask to use ingredients from this meal and that to make my own that still fits in my diet."
For our Food Diaries series, Duncalfe picked a travel day as she finds those are the most challenging. Yet, what you see here is not atypical of her regular routine.
"I'm generally aiming for four full meals throughout the day, plus one or two snacks," said Duncalfe. "Most of the time, one or two of those meals are salads."
Below, in her own words, Duncalfe shares her day of healthy eating:
Breakfast: Berries and nuts.
"I woke up in a hotel in Times Square in New York City. Within 100 yards of the front door, I got raspberries (& blueberries, for later) from a street vendor, almonds from a newsstand, and a green tea from Starbucks.
At home, lately I've been on a chia pudding jag. In the winter, my all-time favorite breakfast is a baked sweet potato with steamed kale and lemon juice."
Lunch: Kale salad at Blossom du Jour.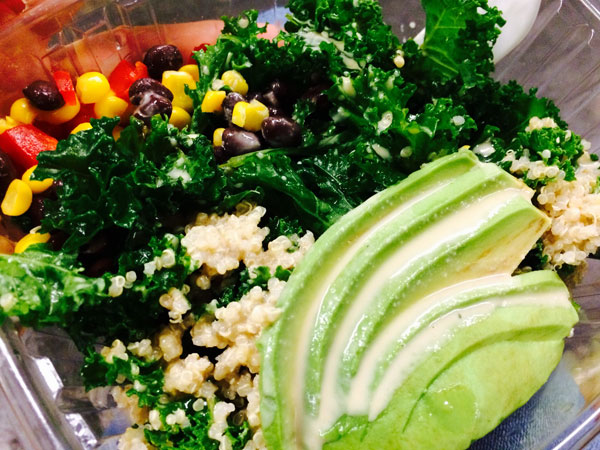 "I had a noon presentation so I stopped and got a kale salad for an early lunch at Blossom du Jour. It had quinoa, black beans, avocado and a bit of veggies and came with a mustard-tahini dressing. (I had to eat that in the subway station!)
I'm lucky that I don't really like a mouthful of salad dressing so I just dip my fork into the dressing with each bite for flavor. When possible, I recommended choosing a dressing that's not oil-based; 99 percent of the time I'm using balsamic vinegar."
Snack: Pint of blueberries.
Early dinner: Signature Salad at Cosi.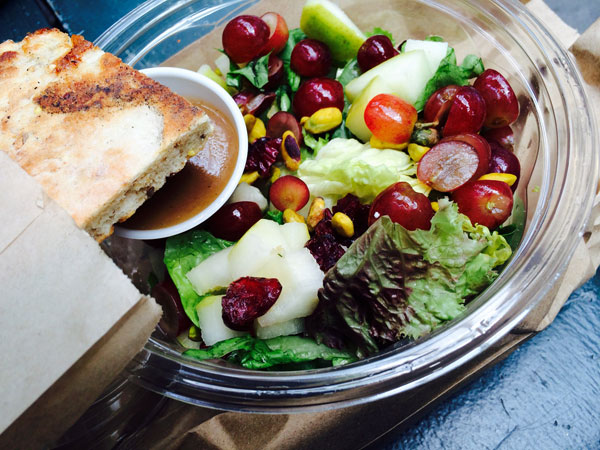 "For a huge snack/early dinner, I stopped at Cosi at 30th Street Station on my way home and had a Signature Salad with no cheese and dressing on the side, and multi-grain flatbread. The flatbread is a guilty pleasure, with lots of salt, but totally worth it."
Late dinner: Freezer soup.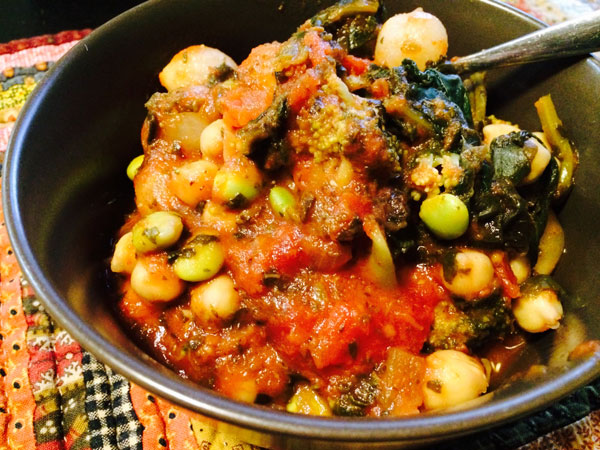 "I had 'freezer soup' over mixed quinoa. Freezer soup is our name for a mish-mosh of whatever I have in the freezer, fridge, and pantry. This one is a tomato-base with chickpeas, pearl onions, edamame, broccoli and spinach plus seasoning. It cooks in about 15 minutes and tastes great! I like mixed quinoa because the texture is more interesting than white.
My 11-year-old daughter didn't feel like freezer soup so I threw together a miso stew (pictured below) with baby bok choy, carrots, shiitake mushrooms, udon, and silken tofu. I make a big pot of dashi regularly and freeze quarts to make that a 15-minute dinner."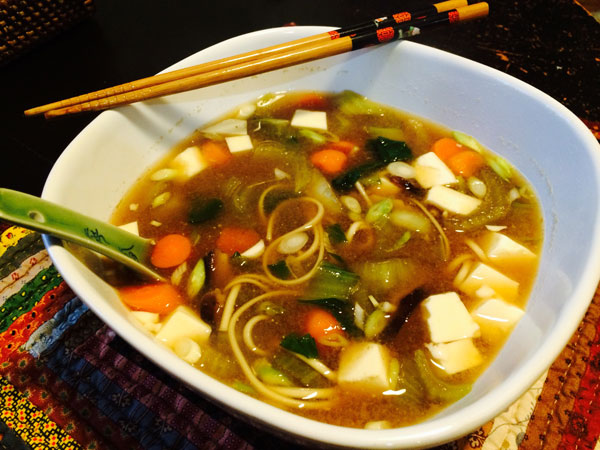 Late night snack: Handful of raw almonds.
----------
Read more Goal Getter for healthy eating, weight loss and more.