Katie Cavuto, MS, RD has always had an interest in healthy eating. Growing up as a gymnast, her attraction to food and nutrition launched at a young age.
After an injury sidelined Cavuto's gymnastics career at Pennsylvania State University, she found herself at a crossroads. Cavuto took a year off from school, traveled, fell in love with food and decided to enroll in culinary school.
"Looking back, as a gymnast I didn't always have the healthiest relationship with food, but then I went to culinary school and it allowed me to appreciate food in an entirely different way," Cavuto recalled.
After graduating from culinary school, Cavuto went on to get her masters in clinical nutrition and worked as a registered dietitian in Philadelphia for seven years.
"Working in clinical nutrition, I felt like I couldn't connect with people in a meaningful way so I decided to launch my own company."
Today, Cavuto wears many hats — as a dietitian to the Phillies and Flyers, as a chef, a mother and owner of Healthy Bites, a company offering nutrition and culinary services with the goal of facilitating long-term healthy lifestyle changes.
Combining her unique background, Cavuto aims to inspire others to fall in love with food. In her eyes, eating healthy is all about getting back to the basics.
"We eat to nourish our bodies and to live, " said Cavuto. "If you use that as the basis to your nutrition philosophy it really helps to crowd out the 'bad' food options available to us."
Cavuto found that shifting away from processed foods dramatically changed her life.
"Processed foods are the main culprit of the excess sodium, sugar, chemicals, etc., in our diet," said Cavuto. "To keep it simple, if the ingredients listed on a food label can't be purchased in a grocery store, then you shouldn't be eating it."
Staying true to her philosophy, Cavuto and her 3-year-old son Hudson follow a whole foods, mostly plant-based diet.
"The majority of my meals are plant-based because plants are nutrient dense," said Cavuto. "When I build plates, I'll lead with plant foods first and add animal proteins as a secondary component to meals."
Below, in her own words, Cavuto shares her day of healthy eating:
Breakfast: Green Smoothie.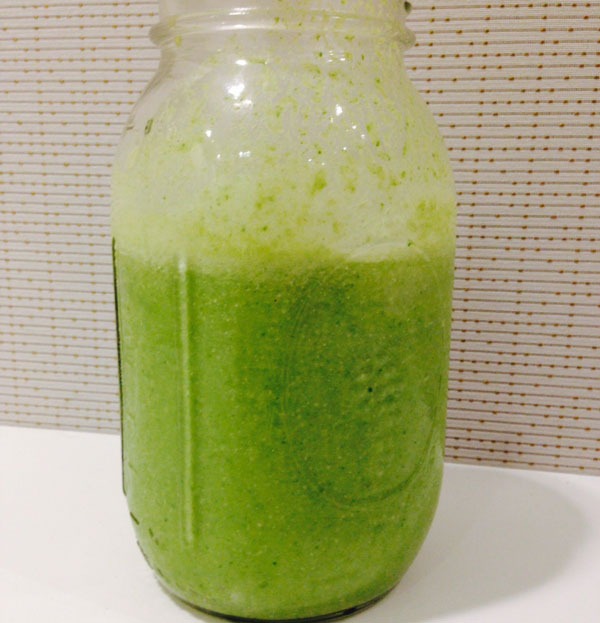 "Breakfast is usually something quick and simple as the mornings get hectic with wrangling my 3-year-old son and getting myself ready and out the door.
Hudson will usually have fresh fruit with a local egg and some avocado, maybe an English muffin with local butter and honey or nut butter. I have fruit and coffee and make Hudson and myself a smoothie for the road.
I alternate between Green Smoothies when I have fresh ingredients in the house — greens, apple, mango or peaches, hemp seed hearts and cashew flour, water and coconut milk — and Red Smoothies (Hudson refers to them by color) for when I don't. I keep Earthbound Farms Smoothie Kickstarts in Kale Berry as an easy way to add greens to our Red Smoothie. We blend it up with a milk alternative as well as hemp hearts and added fruit like a banana or peaches depending on our mood."
Water!
"I drink about 30 ounces of water three times a day. I usually drink it through a straw while I work at my desk as I find I drink more that way."
Snack: Local peach.
"As a CSA member and regular supporter of the local farmers markets, we have a bounty of local fruit in the house most days. The peaches this season are almost too juicy to eat on the run"
Lunch: Hearty veggie and brown rice salad from Starbucks.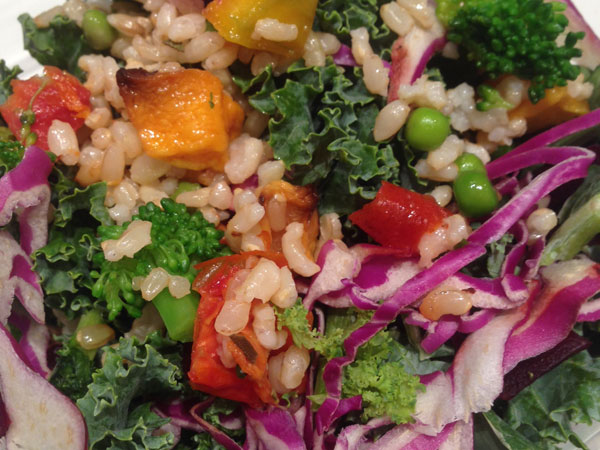 "I was on the run between a client and heading back to office so I stopped into Starbucks and grabbed their Hearty Veggie and Brown Rice Salad with Lemon Tahini Dressing and an unsweetened iced tea.
If I'm not eating out, we always have leftovers from my meal delivery service on hand so often I'll pack those as healthy lunch options for Hudson and I. "
Snack: Kind Nuts & Spices bar.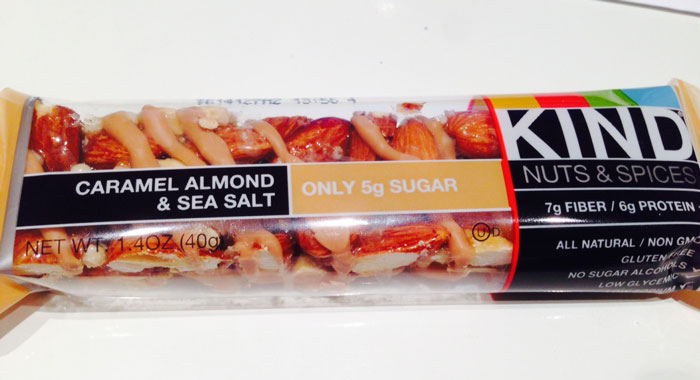 "Today I snacked on the Carmel Almond and Sea Salt bar. Since they're low in sugar (5g), I keep them in the office as a satisfying sweet and savory treat."
Snack: Local watermelon and olives.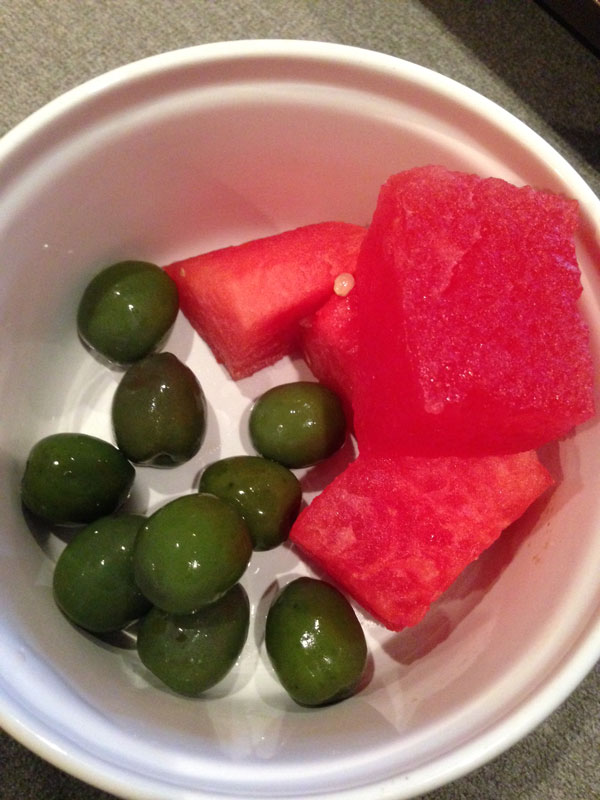 "At around 6 p.m., I snacked on this while Hudson ate his dinner."
Dinner: Spice rubbed salmon and marinated shrimp with grilled peppers, zucchini, corn, mushrooms, a tomato salad with fresh mozzarella and a glass of Sancerre.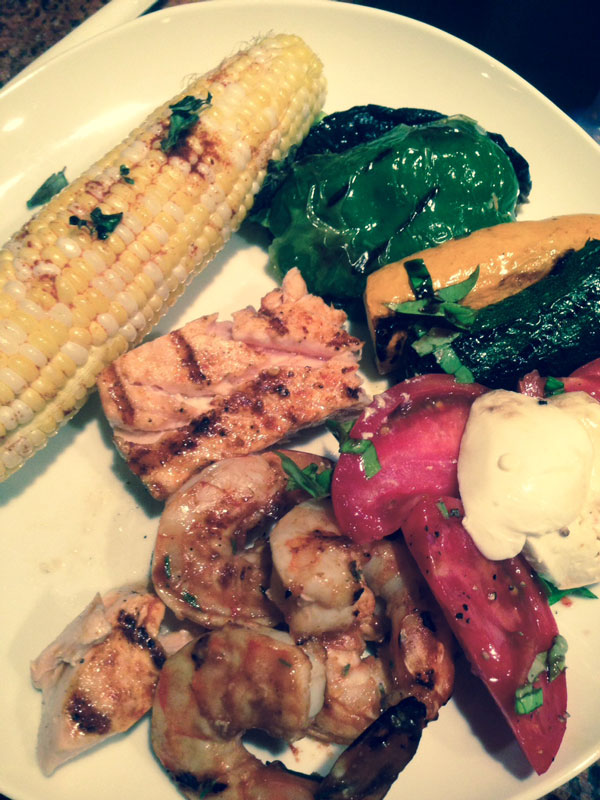 "I had friends over for dinner tonight. I always try to eat local so I got a bunch of vegetables from Lancaster Farm Fresh and threw them all on the grill. The mozzarella came from Di Bruno Brothers."
Dessert: Half of an Isgro's cannoli.
"Yes, I allow myself sweets. It's not about deprivation; its about being mindful of serving sizes. There is nothing wrong with a quarter cup of ice cream after dinner; it's when we eat the whole pint that it becomes an issue."
----------
Read more Goal Getter for healthy eating, weight loss and more.