Juliet Burgh's dedication to health and wellness began at an early age.
At 16 years old, Burgh lost her father to a heart attack. "He was obese and didn't take care of himself," Burgh recalled. "After he passed, it was a huge motivator to help people live healthier lives."
Burgh became a certified personal trainer at the young age of 18.
"Being a trainer, there's only so much you can do with exercise to help your clients lose weight," said Burgh. "My clients often felt like their hard work wasn't paying off and it was often because their nutrition wasn't on point."
That led Burgh to study sports nutrition, holistic nutrition and the psychology of eating at the country's top institutes.
Today, as the Vice President and Nutrition Director of Unite Fitness, Burgh, CHHS, has established a 3-phase nutrition program that is tailored and customized to each client.
In fact, Burgh has tailored her own nutrition plan numerous times, describing her current diet as something that has been "years in the making."
"I struggled with disordered eating when I was young so I really restricted myself," Burgh recalled. "Now, I'm all for a level of experimentation to find a diet that works for you mentally, spiritually and physically."
Burgh's diet consists of whole foods and her daily meals center around three main components: a protein, a vegetable and a starch.
"I'm all about big portions but not big calories," said Burgh. "This combination makes me feel the most satisfied visually and physically."
But, how does she find the time? It's all in the routine.
Sunday nights, after grocery shopping, Burgh will prepare enough protein, grains and vegetables for 3 meals a day to last her until Wednesday night. Then, she does a quick prep again to get her through Friday.
"I'll cook everything at once because I want to get it over with," said Burgh. "You can barely even call my weekly routine cooking; I think of it more as assembling."
Since all of Burgh's meals are home cooked during the week, the weekends are reserved for eating out.
"I learned in nutrition school that there's a really important factor, vitamin P for pleasure," said Burgh. "If you don't have that in your food, it makes healthy eating a lot less enjoyable."
Below, in her own words, Burgh shares her typical day of healthy eating:
7:30 a.m.: A gigantic mason jar full of water.
"I drink about 30 oz. of water right when I get up as I always feel pretty thirsty after a full nights rest. Water also helps to flush out your system first thing and wakes you up gently."
8 a.m.: Protein pudding with flackers and almond butter.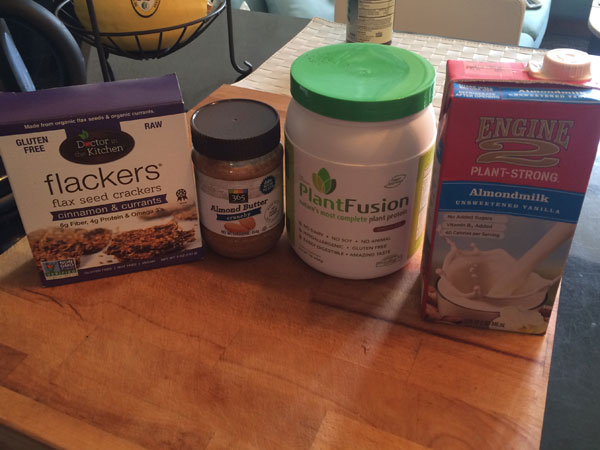 "This breakfast might sound strange, but this combination of foods taste absolutely delicious and have just the right amount of protein, fat and carbs to keep my blood sugar stable."
Ingredients:
1 scoop Plant Fusion protein powder
½ cup unsweetened almond milk
5 cinnamon raisin Flackers (crackers made of flax seeds, cinnamon and currents)
1 tbsp. almond butter
Directions: Put everything in a bowl and mix together.
11 a.m.: Quest protein bar or a Sip N Glo Pump Up shake.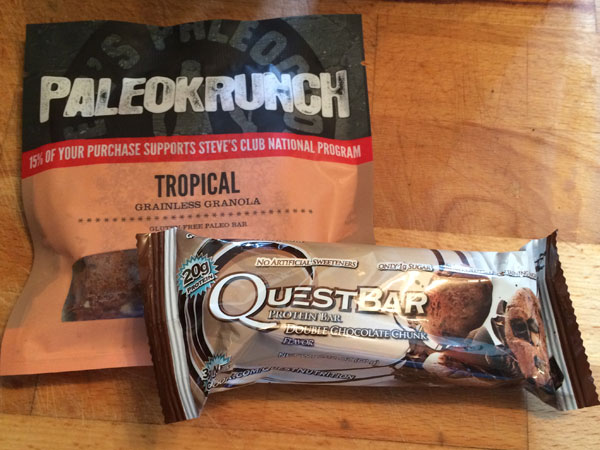 "After a hard workout at Unite, my body needs a little snack to hold me over until lunch and eating within 90-minutes post-workout really helps with retaining muscle and aids in recovery.
Around this time, I'm usually rushing to a personal training or nutrition appointment, so a Quest protein bar that I can eat fast or a Sip N Glo Pump Up shake that I can drink during my session is what I opt for. We sell both of these post workout recovery foods at our studio, which is convenient."
12:30 p.m.: Wild caught salmon over a big salad with mixed roasted vegetables and sweet potatoes.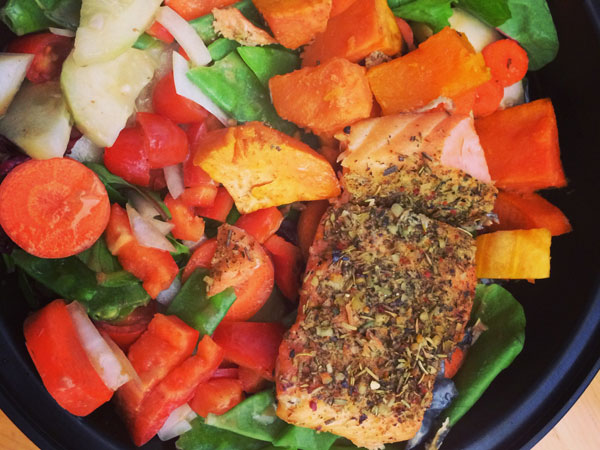 "This is the time of day I am the most hungry and I know I need to support that by having a large lunch. I always opt for a protein, vegetable, unprocessed starch and a little healthy fat. I do this every day in many different ways, so it never gets boring. The lunch above is usually an easy go-to for me. For the dressing I use maple balsamic by Appalachian Naturals, it's a very low sugar vinaigrette."
4 p.m.: Steves Original Paleo Crunch Bar.
"I'm usually not very hungry around this time, but I teach two back-to-back classes at Unite and don't get off work until 7:30 p.m. — that means I need to make sure I don't go too long without eating, or else by the time I get home I am ravenous and can't control my appetite.
This bar is made of nuts, seeds, coconut oil and a tiny bit of dried fruit, with just 6 grams of sugar. I love the Tropical flavor and I love putting it in the fridge to get a really crunchy texture."
8 p.m.: Chicken Parmesan over zucchini noodles and a side salad.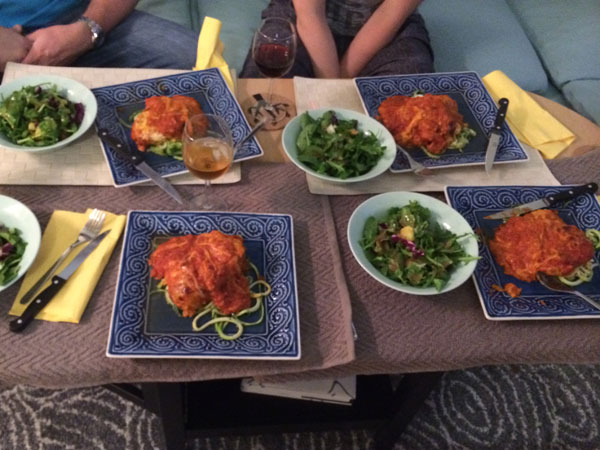 "My boyfriend and I had friends over in our new apartment and I cooked one of my favorite meals. I'm all about cooking foods that I enjoyed during my childhood, but in a much healthier way. I also only cook things that take under 30 minutes, because I have so many other things I want to do with my time. Who wants to spend hours in a kitchen? Not me! We also each had one glass of dry red wine. I rarely drink, but when I do that is my go to."
Chicken Parm Recipe:
Ingredients:
4 organic chicken cutlets
Organic part skim mozzarella cheese (I just sprinkle some on top)
1 jar Raos tomato sauce (Local Jersey brand made with olive oil and no artificial ingredients or sugar)
365 brand whole grain breadcrumbs (just enough to lightly coat chicken)
1 organic egg
2 large local zucchinis (perfect time of year for amazing local produce)
Directions:
Preheat oven 400
Crack 1 egg in a bowl and whisk until broken up
Place bread crumbs in separate bowl
Dip chicken cutlet in egg yolk and bread crumbs to coat
Place chicken in oven for 20 minutes
At the 20 minute mark pour sauce and sprinkle cheese on top
Bake for another 10 min
Use a spiralizer (my favorite kitchen device I ever bought off of Amazon.com for $25) to make zucchini pasta. You can lightly sauté in a bit of olive oil if you don't want cold noodles.
Place chicken over top of noodles
9 p.m.: So Delicious Sugar Free coconut ice cream.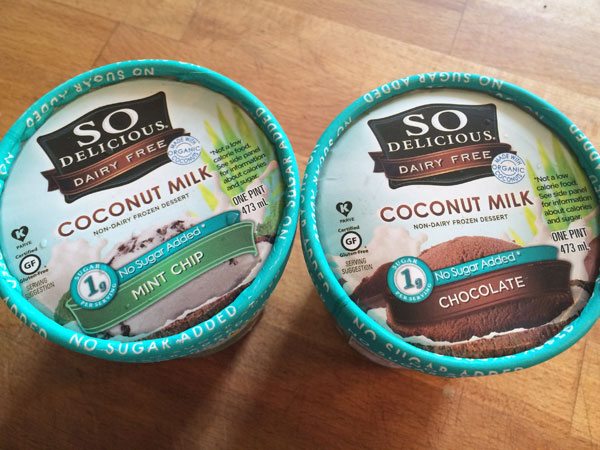 "The So Delicious brand has a few different flavors that are sugar-free (made with stevia) and at only 400 calories a pint; you really can't break the bank. My friend opted for mint chip and I'm totally a chocolate gal!"
----------
Read more Goal Getter for healthy eating, weight loss and more.